Geo Knight DK20S and DK25S Digital Swinger Heat Transfer Press
The George Knight Digital Knight line of swing away presses represents the most popular line of heat press machines. Because this design swings completely out of the way of the table, these presses provide complete access to load and unload materials and layout transfers.
The heat platen is always face down, and regardless of the height of the product being pressed, it is always pressed evenly & level. The Digital Combo multipurpose press also falls within this category as well (see link below).
The design of the Digital Knight swing-away presses combines a heavy-duty solid steel industrial grade pressing framework with accurate and easy to use electronics. This provides the operator with the best possible features and equipment needed for today`s various heat transfer applications.
Utilising a state-of-the-art control system and heavy-duty solid steel welded framework, these machines boasts a lifetime warranty on the heat element, and an unprecedented 3-year warranty on the heat-control electronics.
The heat platen uses SuperCoil-Microwinding heater technology, a system of embedded heater windings that wind tightly and closely together throughout the entire platen for extremely even heat, fast recovery & fast heat up times.
The controller utilises an easy to read oversized-digit LCD display to show time and temperature simultaneously, and the temperature readout is accurate within +-2°. The controller also features a digital height/pressure gauge for displaying current height settings. The operator can use the 70 programmable presets for saving common application settings of Temp/Time/Pressure, ensuring consistent, repeatable results for all applications. The press is adjustable to accommodate materials from fabric thickness all the way up to 19mm thick substrates!
Order
Warranty
The Digital Knight range of presses boasts an amazing lifetime warranty on the heating element, 5 year warranty on the frame, 3 year warranty on digital heating control unit and a 12 month warranty on parts. We also provide you with complete peace of mind by offering a 7 day money back guarantee!
Related Documents
& Links
Customer

Case Studies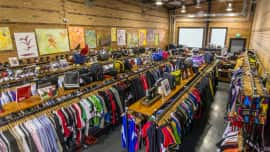 House of Uniforms, an energetic and independent Australian uniform business is discovering the benefits of bringing previously outsourced printing processes in-house with the help of GJS. With these workflows in-house, House of Uniforms has even been able to launch its own range of promotional products!
Product Reviews
"

I have a DK20S 16 x 20 Digital Swinger and I have also purchased the DK3 Mug Press. They are both state-of-the-art and very user friendly. All in all, I can only comment most favourably on the products and support from GJS is always forthcoming.

Bev Salant
Customer

Testimonials
"

From the experience I have had with queries I have had nothing but great service! Once we get back from holidays I intend to purchase regularly from you :o)

Cherie Dodd
"

GJS is the only supplier of screen printing materials I have dealt with, however I had contacted other companies prior to finding GJS to enquire about suitable products and services to start my business. I found that most of the other companies were no willing to offer advice to me as I was not ′in the industry′ and was therefore regarded as a bit of a tyre kicker. I found GJS via a web search and made my initial contact via phone and received positive and helpful advice. My first personal contact was with Joe the afternoon before my one day screen printing course, he was very helpful and informative and provided a great deal of assistance to me in the purchase of my screens and printing table as well as suitable inks and associated products. Most, if not all my customer service has been provided by Joe and I am very grateful for his professionalism and attention to detail. Being country based I am unable to shop personally and rely upon post/courier for delivery and therefore have had only limited contact with the other staff at GJS, but must say that I have been more than happy with the way all enquiries have been dealt with and issues resolved.

Bill O
Why Choose GJS

Loyalty rewards
When ordering online and when purchasing equipment offline, we reward our pre-paid customers with GJS Points. The higher the tier, the more points, rewards and other benefits you can earn. Think of it as our 'frequent printing' program. GJS Points can be redeemed for discount vouchers that can then be used on subsequent orders. The GJS Points Program has four tiers: Cyan, Magenta, Yellow and Black. GJS points also 'pool' into your company/business account. This means if you have colleagues who also shop with GJS, you all earn points that accumulate together, helping you reach higher tiers of the program faster, and increasing your redemption value. We also reward our Black-tier customers with free freight on all their orders, regardless of the order amount and no matter where they are located. It's our way of saying thanks to our most loyal customers who continue to support us as we support them.
Further Information
If you require any further information on this product please click the button below and complete the form.