Geo Knight DK3 Mug Heat Transfer Press
The George Knight DK3 Digital Mug Press is a specialty press in the Digital Knight line of presses; exclusively for pressing mugs. This press is a full wrap-around, handle to handle, top-to-bottom printing mug press.
It can press images up to 127mm high, and as close as 13mm from the handle, depending on the mug size.
The DK3 is fully adjustable, accommodating the most common mugs available on the market (11oz). The ability of the press to open extra wide allows for easy and fast loading and unloading of mugs from the press. The thick solid steel framework and die-cast clamp assembly provides a heavy duty framework for non-stop use. The clamp assembly can be adjusted for very heavy pressure, allowing for full bleed transfers on even the most demanding mugs. Finally - a mug press that compensates for less than perfectly straight mugs!
As with all Digital Knight presses, the DK3 utilises a state-of-the-art digital control system with an unprecedented 3-year warranty on the heat-control electronics. With digital temperature, time and programmable presets, cycle counter and many other features, the consistency and productivity of mug printing is maximized.
At the heart of the DK3 is the SuperCoil-Microwinding™ heater technology, a system of embedded heater windings that wind tightly and closely together throughout the entire platen for extremely even heat, fast recovery & fast heat up times. The DK3 will start up in only a few minutes, and unlike other presses runs constantly at the set temperature, instead of a much lower idle temperature. Unlike other mug presses that use silicone blankets with short lifespans and even shorter warranties, the DK3 boasts an amazing 3-Year/3,000 mug warranty. The patented stainless steel mug band heater technology Geo Knight is famous for has proven to be far more reliable in the field than traditional methods.
For the absolute best, at an amazing price, there is no better solution for pressing mugs than the DK3 Digital Knight Mug Press.
Order
Warranty
The DK3 Mug Press boasts an amazing 3-year/3,000 mug warranty on the heating element, 3 year warranty on digital heating control unit and a 12 month warranty on the rest of the press. We also provide you with complete peace of mind by offering a 7 day money back guarantee!
Related Documents
& Links
Customer

case studies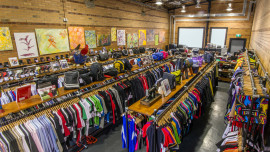 House of Uniforms, an energetic and independent Australian uniform business is discovering the benefits of bringing previously outsourced printing processes in-house with the help of GJS. With these workflows in-house, House of Uniforms has even been able to launch its own range of promotional products!
Product Reviews
"

I have a DK20S 16 x 20 Digital Swinger and I have also purchased the DK3 Mug Press. They are both state-of-the-art and very user friendly. All in all, I can only comment most favourably on the products and support from GJS is always forthcoming.

Bev Salant
Customer

Testimonials
"

Your site is much better than others that I′d tried to use for print supplies′ I do some web work myself, so its refreshing to see a site that does the job its supposed to.

Jason Kinsella
"

We commenced wide format sublimation operations in 2010. GJS Machinery supplied the equipment and service for our operations. We are pleased to recommend GJS Machinery to any business. They have provided us with excellent service, even under difficult and unusual circumstances. Every call and email enquiry we have made has been followed up professionally and swiftly. We would be more than happy to verify this recommendation to anyone contacting us directly.

Terry Sheean & Keryl Smith
Why Choose GJS
Further Information
If you require any further information on this product please click the button below and complete the form.