What is Dye Sublimation?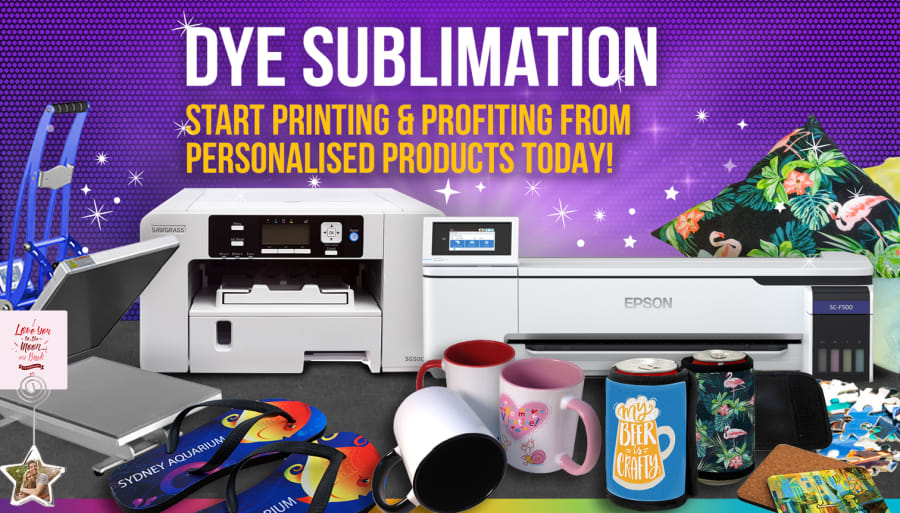 A dye sublimation printer is your ticket to the profitable world of printing personalised products and GJS has the biggest range of dye sublimation printers in Australia!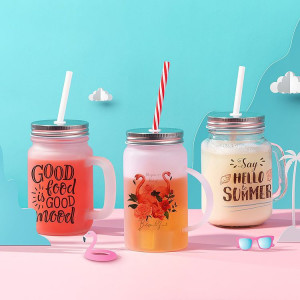 Dye sublimation printers let you create literally thousands of personalised products that you can then sell for substantial profit either to your community, at local markets, through social media, on Etsy or via your own website.
So what exactly is dye sublimation printing? Dye sublimation printing is a digital print method where ink is heated up and pressed onto a substrate by undergoing sublimation, converting the solid ink into a gaseous state without becoming a liquid.
The Sawgrass SG500 A4 dye sublimation printer is the perfect entry point for those starting a digital decoration business based on dye sublimation and the Sawgrass SG1000 is an amazing A3 dye sublimation printer that will allow you to decorate larger items such as apparel, soft furnishings, pillow cases, tea towels and Chromaluxe high-definition photo panels.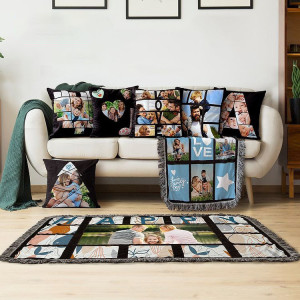 Want a dye sublimation printer that can print even bigger products? Then check out the Epson SC-F560 24-inch sublimation printer, an end-to-end dye sublimation solution including hardware, software and ink—all designed to work in perfect harmony, no matter if you're creating customised mugs, mouse mats, cushion covers or if you need a dye sublimation printer for t-shirts.
GJS also offers a range of dye sublimation printer packages, including dye sublimation starter kits to help get your business up and running with minimal investment so you can start making money straight away.
Speak with one of our friendly team members and they can help you choose the best sublimation printer for your needs based on the products that you'd like to create and sell.
See our extensive range of dye sublimation supplies
Print and profit with dye sublimation in three easy steps!
1

Prepare

Create your awesome design on your computer using the artwork package of your choice or the software included with your dye sublimation printer

2

Print

Print out your artwork onto dye sublimation paper via your dye sublimation printer and the specially formulated dye sublimation ink

3

Press

Use a heat press to transfer your artwork onto your blank dye sublimation products
Learn how to sublimate with GJS
What is dye sublimation and how does it work?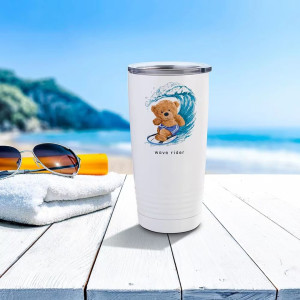 Dye sublimation is a unique printing process involving a dye sublimation printer, dye sublimation paper, specially formulated dye sublimation inks and the use of a heat press.
The dye sublimation printer prints the artwork onto the paper and the design is then applied to the final product using a heat press to apply both heat and pressure.
Dye sublimation ink (referred to in craft/hobbyist digital decorating circles as infusible ink) is unique in its ability to convert from a solid to a gas without going through a liquid form. The conversion is initiated by heat and controlled with pressure and time.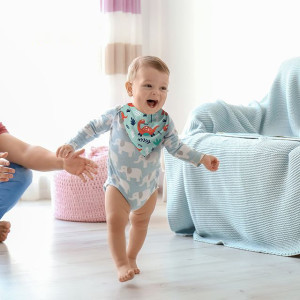 Our high-quality dye sublimation inks are made especially for digital decoration and have excellent colour brightness and produce brilliantly crisp dye sublimation transfers.
Dye sublimation supplies require a special coating to accept the dye sublimation/infusible inks.
All dye sublimation supplies from GJS are provided with this special coating except those which are 100% polyester, such as baby onesies/baby rompers (pictured) which do not require a special coating.
How do I make money from dye sublimation?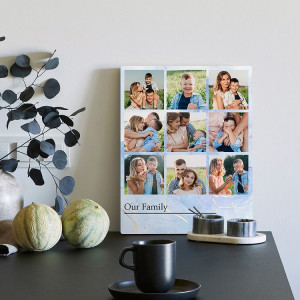 Dye sublimation can create for you an extremely profitable source of revenue and income. The process is quick and simple enough for one-off jobs and there is equipment available for larger production runs.
Depending on the substrate, transfers can usually be printed in under a minute while pressing times range from as low as 45 seconds up to four to seven minutes depending on the product.
Margins on personalised products can range from 100% to more than 1000% depending on the quality and novelty of the printed product.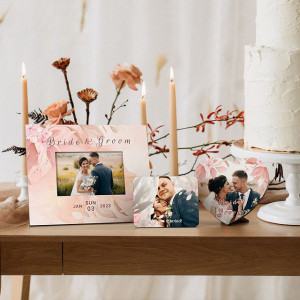 Knowing your local market is very important. Health clubs and gyms love dye sublimation shirts.
Professional service organisations are always looking for unique promotional gift ideas for their clients. Stubby coolers, bar runners or drink bottles for sporting clubs.
Mugs are a perennial best seller particularly with a special photo, logo or phrase and gifts for newborn babies, kids, toddlers, and events such as weddings, birthdays and anniversaries provide ongoing opportunity to make exceptional profits.
What is the return on investment with a sublimation solution?
Using the below points as an example you can potentially break even after just 3 months!
Printing Solution: Beginner Starter Kit
Printing: 2 mugs a day for 5 days every week
Sell Price: $25.00 each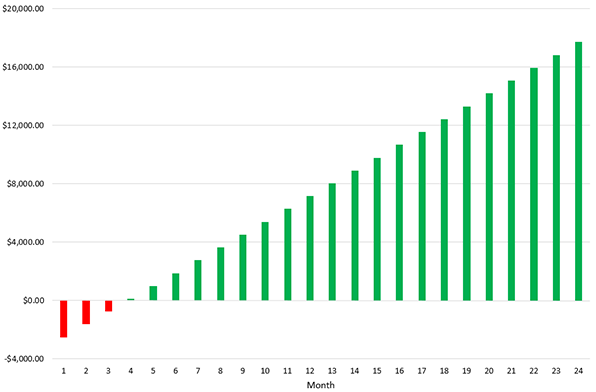 * Estimates only and does not take into account your personal situation, overhead expenses and other variable costs. Please conduct your own calculations.
How much money can I make from a sublimation printer?
Enjoy healthy margins on personalised products! Below is a selection of products showing the approximate production costs and your sell price.
Selling Price
Gross Profit
Margin %
Markup %
Product
Production Cost
Lowest
Highest
Lowest
Highest
Lowest
Highest
Lowest
Highest
Coffee Mugs
 $3.02
 $15.00
 $30.00
 $11.98
 $26.98
79.9%
89.9%
497%
993%
Stubby Cooler - Collapsible
 $2.38
 $9.00
 $26.00
 $6.62
 $23.62
73.6%
90.8%
378%
1092%
Tote Bags
 $2.95
 $13.00
 $29.00
 $10.05
 $26.05
77.3%
89.8%
441%
983%
Mouse Mat
 $2.61
 $15.00
 $25.00
 $12.39
 $22.39
82.6%
89.6%
575%
958%
Coasters - Set of 4
 $3.86
 $20.00
 $25.00
 $16.14
 $21.14
80.7%
84.6%
518%
648%
Name Badge
 $1.30
 $8.00
 $20.00
 $6.70
 $18.70
83.8%
93.5%
615%
1538%
Photo Panel - 20x25cm
 $8.18
 $30.00
 $80.00
 $21.82
 $71.82
72.7%
89.8%
367%
978%
Plaque - 18x22cm
 $6.92
 $20.00
 $45.00
 $13.08
 $38.08
65.4%
84.6%
289%
650%
Key Ring
 $1.50
 $7.00
 $15.00
 $5.50
 $13.50
78.6%
90.0%
467%
1000%
Photo Slate - 12x22cm
 $7.35
 $20.00
 $50.00
 $12.65
 $42.65
63.3%
85.3%
272%
680%
Stainless Steel Drink Bottles
 $7.85
 $25.00
 $30.00
 $17.15
 $22.15
68.6%
73.8%
318%
382%
Truckers Caps
 $3.20
 $16.00
 $26.00
 $12.80
 $22.80
80.0%
87.7%
500%
813%
Pricing and calculations are correct at time of publishing based on research conducted by GJS and are subject to change without notice. Production costs will vary based on your printer, coverage and volume of stock you purchase in. Please conduct your own research.
Is adding sublimation to your business right for you?
Read the Article
Ready to get started?
If you're ready to dip your toes into the wonderful world of dye sublimation and create your own personalised products, then click the button below and a GJS team member will be in touch to personalise a package that is perfect for you!