Heat Transfer Presses
GJS has one of the largest range of high quality heat transfer presses in Australia. From flatbed, cap, mug and industrial textile heat transfer machines. Suitable for any transfer process including sublimation, textile vinyl or plastisol transfers.
Heat Transfer Presses / Desktop Platen Heat Presses
Our high quality desktop heat transfer presses are available in overhead swing-away for thicker products or clamshell design for metal and textiles
Heat Transfer Presses / Large Format & Automatic Platen Heat Presses
Typically used for producing individual pieces, platen heat presses use a heated platen to press flat or rigid pieces such as cut apparel, ceramics, wood, metals and more. For increased production, shuttle platen presses utilise two workspaces with a single heated platen, allowing you to prep your product on one surface, while you are pressing another product on the second surface, reducing production time!
Heat Transfer Presses / Mug Production
Need higher production than a standard mug press? Step up to a Turbo Wrapper and Mug Oven combination.
Heat Transfer Presses / Rotary Calendar Drum Heat Transfer Presses
Rotary heat presses use a heated drum which spins fabric through the press to decorate rolls of fabric continuously. These presses are designed to print fabric pieces that are too large for a platen press. Used mainly for banners, flags, and cut/sew apparel (like jerseys), rotary presses tend to be more productive than platen presses. They cannot be used, however, to press rigid substrates.
Heat Transfer Presses / Special Purpose Heat Presses
Do you want your dye sublimation product offering to reach beyond just flat and fabric items? Our desktop heat transfer presses are available in a range of customised designs for decorating uniquely shaped blanks including ceramic mugs, plates, tiles, caps, stubby coolers and metal jewellery.
26 Products Found
Customer

Case Studies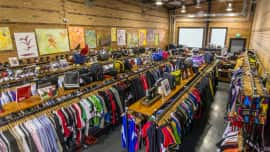 House of Uniforms, an energetic and independent Australian uniform business is discovering the benefits of bringing previously outsourced printing processes in-house with the help of GJS. With these workflows in-house, House of Uniforms has even been able to launch its own range of promotional products!
Customer

Testimonials
"

I could not have spoken to better people. They are helpful and friendly and offered to help with anything we wanted.

Michelle Kaivaha
"

I really wanted to reply today to let you know just how I continue to be impressed with your service. I had ordered some keyrings from another company, I am fairly new to sublimation so of course wanted to test out what else was available to me. These keyrings were for a customer of mine. Well lets just say that there were issues with my order. So very late last night I decided I would order replacement keyrings from GJS Machinery, which I did. The order for my customer had to go out today and I was a little stressed last night as to how I was going to tell them that they now would have to wait another day. That was until this morning when my order from GJS arrived, my customer′s keyings have still been supplied today as they were meant to be. I will now be using GJS as my main supplier of sublimation blanks and will think twice about stocking anything in my business that you dont supply. Thank you again for a wonderful service that is so quick and reliable. It is rare these days to find companies that provide such excellent service.

Korrine Miller
Why Choose GJS

We will never compete with you
There are some distributors who both sell to their customers and simultaneously compete with them by offering printing services. GJS understands this is a clear conflict of interest and that is why it is company policy to never compete with you, our valued customer.