Heat Transfer Presses
GJS has one of the largest range of high quality heat transfer presses in Australia. From flatbed, cap, mug and industrial textile heat transfer machines. Suitable for any transfer process including sublimation, textile vinyl or plastisol transfers.
Heat Transfer Presses / Desktop Platen Heat Presses
Our high quality desktop heat transfer presses are available in overhead swing-away for thicker products or clamshell design for metal and textiles
Heat Transfer Presses / Large Format & Automatic Platen Heat Presses
Typically used for producing individual pieces, platen heat presses use a heated platen to press flat or rigid pieces such as cut apparel, ceramics, wood, metals and more. For increased production, shuttle platen presses utilise two workspaces with a single heated platen, allowing you to prep your product on one surface, while you are pressing another product on the second surface, reducing production time!
Heat Transfer Presses / Mug Production
Need higher production than a standard mug press? Step up to a Turbo Wrapper and Mug Oven combination.
Heat Transfer Presses / Rotary Calendar Drum Heat Transfer Presses
Rotary heat presses use a heated drum which spins fabric through the press to decorate rolls of fabric continuously. These presses are designed to print fabric pieces that are too large for a platen press. Used mainly for banners, flags, and cut/sew apparel (like jerseys), rotary presses tend to be more productive than platen presses. They cannot be used, however, to press rigid substrates.
Heat Transfer Presses / Special Purpose Heat Presses
Do you want your dye sublimation product offering to reach beyond just flat and fabric items? Our desktop heat transfer presses are available in a range of customised designs for decorating uniquely shaped blanks including ceramic mugs, plates, tiles, caps, stubby coolers and metal jewellery.
24 Products Found
Customer

Case Studies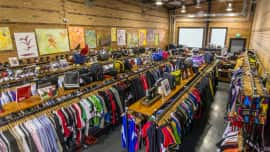 House of Uniforms, an energetic and independent Australian uniform business is discovering the benefits of bringing previously outsourced printing processes in-house with the help of GJS. With these workflows in-house, House of Uniforms has even been able to launch its own range of promotional products!
Customer

Testimonials
"

It has always been a pleasure to deal with GJS, the staff are wonderfully knowledgeable and always super helpful. There has been several occasions in which we have known what we wanted, but been unsure about how to get it. And GJS has stepped up, pointed us in the right direction and promptly supplied what was required. Good on ya GJS !

Shaun Aston @ Coiltek
"

I have dealt with Kelly mostly with placing orders & she acts promptly on processing orders, which is helpful when some of my customers want things done ′yesterday′!!! by the time I place the order, some days I have an invoice within minutes.... I pay this & then have a ′thankyou for payment′ email also within minutes of paying the account! Helps keep my business running smoothly & allows me to then fast track my customer orders. I have also spoken with Michael, Stephen and Greg in regards to product knowledge etc. They have all been helpful and don′t mind explaining things in a way that we as smaller businesses understand & relate to. they have a good understanding of their products & services.

Stacey Moroney
Why Choose GJS

Remote technical support
If you have a problem with a computer setting or issue with your artwork, the GJS Support Team can remotely connect to your PC or MAC through the internet to see what is going wrong. It means that any small issue can be resolved quickly without the need for an onsite call. Simply have the
GJS Print Support
utility downloaded on your computer.