The importance of paper in sublimation printing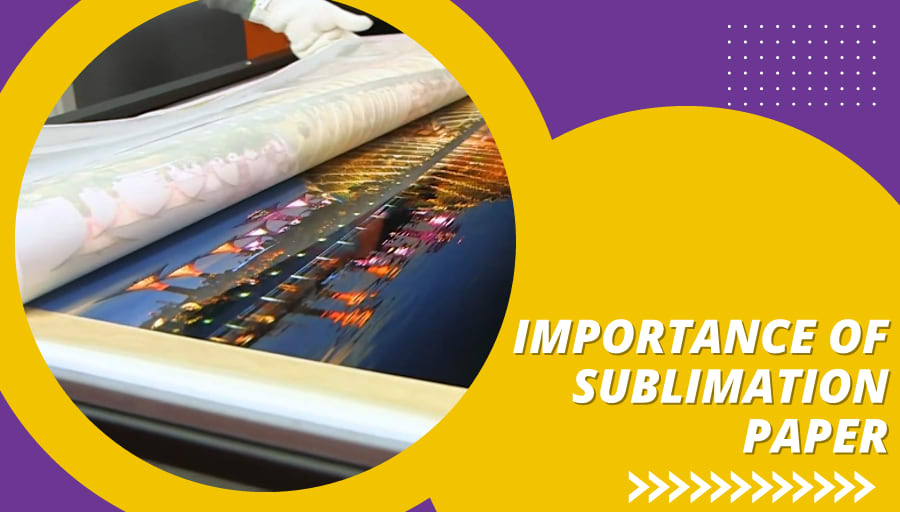 SYDNEY, Australia - August 18, 2022
Do you want to get the best results from your dye sublimation products? Learn how investing in quality dye sublimation paper, whether or not it's A3, A4 or rolls, can help you minimise common problems and achieve maximum definition, vibrancy and transfer yield.
If you're one of the many people around the country creating amazing customised products with your sublimation printer, chances are you're quite particular about the quality of the products that you sell to your customers. You most likely pride yourself on having a sturdy heat press, a quality printer, OEM inks and printable products from a reputable supplier such as GJS.
But how often do you consider the quality of your dye sublimation paper and the impact that it has on your final printed products? The paper that you choose to put in your dye sublimation printer has a huge impact on the results that you will achieve, and even if you have the most expensive printer and press on the market, your output can be compromised with poor quality or incorrect paper.
Common problems that arise with dye sublimation paper:
Cockling: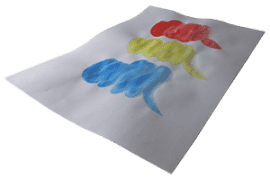 This is best described as repeating or random ripples occurring on paper introduced by moisture. See image opposite.
Head Strike/Crash:
This is when the print head makes direct contact with or causes a tear in the paper. This can be a very expensive problem, especially if damage to the print head occurs and a replacement is required.
Outgassing: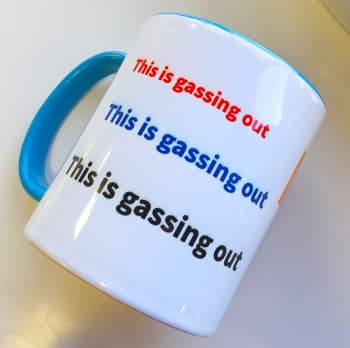 This is a common occurrence with sublimation printing and involves ink blowout around the edge of the graphics or where contact with the heat press is void, causing smudging or blurring of the image.
Ghosting:
No, we're not talking about leaving a party without saying goodbye. Ghosting (also known as shadowing or shading) with sublimation printers occurs when there is a shift in the paper and causes the appearance of a double or faded image on the substrate after a transfer.
Graininess:
This is where there is a noticeable loss of smooth colour gradient within a transferred image; usually more apparent on hard substrates.
Boat wake: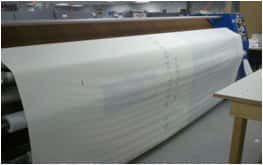 This very common issue occurs while transferring textiles through a rotary press. The problem mimics a ripple effect similar to that in water, with repeating lines that are slightly curved and void of any transferred ink on the fabrics. See image opposite.
Banding:
This is where you have a repeating pattern of lines either overlapping or gaping. Normally due to issues with media comp settings or differential slipping of cores within the rolls due to poorly converted materials.
Solving problems with paper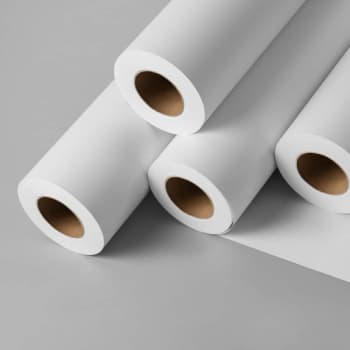 Whilst some of the above problems, such as head strike/crash relate to settings or adjustments with your printer, did you know that many of the other issues listed can be corrected by choosing both correct and quality paper?
For example, TexPrint Termo-Tack sublimation paper has special thermo-adhesive qualities that activate during the transfer process, adhering to the fabric and eliminating ghosting and blurring. Its adhesive qualities can also help prevent boat wake and is compatible with a large range of dye sublimation printers and calendar, clamshell and swing-away heat presses.
If you're using a desktop dye sublimation printer, such as one of the super-speedy Sawgrass solutions, then you might be more concerned with cockling, ghosting or outgassing. If so, TexPrint-DTR will help solve these problems. This special purpose dye sublimation paper from Beaver Paper utilises the full speed of the Virtuoso printers while maintaining premium definition and colour fidelity, even with heavy ink loads.
Designed specifically to limit outgassing, TexPrint-DTR features an innovative 'directional out-gassing' design which means dye gasses are aimed at the receptor, helping to limit back gassing. The paper also provides exceptional resistance to smudging and ghosting, helping improve the quality of your finished products and minimise errors and wastage.
Quality in, quality out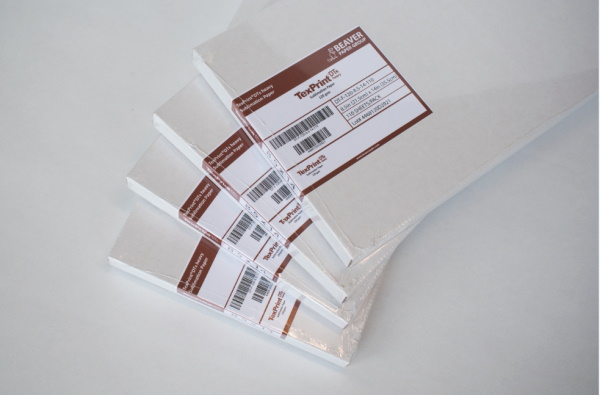 So what paper do you use for sublimation? Remember, your finished dye sublimation products rely on several factors for the best possible outcome: good artwork design; a well-maintained printer; quality dye sublimation paper and a reliable heat press and the correct time, temperature and pressure. Without all the above in place, it is highly likely that you're not getting the best results for your hard work and it is often the paper that is overlooked in the sublimation process.
So, if you pride yourself on the quality of the products that you're producing, remember how important paper is in the sublimation process and only purchase high-quality paper, such as Beaver Paper which is specifically designed for dye sublimation. Your customers will thank you for it, and so will the bottom line of your business.
About GJS
GJS is Australia's premier provider of solutions and services for the textile, promotional products, custom photo gift, sign and display industries. With over 43 years' experience, GJS supplies everything needed to start and operate a successful printing business including equipment, consumables, training and support. Headquartered in Revesby, NSW, and with additional teams located in Victoria and Queensland, GJS serves customers throughout Australia, New Zealand, and the Pacific Islands. For more information visit: gjs.co. GJS and the GJS logo are trademarks or registered trademarks of GJS. Other names are trademarks of their respective owners.