Screen Printing Equipment
Supporting a large range of screen printing equipment and consumables, GJS has you covered! Including semi and fully automatic screen printers, bench top and free standing tables, t-shirt carousels and dryers through to your screen making and reclaiming equipment.
Screen Printing Equipment / Film Positive Printers
Epson film positive printers using Fotecfoil can be used to create high-quality, solid and halftone films with high UV opacity and exceptional black density. Film positive printers are a cost-effective way for screen printers to bring their film printing in-house, reducing turnaround time for the creation of screens and creating flexibility and control over the film positive creation process.
21 Products Found
Customer

Case Studies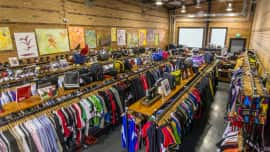 House of Uniforms, an energetic and independent Australian uniform business is discovering the benefits of bringing previously outsourced printing processes in-house with the help of GJS. With these workflows in-house, House of Uniforms has even been able to launch its own range of promotional products!
Customer

Testimonials
"

Found this site 2 weeks ago and now I cant stop shopping. The 1st order arrived and I was hooked. Every item has been of the greatest quality. Perfect pricing for mark ups and great communication for all my silly questions

Stacey Taig
"

Tim was great and pointed me in the right direction which immediately resolved our issue.

Don Pennell
Why Choose GJS

Loyalty rewards
When ordering online and when purchasing equipment offline, we reward our pre-paid customers with GJS Points. The higher the tier, the more points, rewards and other benefits you can earn. Think of it as our 'frequent printing' program. GJS Points can be redeemed for discount vouchers that can then be used on subsequent orders. The GJS Points Program has four tiers: Cyan, Magenta, Yellow and Black. GJS points also 'pool' into your company/business account. This means if you have colleagues who also shop with GJS, you all earn points that accumulate together, helping you reach higher tiers of the program faster, and increasing your redemption value. We also reward our Black-tier customers with free freight on all their orders, regardless of the order amount and no matter where they are located. It's our way of saying thanks to our most loyal customers who continue to support us as we support them.