Screen Printing Equipment
Supporting a large range of screen printing equipment and consumables, GJS has you covered! Including semi and fully automatic screen printers, bench top and free standing tables, t-shirt carousels and dryers through to your screen making and reclaiming equipment.
31 Products Found
Screen Printing Equipment / Film Positive Printers
Epson film positive printers using Fotecfoil can be used to create high-quality, solid and halftone films with high UV opacity and exceptional black density. Film positive printers are a cost-effective way for screen printers to bring their film printing in-house, reducing turnaround time for the creation of screens and creating flexibility and control over the film positive creation process.
31 Products Found
Customer

case studies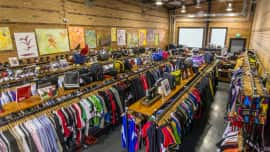 House of Uniforms, an energetic and independent Australian uniform business is discovering the benefits of bringing previously outsourced printing processes in-house with the help of GJS. With these workflows in-house, House of Uniforms has even been able to launch its own range of promotional products!
Customer

Testimonials
"

All the GJS staff are excellent. I have dealt with, Greg was especially helpful when we purchased our set up even though he couldn′t source the printer for me, everything else was great. The Sawgrass SubliM inks are amazing, the ErgoSoft PosterPrint RIP software is really good to, once it was explained to me by Greg it has been fantastic to use. I had an issue with some colour gradients not printing correctly and these were addressed very promptly with some new colour profiles that give even better results than I was getting before.

Dean Collins
"

Any phone dealings I have had have been very professionally handled and it has never been too much trouble to either double check what stock is actually on hand, or any new purchases with equipment that I may be contemplating I have been very satisfied with the level of help we have received. Even after numerous calls on a particular product it has never been too much trouble to pass on information. Running a print shop business in country South Australia it is always difficult to get the rignt information regarding products as we don′t get to look at the product in the flesh. Great service guys!

Kelvin Ruge
Why Choose GJS

We will never compete with you
There are some distributors who both sell to their customers and simultaneously compete with them by offering printing services. GJS understands this is a clear conflict of interest and that is why it is company policy to never compete with you, our valued customer.