Direct to Garment DTG Printers
Direct to garment printers, also known as DTG printers and digital garment printers can print directly onto textiles and garments using specialised or modified inkjet technology. Decorators and t-shirt designers can create one of a kind creations or mass production runs - regardless of the number of colours - without having to create film positives, stretching screens, and using chemicals to reclaim screens
5 Products Found
Direct to Garment DTG Printers / Garment Printers
Direct to garment printers, also known as DTG printers and digital garment printers can print directly onto textiles and garments using specialised inkjet technology.
Direct to Garment DTG Printers / Pre-Treatment Machines
Pre-Treating is the process of preparing a garment with a pre-treatment fluid either manually or with an automatic device such as the ViperXPT-6000 or the VIPER ONE. This pre-treatment process creates a sealer or primer on the shirt, much like preparing drywall so the paint doesnt soak into the drywall. The pre-treatment fluid is the primer that will allow the white ink to sit on top of the garment and not
5 Products Found
Customer

case studies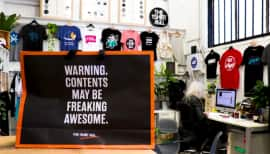 From humble beginnings selling designs at the local markets to a t-shirt printing powerhouse, The Tshirt Mill continues to go from strength to strength as it capitalises on the custom print revolution. And with a finger on the pulse of the music and festival scene, The Tshirt Mill is taking custom tees to the masses.
Forza Italia is Australia's largest Italian retailer, importing a huge selection of well-known Italian brands including Ferrari and Juventus. With the help of GJS, it now also creates and personalises a variety of products on-demand in its Lygon Street store, as well as online via forzacustoms.com.au
Related Products, Categories, Documents & Links
Customer

Testimonials
"

Michael, After spending the evening telling my family how wonderful your company is I am just now settling down enough to write back and thank you for being such awesome people. I had been thinking of buying a machine for many months but had no idea how to track down who sold them or even which machine to start looking for (I knew nothing of brand names or quality). One day not so long ago I simply sat down in front of google and must have typed in the right thing because your company was the first one to slap me in the face. From the moment I started to speak with you about the machine I felt I was in very good hands. Your honesty and integrity won me over immediately (these qualities are far different to ′good salesmanship′). I knew I need not bother to shop around or compare prices, I was happy right from the start! I am a true believer in ′things happen for a reason′ and I was definitely directed to sit down at the computer AT THAT MOMENT to find GJS Machinery. You will not be able to comprehend how very grateful we are to you for your outstanding offer to help us. Thank you, thank you, thank you, thank you! We hope your stay here is productive as well as pleasant. We look forward to meeting you on Monday. Yours very sincerely, Lisa

Lisa
"

Having speak to Graham,Greg and Joe personally, regarding many different topics,and always receiving a positive outcome, I would just like to say how greatly satisfied I am with your service, advice and product knowledge. If GJS don′t know or can′t fix the problem, then nobody can!

Ben Middenway
Why Choose GJS

Loyalty rewards
When ordering online, we offer our pre-paid customers GJS Points for every dollar you spend to reward your loyalty which can be used to generate discount vouchers when can be used on subsequent orders.