Direct to Garment DTG Printers
Direct to garment printers, also known as DTG printers and digital garment printers can print directly onto textiles and garments using specialised or modified inkjet technology. Decorators and t-shirt designers can create one of a kind creations or mass production runs - regardless of the number of colours - without having to create film positives, stretching screens, and using chemicals to reclaim screens
Direct to Garment DTG Printers / Garment Printers
Direct to garment printers, also known as DTG printers and digital garment printers can print directly onto textiles and garments using specialised inkjet technology.
Direct to Garment DTG Printers / Pre-Treatment Machines
Pre-Treating is the process of preparing a garment with a pre-treatment fluid either manually or with an automatic device such as the ViperXPT-6000 or the VIPER ONE. This pre-treatment process creates a sealer or primer on the shirt, much like preparing drywall so the paint doesnt soak into the drywall. The pre-treatment fluid is the primer that will allow the white ink to sit on top of the garment and not
11 Products Found
Customer

Case Studies
With two stores in tourist hotspots on Queensland's popular Gold Coast, Xpress Tees is cashing in on the booming customisation revolution by taking a retail-kiosk approach to delivering personalised and on-demand tees to the masses.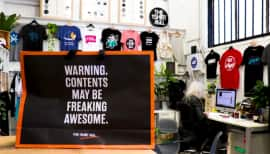 From humble beginnings selling designs at the local markets to a t-shirt printing powerhouse, The Tshirt Mill continues to go from strength to strength as it capitalises on the custom print revolution. And with a finger on the pulse of the music and festival scene, The Tshirt Mill is taking custom tees to the masses.
Customer

Testimonials
"

If I ever need help the team is ready to assist even with the 'silly' questions. Great range and super fast postage even when you dont expect it to arrive sure enough there it is

Stacey Taig
"

Great service and advice and really appreciated the follow up call a few days later to check everything was ok with the new heat press. See you again soon

Joanne Heaton @ Jam Signs
Why Choose GJS

Remote technical support
If you have a problem with a computer setting or issue with your artwork, the GJS Support Team can remotely connect to your PC or MAC through the internet to see what is going wrong. It means that any small issue can be resolved quickly without the need for an onsite call. Simply have the
GJS Print Support
utility downloaded on your computer.