Services for Screen Printers
At GJS, we not only provide the largest range of screen printing equipment and related consumables, we also offer screen printers a wide range of services.
Aluminium Frame Manufacturing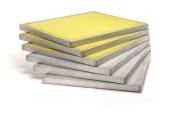 We stock the most popular 500 x 600mm and 590 x 790mm frame sizes ready for immediate processing. We can also custom manufacture frames to your specifications – change the size, shape, form, plain or pre-bow, etc. We also have a selection of used frames in stock, please ask us about your requirements.
Screen Stretching
Screen remeshing service is available using Unirich Monofilament Polyester mesh. Unirich mesh is manufactured from high quality European thread woven on European weaving looms.
We can stretch up to 24 Newton's with a maximum frame stretching size of 3.6 x 2.4m O.D. The majority of all frames are stretched individually for perfect alignment and tension.
Stencil Making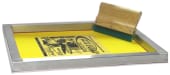 Stencil making service using Direct Emulsion for a maximum frame size of 3.5 x 1.9m.
Screen Reclaiming
A screen reclaiming service is available for screen sizes up to 3m in length.
Screen Photography
The following photographic services are available:
Positives
Negatives
Enlargements/Reductions
Film printing service from supplied emailed files.
Up to 430mm wide and long as required.
Any artwork manipulation needed incurs a labour charge.
Contact Us For Further Information
If you require any further information on our screen services please click the button below and complete the form.