Services for Screen Printers
At GJS, we not only provide the largest range of screen printing equipment and related consumables, we also offer screen printers a wide range of services.
Stencil Making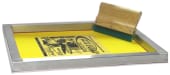 Stencil making is a service we provide to printers that are just starting out or don't have the space needed to set up a darkroom in their workshop. Stencil making is the process of put an image to be printed on the screen using emulsion and film.
Stencil making service is available using Fotechem diazo sensitised direct emulsions. Both solvent resistant and water-resistant emulsions are available to suit your printing requirements. Maximum frame size is 2600mm x 1800mm.
Screens are degreased/abraded if screen has new mesh or is degreased if previously used, prior to the screen being coated with emulsion. This ensures that the emulsion will adhere to the mesh correctly.
Screen Artwork and Film Printing
Screen Artwork and film printing is a service we provide to printers that are just starting out or don't yet have the skills in editing images and creating film. This service helps you get the best image and size for printing project.
The following artwork services are available. This work incurs a labour charge
Enlargements/Reductions
Small changes to artworks
Redrawing of artwork.
Artwork layout for screen
Artwork is to be emailed to GJS. File formats that are acceptable ai, eps, pdf, png, Tiff and JPEG. All Fonts are to be embed (no live fonts), this ensures that fonts are not substituted when they are opened in Adobe Creative Suite.

The following Film Printing sizes are available using Epson Film Printers:
A4
A3
A2
Custom sizes are available upon request
Aluminium Frame Manufacturing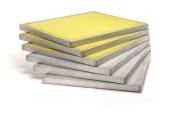 We stock the popular 500mm x 600mm, 590mm x 790mm and 600mm x 800mm sized aluminium frames. We can also custom manufacture aluminium frames to meet your specific printing requirements – you can adjust the size, the shape, form, or even have them pre-bowed. We also have a selection of used aluminium frames in stock that may also suit your needs and budget.
Screen Stretching
A service we provide to apply new mesh to new or old screen-printing frames (wood or aluminium). We stretch the mesh of your choice across the frame and when it is at the required tension, it is glued in place using Kiwobond 930 + Kiwodur 930 adhesive.
Screen meshing and remeshing service uses Unirich Monofilament Polyester Mesh which is manufactured from high quality Swiss monofilament materials and woven on the latest Swiss and German manufactured weaving looms.
We can stretch your screens to have tension up to 35 Newtons. The maximum frame size that can be stretched is 3600mm x 2400mm OD. Frames are stretched individually to ensure correct tension across the frame.
Screen Reclaiming
Screen reclaiming is a service we provide to printers that are just starting out or don't have the space needed to set up a reclaiming station in their workshop. Screen reclaiming is the process of removing old stencils and stains from screens, so they can be used again for another stencil, reducing costs and minimising space needed to store the screens.
Screen Reclaiming service is available for screens up to 2600mm x 1800mm
Complete reclaim of screen (emulsion removal, dehaze and degreasing)
Contact Us For Further Information
If you require any further information on our screen services please click the button below and complete the form.