Geo Knight DK16/DK20 Digital Clamshell Heat Transfer Press
For the past 4 decades, George Knight have perfected a line of clamshell style heat transfer press equipment that meets the business and manufacturing needs of customers worldwide.
The Digital Knight clamshell heat presses feature a state-of-the-art control system and heavy-duty solid steel welded framework. These machines boast a lifetime warranty on the heat platen, and an unprecedented 3-year warranty on the heat-control electronics. The heat platens use SuperCoil-Microwinding™ heater technology, a system of embedded heater windings that wind tightly and closely together throughout the entire platen for extremely even heat, fast recovery & fast heat up times.
Our clamshell presses open much wider and lift up far away from the rear of the pad, staying away from user hands. The extra long & wide handle and smooth gas shock lift make for the easiest and safest clamshells to operate on the market!
Order
Warranty
The Digital Knight range of presses boasts an amazing lifetime warranty on the heating element, 3 year warranty on digital heating control unit and a 12 month warranty on the rest of the press. We also provide you with complete peace of mind by offering a 7 day money back guarantee!
Related Documents
& Links
Customer

case studies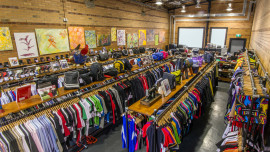 House of Uniforms, an energetic and independent Australian uniform business is discovering the benefits of bringing previously outsourced printing processes in-house with the help of GJS. With these workflows in-house, House of Uniforms has even been able to launch its own range of promotional products!
Customer

Testimonials
"

I contacted this company a few months back because I was concerned at the amount of fly-by-night stuff that seemed to be available via e-Bay and I did not want to get burned, so looked for an established business. I have found GJS and in particular Greg excellent to deal with. I lobbed on their doorstep unannounced after talking to Greg via email and phone and said I wanted to buy an intermediate kit. It turned out they did not have a 1410 printer in stock so Greg immediately said he would up-grade to the next level 7 colour machine at no extra cost. We had some teething troubles with the printer which - may have been my fault. However there was never a suggestion of this and Greg replaced the printer with a new one without question. Now that we are up and running, I am very happy with the equipment. Note I up-graded to a Geo Knight mug press which now seems to have been the right decision as I think the horizontal loading of this machine definitely has benefits over the GJS one. Note this was Greg′s recommendation but only when I asked him which one he would prefer to use. In short, I would say that you can go ahead and by from GJS without fear that you will be left in the lurch or ripped off by them.

Ian Bamford
"

Any phone dealings I have had have been very professionally handled and it has never been too much trouble to either double check what stock is actually on hand, or any new purchases with equipment that I may be contemplating I have been very satisfied with the level of help we have received. Even after numerous calls on a particular product it has never been too much trouble to pass on information. Running a print shop business in country South Australia it is always difficult to get the rignt information regarding products as we don′t get to look at the product in the flesh. Great service guys!

Kelvin Ruge
Why Choose GJS
Experience
We have over 37 years experiencing supporting customers in the printing industry.
Further Information
If you require any further information on this product please click the button below and complete the form.