A special end of year message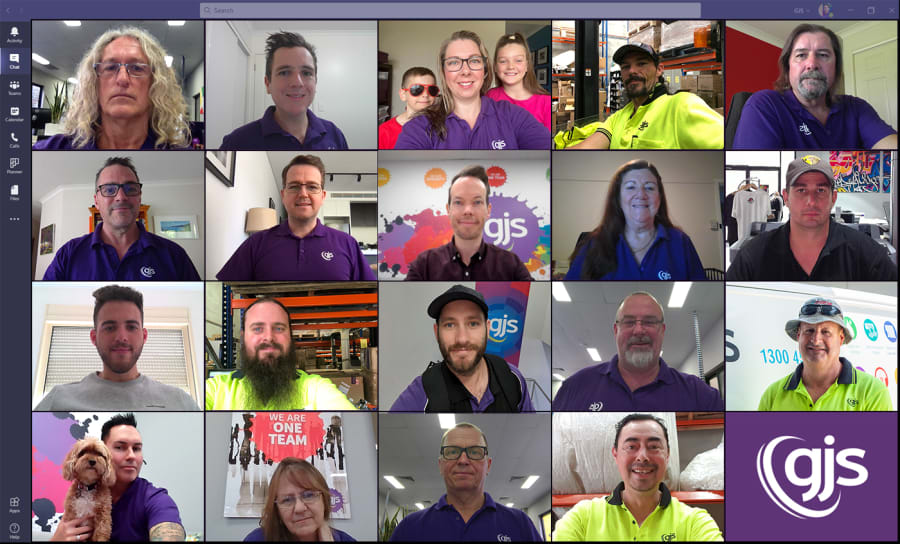 SYDNEY, Australia - December 23, 2020
This years' GJS team photo is unlike any other photo from any previous year. It is fitting because 2020 has been unlike any other year in GJS' 42 years of operation. Like many of you, we have experienced a tumultuous twelve months of lows and highs, so at the end of what has been an unprecedented year, we would like to give thanks to all of you, our valued customers.
We started 2020 with high hopes of conducting new and exciting events, attending exhibitions and trade shows and expanding our course offerings. Of course, this all changed in the second week of March. With no rules on how to successfully navigate a business through a pandemic, we set sail with our values guiding the way and decree that "we are one team" and we would get through this as one team.
Fortunately, GJS was well prepared to pivot to the challenges that COVID-19 tossed our way. Infrastructure such as internet phone systems, cloud storage and collaboration apps already in day-to-day use meant we were able to quickly adapt to remote working whilst still maintaining a socially distanced skeleton team in our Sydney headquarter to keep orders and stock flowing out the door to you all.
We fast-tracked an internal project to make more of our courses virtual and launched a series of webinars to help our customers adapt and capitalise on the macroeconomic impacts from COVID-19. During the year more than 500 people attended our 14 live educational events, obtaining valuable knowledge and receiving free sample kits and other goodies thanks to our ever-generous OEM partners.
Then there was what we called #maskgate. Never did we imagine that face masks would be the most sought-after printable product of the year. After several air-freight shipments, lots of long hours, and very exhausted staff, we fulfilled thousands and thousands of orders from all over the country.
We also used the pandemic to pay it forward with several giveaways including thousands of dollars of dye sublimation printable blanks, mug presses, our Dye Sub September starter kit giveaway, and most recently DTG December where we gave away a DTG printer to one lucky winner.
Did we make it through the year as one team? We sure did! Not only did we not lose anyone along the way, but we were also fortunate enough to be able to add three additional faces to the GJS team in 2020.
All this however would not have been possible without all our loyal and valued customers. We do what we do because we love seeing you be successful, and your businesses thrive. And during these unprecedented times, and this unprecedented year, you proved to us that we really are your trusted partner to truly profit from print—even during a global pandemic.
So, as we head into 2021 let's hope for a return to more 'precedented times' but also a continuation of the remarkable recovery that we are seeing and the sustained growth our industry has experienced as a result of local production, manufacturing, and demand for digital decoration.
Happy holidays!
Greg Stone, Managing Director, GJS
About GJS
GJS is Australia's premier provider of solutions and services for the textile, promotional products, custom photo gift, sign and display industries. With over 42 years' experience, GJS supplies everything needed to start and operate a successful printing business including equipment, consumables, training and support. Headquartered in Revesby, NSW, and with additional teams located in Victoria and Queensland, GJS serves customers throughout Australia, New Zealand, and the Pacific Islands. For more information visit: gjs.co. GJS and the GJS logo are trademarks or registered trademarks of GJS. Other names are trademarks of their respective owners.