How to start an online t-shirt business: a six-step guide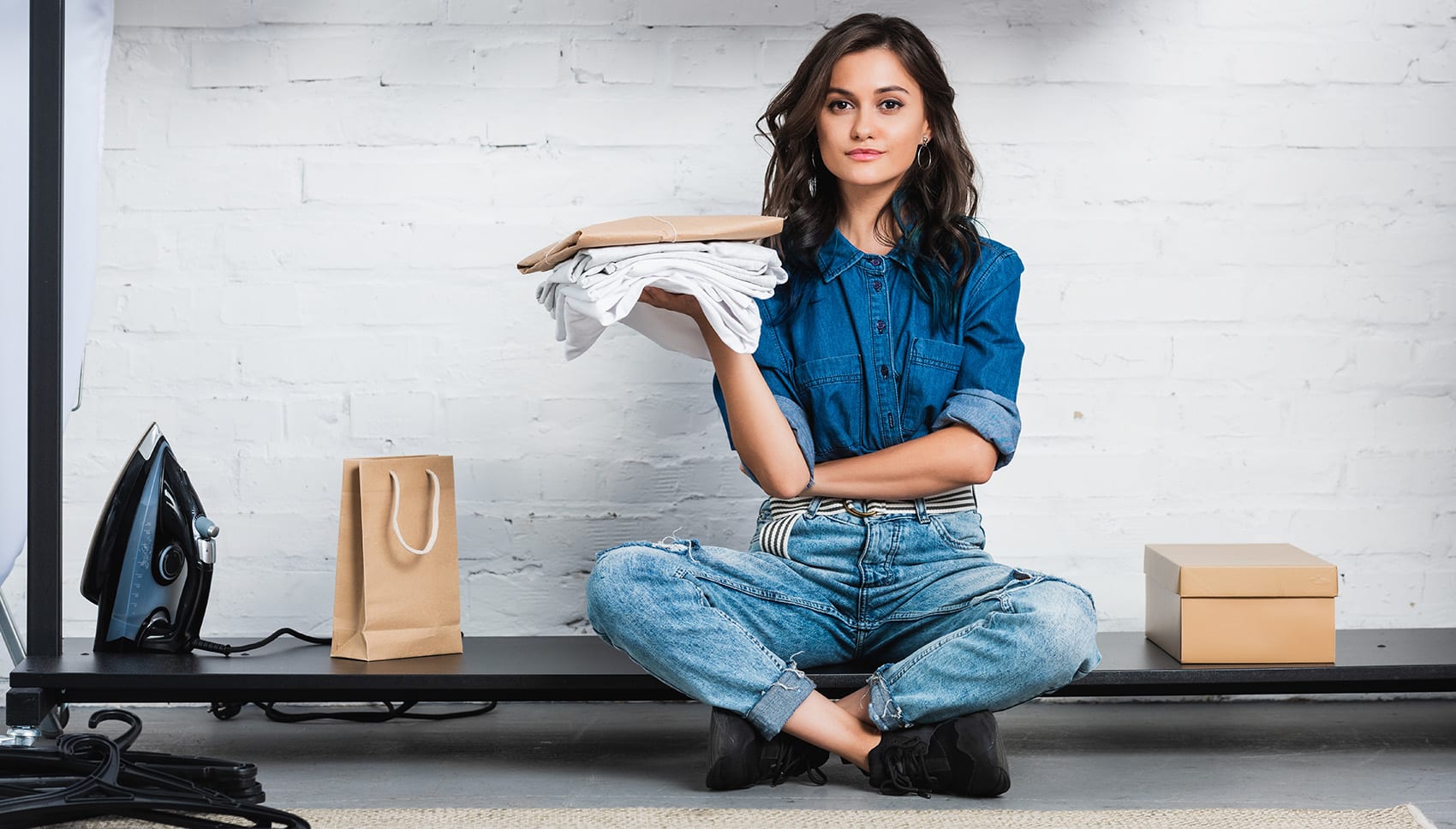 SYDNEY, Australia - June 3, 2019
Selling t-shirts online has become a popular business choice for entrepreneurs and artists looking for a relatively inexpensive way to start-up. In this helpful guide, borrowed from our good friends at Shopify, you'll learn how to start your online t-shirt business in six easy steps.
Six steps to starting your t-shirt printing business
Although the tools and technology available nowadays for designing, printing and shipping your own t-shirts makes starting up relatively simple, the more complex part is building a brand to stand out from the competition. To be successful with your new t-shirt business, you have to make the right decisions from the get-go. There are several critical elements to starting a successful t-shirt business. Each of these elements needs to be considered closely before moving forward:
Niche: Being more specific will help you stand out as well as better attract and market to the right audience without blowing your budget

Design: The majority of people that are purchasing graphic tees are looking for designs, graphics, and slogans that connect with them and reflect their opinions and personality

Quality: The quality of the shirts you use and the prints need to be top notch to build a sustainable business

Brand: A strong, interesting brand is vital in the t-shirt industry

Inventory: Will you manage your own inventory to take advantage of volume discounts or use a print-on-demand service to save time and effort?

Print technique: Depending on what you want to achieve with your business, and designs, you'll need to choose a print technique that will help you achieve your goals
Let's take a deeper look at each one.
1. Finding your niche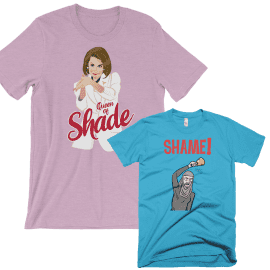 You hear this term tossed around a lot, but nowhere is it more important to choose a niche than in the graphic t-shirt industry. One of the most important factors in building a successful t-shirt business is the ability to stand out, and one of the best ways to do that is by catering to a specific audience or interest group.
Generally, categories like 't-shirts for people who like funny slogans' are going to be too broad to address in a very developed market. You're going to want to tighten it up a little more. An example of a more specific niche would be t-shirts with quotes from popular television shows or t-shirts that incorporate pop culture references and memes like the ones shown here from Swish Embassy.
2. Design
The last thing a visitor would want to see in your catalogue is a copy of a t-shirt design found elsewhere. Your designs don't necessarily need to be complex, in fact, many of the best selling graphic tees are very simple. However, they do need to connect with your audience and stand out.
To ensure a quality print, your design files should generally be at least 300 digital pixels per inch (DPI or PPI), have a transparent background, and be large enough to cover the actual print area of the t-shirt. Just note that your exact specifications will vary depending on the printer and printing technique used (more on that later).
3. Quality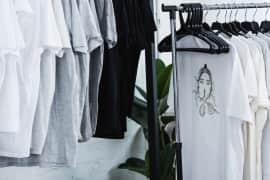 The next most important factor in the success and sustainability of an online t-shirt business is quality. You can disappoint someone once, but they won't let you disappoint them twice. A pattern that fades and cracks or a t-shirt that shrinks and rips won't create raving fans that come back and repurchase.
Higher quality t-shirts might cost more to produce but can also command higher prices. The final quality of your t-shirt will depend on the material of the blank t-shirt, printing technique used and correctly preparing your design file.
4. Brand
A strong, interesting brand is vital in the t-shirt industry. Your brand is a promise that will tie together all your choices including your niche, designs, and quality. Building a unique and likeable brand is important for businesses in a high competition industry.
When customers have more choices, it becomes extremely important for an e-commerce business to have a distinctive presence to capture customers' attention.
5. Inventory
When starting a t-shirt business, most people either opt to buy and hold inventory, taking advantage of bulk pricing and local printers, or use a print-on-demand service to take inventory management and shipping off your plate. You can also opt for a mix of both.
By holding your own inventory, you can more easily sell in-person and potentially improve your profit margins, whereas with print-on-demand, you take on a lot less risk. Weigh the pros and cons before you start, and if you're unsure, print-on-demand is always a low-investment way to test your business idea.
Of course, if you have the budget for it, you can also invest in your own printer and set up a base of operations.
6. Print techniques
In this day and age, there are several popular methods for printing onto t-shirts. Each method has its pros and cons, and will partially depend on how much time you want to invest in the product creation, as well as the printing partner you choose.
Below is an outline of three of these popular print methods to give you a better understanding of each process. For total control over the quality, supply chain, and the creative process, we recommend investing in your own printing equipment.
Screen printing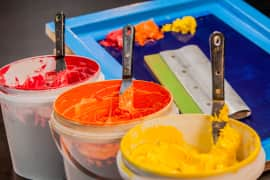 Screen printing is an old technique that has stood the test of time. As one of the most popular methods for printing onto t-shirts, screen printing can produce durable and long-lasting results.
However, a labour-intensive initial setup means screen printing is most cost-effective when printing large quantities of t-shirts (i.e. over 100& in a single order). Screen printing also encounters issues when it comes to complex designs or designs with more than four or five colours as the creation of separate screens for each colour increases costs and production time.
Heat transfer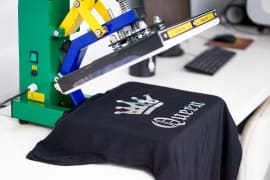 Heat transfers have also been around for a long time and exist in several forms. You may have seen basic heat transfer paper at your local office supply store.
Although with some heat transfer media it's possible to print your designs and transfer them with an iron, this won't cut it when it comes to running a business. The more advanced form of heat transfers are called plastisol transfers and thermal textile vinyl and are printed on high-quality heat transfer media and vinyl.
If you choose not to invest in your own heat transfer equipment, you could order a stack of prints from your local printer and transfer them to your t-shirts as you receive orders with a commercial heat-press machine, however it is much more cost effective in the long run to invest in your own cutter/plotter so you can print your heat transfers on-demand.
If you choose a 'print and cut' machine, such as the Roland BN-20, you can produce full-colour images onto t-shirts relatively easily and quickly.
Direct-to-Garment (DTG) printing
The direct-to-garment printing process operates much like an ink-jet printer you might have at home. DTG prints ink directly onto the t-shirt and can produce full-colour images with accuracy.
Direct-to-garment printing produces quality printing on par with screen printing and better than heat transfers. Because it operates just like an ink-jet printer, there are no setup costs, unlike screen printing. This means that it's easy and cost-effective to print small orders.
If you wish to print your designs on dark-coloured garments, you'll need to 'pre-treat' the garments before printing. This can be done manually, or with an automated pre-treatment machine.
Creating your t-shirt designs
If you're stuck for t-shirt ideas and designs, a great way to start is to look at what else is popular and currently selling well. You may also want to consider checking out Google Trends to get a sense of the topics people are currently interested in.
Mocking up your t-shirts
Once you have some final designs, your next step will be to get some mockup images of them on actual t-shirts. Your customers are going to want to actually see what the final design will look like printed on a shirt.
There are a few ways you can get images of your final designs on t-shirts including ordering samples and taking product photography yourself, or with the abundance of t-shirt templates online, you can opt to create a 100% digital mockup. Adobe Photoshop t-shirt templates (.psd) are the most common types of mockup files. They allow you to quickly preview how your designs will look printed on a t-shirt. Most Photoshop templates come with multiple layers that allow you to change the colour of the shirt and apply your own design that will blend with the creases, folds, and contours of the shirt.
Validating and testing your designs
Before you invest a lot of money on your new business idea, you should first verify that there is a market and interest for your designs. There are many ways you can go about validating the market for your design ideas.
Some of the popular and more common methods for validating your ideas include:
Personal social networks: Post some of your designs to your Facebook profile, niche Facebook Groups, on Twitter, and other social networks your friends and potential customers frequent. Be careful when asking friends and family, however—their opinions are prone to kindness.
Reddit: Despite the community's general aversion to marketing, Reddit is still one of the best places to get honest feedback on your designs (which can even translate into sales after you launch). With countless subreddits, it's easy to find a highly targeted niche of potential customers and ask them directly for their thoughts on your designs before launching.
Crowdfunding: Crowdfunding sites have made it much easier to test, validate, and collect money upfront for your new business idea. Launching a crowdfunding campaign can be time-consuming and requires a good deal of preparation, however, the benefits can be huge, which include fully funding your project before you launch it. If you have a particularly novel t-shirt business idea (say, matching t-shirts for dogs and dog owners), crowdfunding might be for you.
About GJS
GJS is Australia's premier provider of solutions and services for the textile, promotional products, custom photo gift, sign and display industries. With over 41 years' experience, GJS supplies everything needed to start and operate a successful printing business including equipment, consumables, training and support. Headquartered in Revesby, NSW, and with additional teams located in Victoria and Queensland, GJS serves customers throughout Australia, New Zealand, and the Pacific Islands. For more information visit: gjs.co. GJS and the GJS logo are trademarks or registered trademarks of GJS. Other names are trademarks of their respective owners.