Digital Factory Apparel RIP - Brother Edition
Digital Factory Apparel Brother Edition. Specifically designed to leverage the advanced print capabilities of Brother DTG printers.
Digital Factory Apparel Brother Edition provides professional quality workflow and colour management tools. Designed specifically for Brother GTX and GT-3 direct to garment printers, this version of Digital Factory Apparel includes features that enhance colour reproduction and maximize productivity.
All Brother Edition software suites provide:
Custom printer drivers and colour profile packages for the Brother GTX as well as the Brother GT-3 series direct to garment printers
Spectacular Colour Reproduction - CADlink's high-fidelity colour management engine provides the most vibrant, colour-accurate printing on white, coloured and black fabrics.
Industry-leading white ink management and automated underbase feature - Proper use of white ink is essential to printing images onto black or dark coloured fabrics. Advanced implementation of layer technology automatically creates an underbase layer that can be sent to a production queue directly from a design application.
Unmatched integration of black artwork elements into black garments - A pre-set queue function can automatically remove any black components from a design when printed on a black fabric. This creates highly attractive prints that make designs appear to literally "blend" into the fabric, (see also "plug-in" description below).
Seamless interface with design applications - No need to worry about the issues involved with exporting and importing files. Digital Factory Apparel uses "send to" technology direct from your favourite design applications, (Corel, Illustrator, Photoshop).
Complete, centralized job management - CADlink direct to garment RIP software features Visual Production Manager™, a simple, easy to use interface that manages multiple queues and multiple printers simultaneously.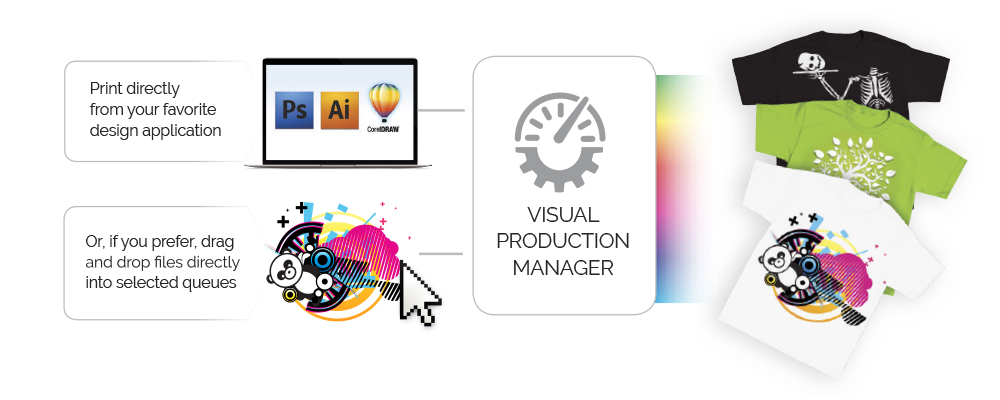 Direct, in-RIP support of production plug-in's - SuperSize Image (resolution increase for low resolution artwork); FluidMask (easy to use masking software ideal for removing unwanted backgrounds); "Knock-me-out-Black" and "Knock-me-out-Colour" (colour removal from artwork tools that allow graphics to "blend into" background garment colour)
Precision ink level controls - Provides the ability to optimize amount of ink placed on different fabrics. Contributes to cost savings and increases print quality.
CMYK and RGB file colour support ensures the widest range of process colours and true photographic-quality image printing - Conversion of colour spaces (RGB to CMYK) can create unwanted colour shifts. Since most apparel printers work with CMYK, Digital Factory Apparel is able to provide the most sought-after colour results in the market.
Order
Related Documents
& Links
Customer

Testimonials
"

Great Service, very prompt email responses. Easy to sort out issues with products, great to deal with.

James Kittos
"

I´m new to the sublimation business, and in my research I have your company to be the best so far, and I look forward to dealing with you again and again....Cheers

Julie Ireland
Why Choose GJS

Loyalty rewards
When ordering online and when purchasing equipment offline, we reward our pre-paid customers with GJS Points. The higher the tier, the more points, rewards and other benefits you can earn. Think of it as our 'frequent printing' program. GJS Points can be redeemed for discount vouchers that can then be used on subsequent orders. The GJS Points Program has four tiers: Cyan, Magenta, Yellow and Black. GJS points also 'pool' into your company/business account. This means if you have colleagues who also shop with GJS, you all earn points that accumulate together, helping you reach higher tiers of the program faster, and increasing your redemption value. We also reward our Black-tier customers with free freight on all their orders, regardless of the order amount and no matter where they are located. It's our way of saying thanks to our most loyal customers who continue to support us as we support them.
Further Information
If you require any further information on this product please click the button below and complete the form.