Discounted Products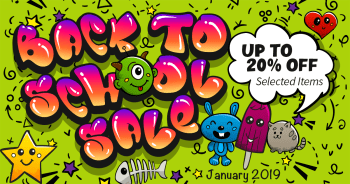 Dye Sublimation / Printable Blanks & Imprintables / Christmas
Looking for unique personalised Christmas gift ideas for your customers? Deck the halls, the tree and everything in between with our selection of Christmas-themed and inspired printable blanks and imprintables. Why not try our custom Santa sacks, personalised baubles, Christmas tree ornaments and other gifts you can personalise.
Heat Transfer Vinyl / Cuttable Heat Transfer Vinyl
Cut-only, cuttable, or cad-cut thermal textile vinyl suitable for single colour logos, text and numbers onto just about any fabric. Whether you're decorating cotton t-shirts, nylon jackets or performance wear for corporate, sports or fashion applications, we have a heat transfer material in the color and finish you require. The GJS range is manufactured according to strict European requirements for quality,
Dye Sublimation / Printable Blanks & Imprintables / Kids & Schools
Cool customisable products for kids and students who are looking to stand out from the crowd and printable blanks to complement school branding.
Screen Printing / Mesh
Screen mesh suitable for screen printing screens and frames from Unirich and Saati
Customer

Testimonials
"

Thank you for your super fast delivery! I ordered 3 sub blankets on Friday and I can't believe they arrived today!!! The best service ever I'm so happy thank you!!!

Judy Ashworth
"

Once again GJS staff and management shine. I ordered a less popular product that I knew was out of stock. For reasons beyone GJS control, the coming shipment was delayed. No problem though because GJS staff kept me informed right up until shipping yesterday. None of this waiting and wondering stuff with the helpful people at this business. I am probably one of their smallest customers, but do they care? Yes. They Care! They care for me as if I was a large client. Thanks GJS.

Ross Devitt
Why Choose GJS

We will never compete with you
There are some distributors who both sell to their customers and simultaneously compete with them by offering printing services. GJS understands this is a clear conflict of interest and that is why it is company policy to never compete with you, our valued customer.