Discounted Products
58 Products Found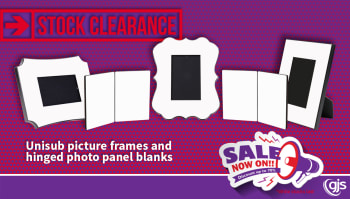 Heat Transfer Vinyl / Cuttable Heat Transfer Vinyl
Cut-only, cuttable, or cad-cut thermal textile vinyl suitable for single colour logos, text and numbers onto just about any fabric. Whether you're decorating cotton t-shirts, nylon jackets or performance wear for corporate, sports or fashion applications, we have a heat transfer material in the color and finish you require. The GJS range is manufactured according to strict European requirements for quality,
Dye Sublimation / Sublimation Inks & Cartridges / Epson Desktop Printers - ArTainium & subli-trans
ArTainium inks allow you to quickly and easily create a vast array of stunning customised consumer products. The hallmark of Sawgrass' ArTainium UV sublimation ink is reliability combined with affordability. For graphic professionals that truly understand colour and really know their way around their graphic design software, ArTainium inks are the most cost-effective for professional results.
Dye Sublimation / Printable Blanks & Imprintables / Kids & Schools
Cool customisable products for kids and students who are looking to stand out from the crowd and printable blanks to complement school branding.
Dye Sublimation / Printable Blanks & Imprintables / Mugs, Glasses, Bottles & Steins
Blank sublimation mugs and drinkwear are by far the most popular products in our printable blanks range. Everyone loves a personalised photo mug or promo mug!
Dye Sublimation / Printable Blanks & Imprintables / Vapor Apparel T-Shirts
Vapor Apparel is a new-age range of customisable performance apparel ready for all forms of decorating. If you need garments to compete in today's fashion and sports markets then the Basic-T and Vapor Micro Performance lines are a perfect fit.
Customer

Testimonials
"

Michael, After spending the evening telling my family how wonderful your company is I am just now settling down enough to write back and thank you for being such awesome people. I had been thinking of buying a machine for many months but had no idea how to track down who sold them or even which machine to start looking for (I knew nothing of brand names or quality). One day not so long ago I simply sat down in front of google and must have typed in the right thing because your company was the first one to slap me in the face. From the moment I started to speak with you about the machine I felt I was in very good hands. Your honesty and integrity won me over immediately (these qualities are far different to ′good salesmanship′). I knew I need not bother to shop around or compare prices, I was happy right from the start! I am a true believer in ′things happen for a reason′ and I was definitely directed to sit down at the computer AT THAT MOMENT to find GJS Machinery. You will not be able to comprehend how very grateful we are to you for your outstanding offer to help us. Thank you, thank you, thank you, thank you! We hope your stay here is productive as well as pleasant. We look forward to meeting you on Monday. Yours very sincerely, Lisa

Lisa
"

Graham and Greg - you are the best. You are always at hand when we need you. Due to the sublimation systems working so well, I dont need to bother either of you as much these days, however, when we have a technical or production issue you are always there at hand with the right solution. Thank you so very very much!

Narelle Jackson
Why Choose GJS

Free Freight
We´ll deliver your order for free if you spend over $300 on our website and live in the Sydney, Melbourne and Brisbane metro area with competitive freight charges out of these areas. Check to see if your post code qualifies
online
.