GJS Points are now even more rewarding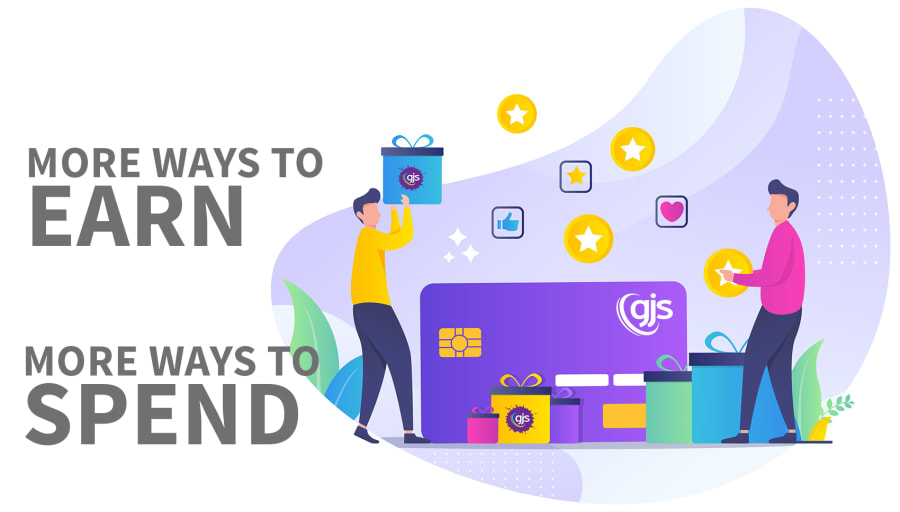 SYDNEY, Australia - December 1, 2021
GJS is today announcing exciting changes to its much-loved points program designed to give customers more ways to earn points, more visibility into points benefits and longer tier benefit time frames.
The GJS Points program was launched on 22 May 2007 and was the first of its kind for the Australian printing industry. Since its inception, GJS customers have used the program to convert more than 11 million GJS Points into hundreds of thousands of vouchers for free products, consumables and accessories.
In April 2018, GJS introduced the current C, M, Y and K tiers to the program and in response to your feedback implemented points rewards for printing equipment that was purchased offline, such as via your GJS sales engineer, via email or over the phone.
The evolution of the GJS Points program continues today with the following changes:
GJS Points now apply to even more transactions
Every offline transaction (via a sales engineer, customer service team member, email or phone) now earns GJS Points, not just offline printing equipment purchases or online sales.
Every pre-paid trade customer*, regardless of their loyalty tier, earns 1 point per $1 ex GST spent offline and online. This means you'll now earn GJS Points on special order products not listed on our website, equipment services such as repairs and production work through to our screen services division.
Yellow and Black tier customers now earn more
Our Yellow and Black tier customers now also earn more points for offline transactions.
Use GJS Points for offline transactions
Just as you can now earn GJS Points for every offline transaction, you can now also redeem your GJS Points for use with offline sales orders~. So, if you are making a new equipment purchase via your GJS sales engineer, your GJS Points can now be used for these sales orders too.
Instant GJS Points processing
GJS Points are now processed at the time of invoice of each order. There's no more waiting on backorder items to finalise a web order so that points can be posted to your account.
Longer tier benefits
Each time you attain or retain your tier status, you'll be guaranteed 12-months of benefits at that tier status instead of the previous rolling 12-month window. For example, if you retain your Yellow tier on 1 July you can be confident in knowing that you have the benefits of being a Yellow tier customer until the same date the following year.
Clearer bonuses, tier benefits and statements
Now when you receive your GJS Points statement you'll clearly see how many base GJS Points you have as well as any special or bonus GJS points you have earned. You will also be able to clearly see the value of your tier benefits so you can decide how and when you'd like to redeem your points.
New tier qualification levels
With far more opportunity to earn points with GJS, we've amended the qualification criteria for our tiers and also introduced new requalification criteria which, as it was previously, is lower than the initial qualification levels.
You can find the new tier qualification and requalification criteria in our GJS Points frequently asked questions, here.
Your GJS Points statement will also now clearly show you the number of points you need to attain or retain your tier status with the introduction of the Qualifying Points metric. This provides you with more certainty of your benefit period and also provides greater transparency on your qualification membership year.
More ways to earn bonus points
Keep an eye on your inbox and on our social channels for many more and new ways that we'll be rewarding our loyal customers with a number of exciting surprise and delight bonus points opportunities rolling out in the coming months—just another benefit of being a loyal GJS customer.
Read our updated GJS Points program FAQ
* GJS Points do not apply to reseller customers, customers on credit terms, or on product lines with special negotiated pricing.
~ Only applicable for open sales orders that have not been shipped or processed to an invoice.
About GJS
GJS is Australia's premier provider of solutions and services for the textile, promotional products, custom photo gift, sign and display industries. With over 43 years' experience, GJS supplies everything needed to start and operate a successful printing business including equipment, consumables, training and support. Headquartered in Revesby, NSW, and with additional teams located in Victoria and Queensland, GJS serves customers throughout Australia, New Zealand, and the Pacific Islands. For more information visit: gjs.co. GJS and the GJS logo are trademarks or registered trademarks of GJS. Other names are trademarks of their respective owners.