GJS pioneers print industry's first drone delivery service
The contents of this news article has expired and is no longer relevant.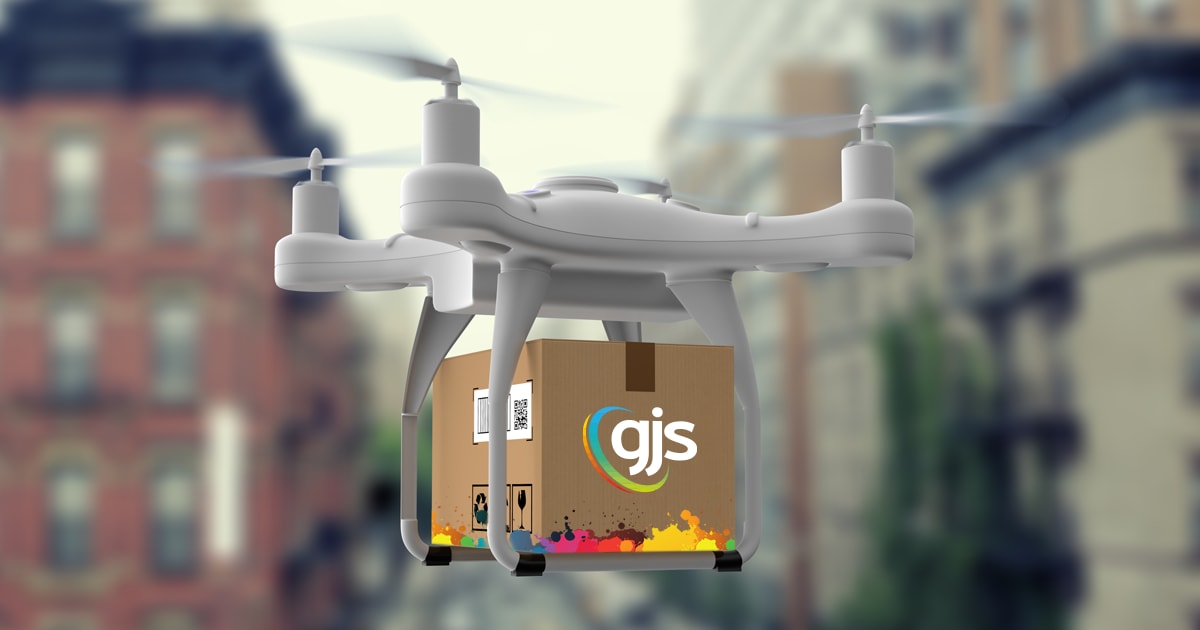 SYDNEY, Australia - April 1, 2019
GJS today launched a new service that allows its customers located in the Sydney, Brisbane and Melbourne metropolitan areas to have their orders delivered via a fleet of customised GJS drones.
The new service, a first of its kind for the print industry, is set to revolutionise the Australian print on-demand landscape by providing truly 'just-in-time' delivery to the digital decoration, promotional product and photo gift industries.
"You just have to jump in the car on any given day of the week to see how congested our roadways are," said Greg Stone, Managing Director, GJS. "Coupled with this, petrol prices are soaring, courier companies are becoming less and less reliable, and the postal service is going the way of the dinosaurs.

"GJS is already renowned in the industry for its exceptionally speedy delivery, so the addition of a fleet of drones was a natural extension to the already amazing service that we're providing to our customers," Greg continued.
The new delivery system has been developed especially for use in the print industry, with the fleet of drones customised to carry the unique payloads of GJS customer deliveries including dye sublimation blanks, rolls of vinyl, ink cartridges and other consumables.
"What you're seeing now is just the beginning. As the drone programme continues to evolve it is our goal to expand the fleet and increase payloads to be able to deliver larger items, including printers themselves," Greg added.
Trials of the service have already proved incredibly successful with transit times from GJS HQ in Revesby to metropolitan Sydney suburbs reduced by up to 75 percent in some instances.
The service has also seen some unexpected benefits, especially with the delivery of white ink cartridges to GJS' many direct-to-garment customers.
"Drone trials during some of Sydney's more windy days delivered the unexpected benefit of white ink cartridges arriving already agitated—so there was no need for the customer to shake the cartridges before placing them in their printers," Greg added.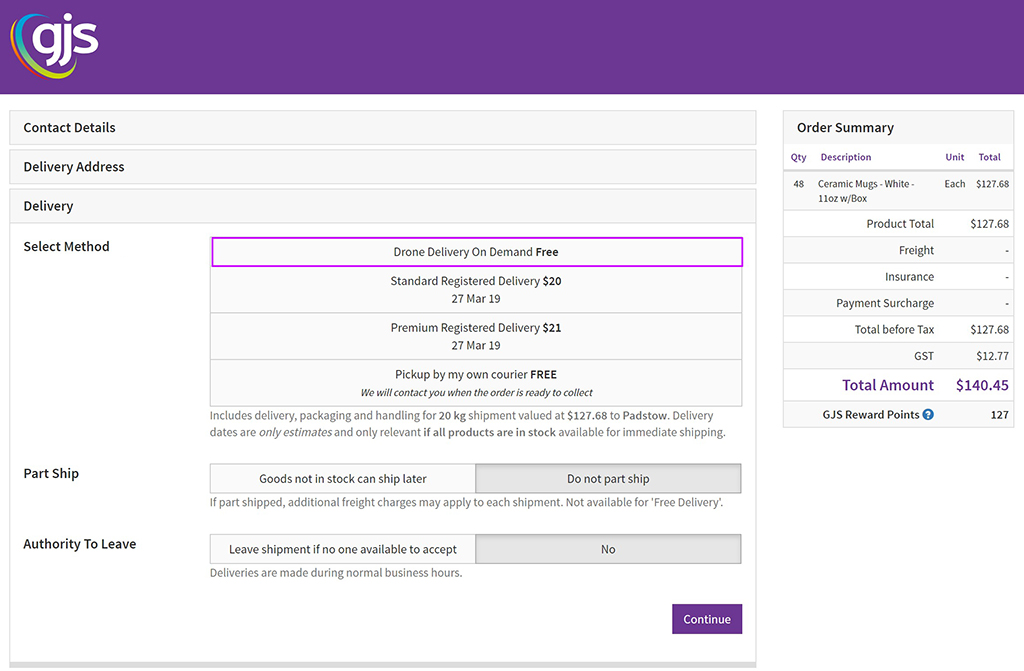 GJS customers can select drone delivery for online orders (as per the above) from today, Monday 1 April, if they are located in one of the designated Sydney, Brisbane or Melbourne metropolitan "drop zones."
The new service is FREE of charge.
See it in action!
About GJS
GJS is Australia's premier provider of solutions and services for the textile, promotional products, custom photo gift, sign and display industries. With over 41 years' experience, GJS supplies everything needed to start and operate a successful printing business including equipment, consumables, training and support. Headquartered in Revesby, NSW, and with additional teams located in Victoria and Queensland, GJS serves customers throughout Australia, New Zealand, and the Pacific Islands. For more information visit: gjs.co. GJS and the GJS logo are trademarks or registered trademarks of GJS. Other names are trademarks of their respective owners.