The 4 'P's of profitable garment printing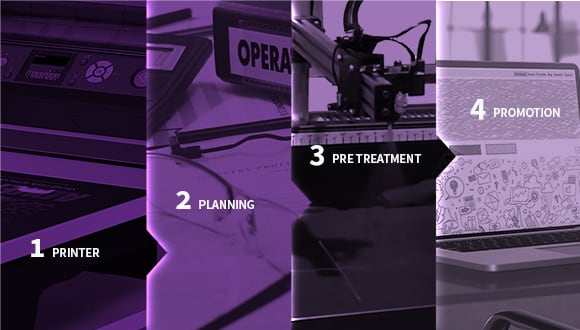 SYDNEY, Australia - February 14, 2017
Perhaps you're pondering taking the plunge into garment printing? Or perhaps you've already purchased a new DTG printer. Either way, make sure to follow GJS' 4 'P's for profitable garment printing.
1. Printer
Congratulations! You've just purchased yourself a shiny new garment printer and you're ready to start raking in the money! Garment printers have really come a long way in the last few years and they're now even easier to operate and advances in technology have also greatly increased the reliability of the white ink.
From single platen, to dual platen, and with more accessories available than Barbie, garment printers can now produce so much more than wearable products. From caps, tea-towels, pillows to a plethora of other products, garments really are just the beginning of what you can create.
2. Planning
If you combine the above advancements with a good business plan and spend some time researching and identifying your target market, you are guaranteed to keep both yourself and your printer busy. You can do this in several ways, but the easiest is simple desk research. Get your Google on and spend some time online researching your target market and putting together robust and metrics-driven business plan.
Once you have your plan in place it's easy to simply set and forget about it, but it's important to revisit it regularly and ensure that you're continuing to track towards your success metrics. And if things don't go exactly to plan, or a target market wasn't as lucrative as expected – pivot. Change direction and try something else. As Einstein said, "the definition of insanity is doing the same thing over and over and expecting a different result."
3. Pre-treatment
Once you have the work coming in on a regular basis you need to ensure your work is consistent. Remember, you're only as good as your last print job in the minds of your customers.
For example, manually applying the perfect amount of pre-treatment solution when you're in the middle of a print run of 500 t-shirts can be challenging. Too much pre-treatment solution and the ink becomes brittle, lowing the washability. Not enough pre-treatment solution and the white ink either doesn't deliver a good white, or the bright colours that sit on the white.
When starting out, most people choose an airless spray gun option to apply pre-treatment solution, but as your business grows and print jobs become larger, the pre-treatment component of your workflow can take up more time than the printing! This decreases output and in so increases the cost to produce each printed item.
We recommend introducing a semi-automatic pre-treatment machine into your workflow to ensure consistent results. A typical semi-automatic pre-treatment machine will take approximately five seconds to treat a shirt from load to unload. It is an investment in your printing business that will immediately save you time and increase your productivity.
4. Promotion
Your products aren't going to sell themselves. To get your garments into the hands of your customers you need to be where they're looking for such items. In most cases this will be online, so a website is crucial. A website that lets your customers design their own products and submit them directly to you is even better as this means you'll spend less time on the phone, or in front of Photoshop tinkering with artwork and more time printing and pressing those precious products that are going to earn you money.
Depending on your target market, you should also look to have a presence on social media. With so many platforms to choose from however, deciding where to invest your time can be daunting. We advise our customers to try and not be everything to everyone on all platforms, but choose one or two platforms (i.e. Facebook, Pinterest or Instagram) to reach their target audiences.
For more information about getting started in garment printing, guidance, putting together a business plan, or how to market your business for maximum profit, get in touch with the GJS team.
About the Author
Michael has over 28 years' experience working in the print industry and has worked with the GJS team since 2006. Michael forms part of the GJS Digital Sales team, but he also has extensive experience in screen printing and imparts his knowledge through GJS' regular courses and to GJS' customers. Just don't tell him to go get on his bike, because he probably will! He's an avid mountain bike rider and often shares GoPro footage of his adventures with the team. Michael's favourite colour is sky blue.
About GJS
GJS is Australia's premier provider of solutions and services for the textile, promotional products, custom photo gift, sign and display industries. With over 41 years' experience, GJS supplies everything needed to start and operate a successful printing business including equipment, consumables, training and support. Headquartered in Revesby, NSW, and with additional teams located in Victoria and Queensland, GJS serves customers throughout Australia, New Zealand, and the Pacific Islands. For more information visit: gjs.co. GJS and the GJS logo are trademarks or registered trademarks of GJS. Other names are trademarks of their respective owners.