Save 20% on Roland DG Printer Cutters
The contents of this news article has expired and is no longer relevant.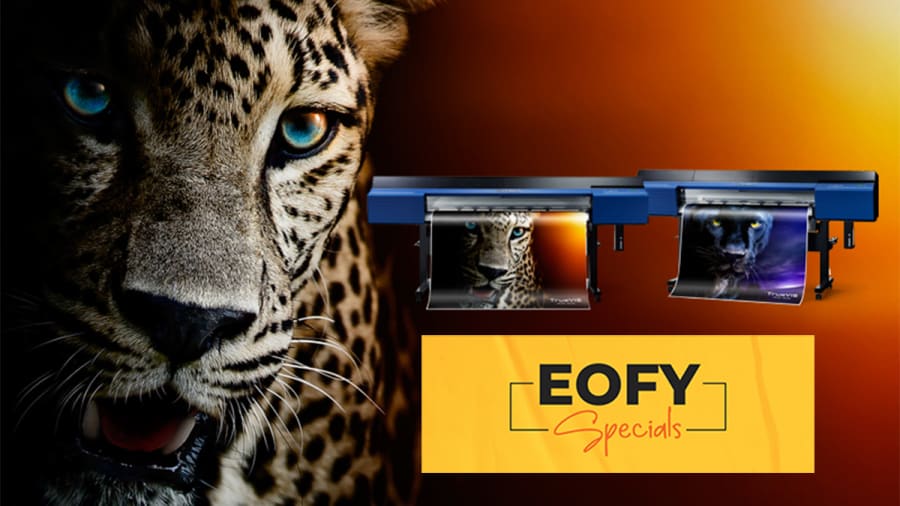 SYDNEY, Australia - May 1, 2022
To end the financial year on a high note, Roland DG is offering a huge 20% OFF its TrueVIS VG2 series and TrueVIS SG2 series printer cutters to help you expand your business into the print and cut market.
It doesn't matter if you are just starting out with a new business idea or are looking to take your company to the next level, the SG2 and VG2 printer cutters deliver the dependable quality of the award-winning TrueVIS brand with a streamlined system and the super-fast same-day turnaround speeds you need to keep customers happy.
Roland DG TrueVIS VG2 Series Printer/Cutters
Roland DG's next generation TrueVIS wide-format printer cutters have been engineered to surpass the quality and production needs of today's most demanding professionals, offering everything you could want in an eco-solvent printer and a whole lot more.
Both the 54-inch TrueVIS VG2-540 and 64-inch TrueVIS VG2-640 offer comprehensive new colour choices, improved machine efficiency, and increased print and cut accuracy. These are Roland DG's 16th generation eco-solvent solutions and represent a significant leap forward from previous generations.
Shop the TrueVIS VG2 Series Now
Roland DG TrueVIS SG2 Series Printer/Cutters
The Roland DG TrueVIS SG2 creates exceptional quality graphics, in stunning vibrant and natural colours that stand out from the others. With an enhanced Print & Cut accuracy and increased production efficiency you are able to produce die-cut decals and labels, striking banners, spectacular signs, vibrant vehicle wraps – and so much more.
Shop the TrueVIS SG2 Series Now
Does this sound like the print and cut boost your business needs? Give us a call on 1800 457 888 or email sales@gjs.co and one of our sales engineers will help you to take advantage of this limited time offer. This offer is only until June 30, so don't miss your chance to bring your graphics to life!
About GJS
GJS is Australia's premier provider of solutions and services for the textile, promotional products, custom photo gift, sign and display industries. With over 43 years' experience, GJS supplies everything needed to start and operate a successful printing business including equipment, consumables, training and support. Headquartered in Revesby, NSW, and with additional teams located in Victoria and Queensland, GJS serves customers throughout Australia, New Zealand, and the Pacific Islands. For more information visit: gjs.co. GJS and the GJS logo are trademarks or registered trademarks of GJS. Other names are trademarks of their respective owners.