Making the right mug choice: a how-to guide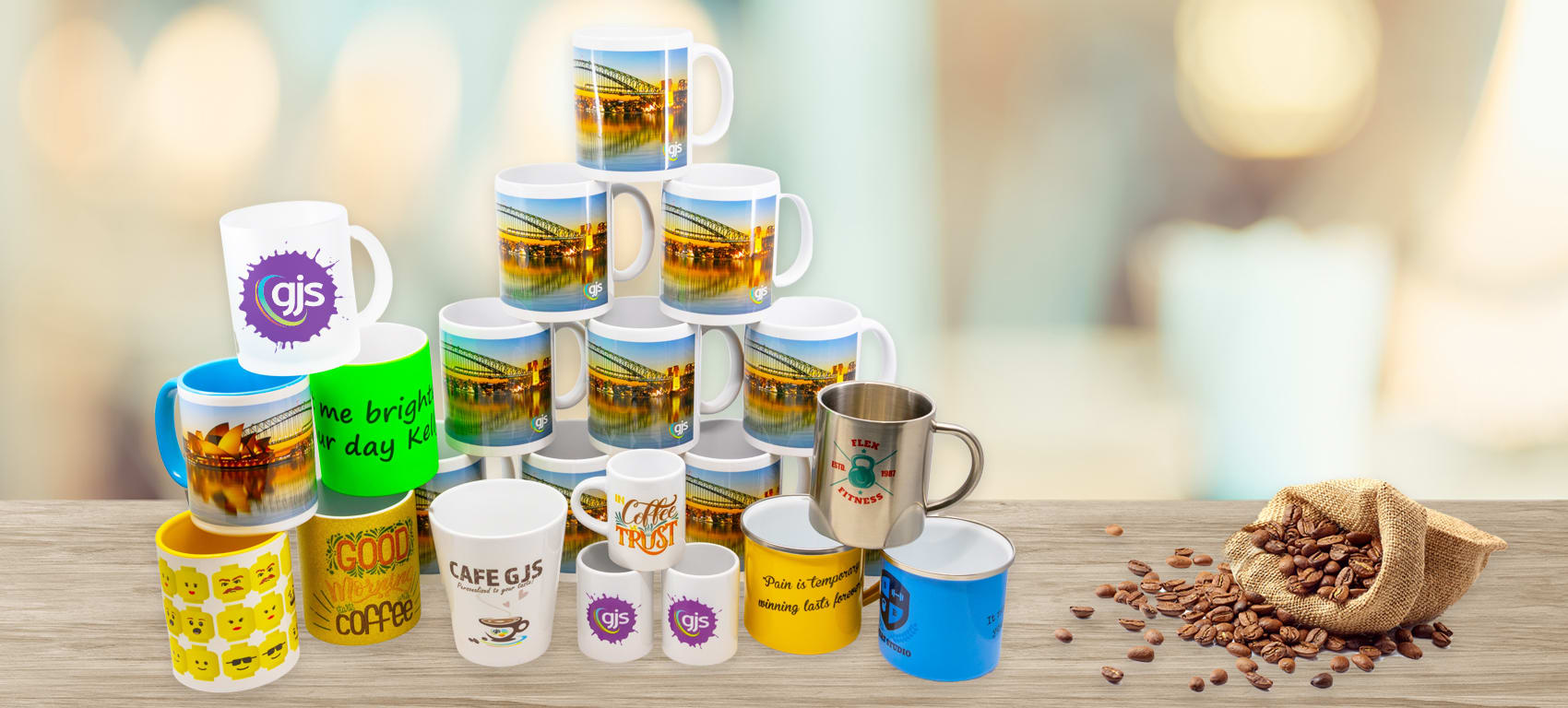 SYDNEY, Australia - August 31, 2019
Selecting the most suitable mug to sublimate is not as easy as it may seem, and not all dye sublimation mugs are created equal. Choosing a high-quality coffee mug will give you the best results and boost your bottom line. We'll show you how to make the right mug choice in this how-to guide.
Would you believe me if I told you that coffee mugs are the most popular product for sublimation printing? Well, it's true! Not just for GJS or the Australian market but all around the world! However, making the right choice as to which mug to sublimate is not as easy as it may seem and not all dye sublimation mugs are created equal, which is why we've prepared this handy how-to guide.
Style and size
There's many different styles and sizes of dye sublimation mugs. From plain white, to matte textured, magical colour changing mugs, and from 3oz mini espresso mugs, to latte mugs, and right up to jumbo 15oz monsters! Once you have settled on the style, shape, size and colour of the mugs you want to produce there are other factors that you should consider, such as the print quality and overall durability.
Coating is key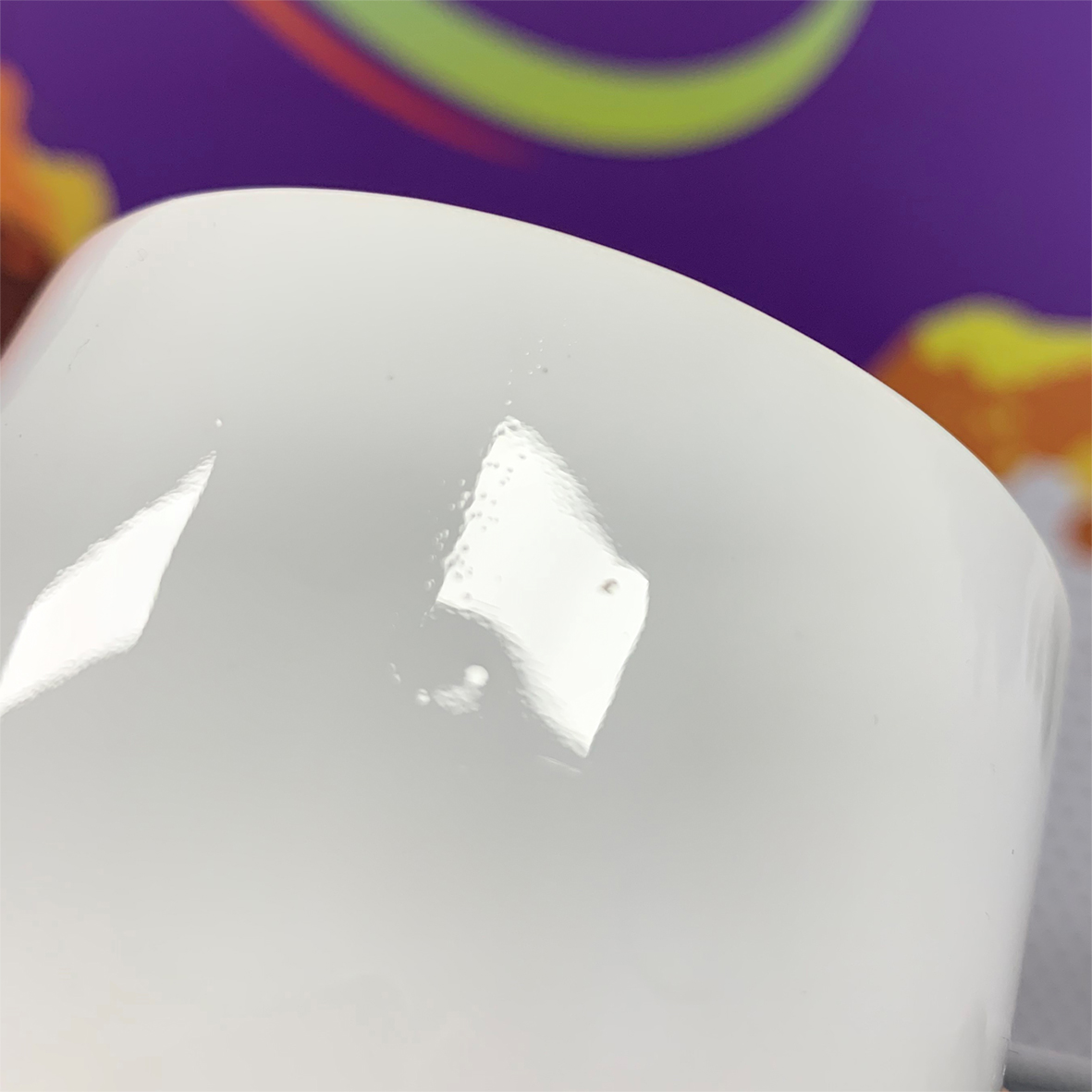 The polymer coating applied to the mugs is the layer the ink penetrates during the sublimation process, therefore, the higher the quality of the coating the higher the quality of the final product.
Not all coatings are suitable for dishwasher use, this means they will fade under the high temperatures that a dishwasher uses. Some coatings can fade as quickly as the first wash, some others may last 10-20 washes before the coating starts to breakdown.
The polymer coating also needs to be applied perfectly to the product without any imperfections. Lower-grade coffee mugs have many defects in the surface, this is usually dust or particles in or under the coating, resulting in 'pimples' in the surface (shown left).
It wouldn't be ideal if you printed the image of a customer's face over one of these pimples 🤣 Would it?
Dishwasher fastness
The ceramic mugs that we supply at GJS are guaranteed for 3000-plus dishwasher cycles if printed correctly. That's over eight years if you wash them every day of every week! Don't be fooled by lower quality mugs that claim to be dishwasher safe but don't have a guarantee.
We've heard horror stories from some of our customers who have purchased cheap mugs from eBay, Kmart or other suppliers, only to have them returned for refunds by their customers after the prints wash off or run after a few uses, or one cycle in the dishwasher (shown right). Remember that you must choose mugs that are designed especially for dye sublimation.
If you want bright, choose white
Another important thing to remember with dye sublimation printing is that accurate colour reproduction is achieved when working with a white substrate. Selecting a dye sublimation mug with a bright white finish, such as the 11oz white ceramic coffee mugs from GJS will provide accurate, ultra-sharp prints and brilliant colour reproduction.
If the mugs you choose are slightly yellow or discoloured, then your final result isn't going to be the high-quality output that you'd want to sell to your customer, or that they are going to be willing to pay a premium for.
Drink or decoration?
Finally, always check the coffee mugs are certified for contact with foodstuffs—in other words, that they are certified to be drank out of. Not all coffee mugs have the relevant certification required, this is something you should find out prior to use.
And always remember that if you need help selecting the most appropriate mugs, or any other products for your digital decoration business, you can reach out to the GJS team here via: help@gjs.co
About the Author
Hailing from 'sunny' Sheffield in the UK, Steve joined the GJS team in August 2014 after emigrating to Australia. He's a natural problem solver and is always ready with a fix to whatever problem any of our customers might have. Steve has over thirteen years' expertise in inkjet printer troubleshooting, maintenance and repair for desktop, large format inkjet and direct to garment printers. He also has valuable skills in the area of colour management and the creation of ICC profiles and is a qualified Epson large format printer engineer. In his spare time Steve likes running, cycling and regularly participates in marathons and triathlons. His favourite colour is Royal Blue, of course!
About GJS
GJS is Australia's premier provider of solutions and services for the textile, promotional products, custom photo gift, sign and display industries. With over 41 years' experience, GJS supplies everything needed to start and operate a successful printing business including equipment, consumables, training and support. Headquartered in Revesby, NSW, and with additional teams located in Victoria and Queensland, GJS serves customers throughout Australia, New Zealand, and the Pacific Islands. For more information visit: gjs.co. GJS and the GJS logo are trademarks or registered trademarks of GJS. Other names are trademarks of their respective owners.