Recycle your empty Roland ink cartridges at GJS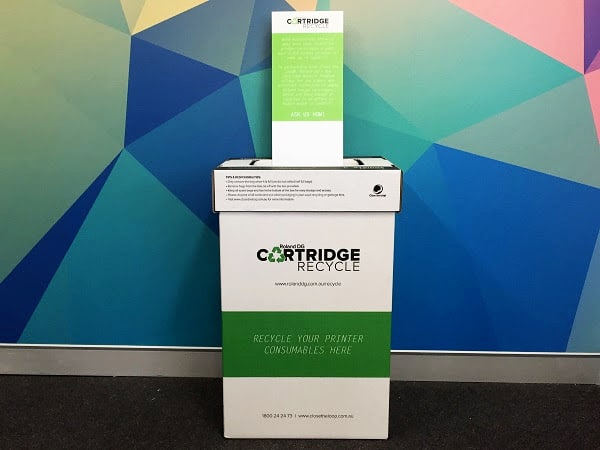 SYDNEY, Australia - November 7, 2016
Your empty Roland ink cartridges can now be recycled at GJS. Simply drop them into our showroom in Revesby, give them to a GJS technician at your next scheduled service, or to our GJS Sydney Metro delivery driver when dropping off your next order.
All empty ink cartridges are returned to Close the Loop, Australia's largest recycling and resource recovery company for imaging consumables. Driven by a philosophy of zero waste to landfill, Close the Loop reuses or recycles 100% of every inkjet cartridge that is collected, as shown below:
Ink – is converted from waste to energy in a contained area. This can then be stored and used in a range of ways
Plastics – are sorted, broken down, and made into pellets to sell to manufacturers for re-use in new products, such as cartridges, pens and rulers
Metals – metals are separated by eddy current and magnets into ferrous and non-ferrous and sold to or passed on to partners/suppliers for re-use.
For every 1 tonne of imaging consumables collected and recovered by Close the Loop, approximately 10 tonnes of carbon (tCO2eq) savings is recovered.
About GJS
GJS is Australia's premier provider of solutions and services for the textile, promotional products, custom photo gift, sign and display industries. With over 41 years' experience, GJS supplies everything needed to start and operate a successful printing business including equipment, consumables, training and support. Headquartered in Revesby, NSW, and with additional teams located in Victoria and Queensland, GJS serves customers throughout Australia, New Zealand, and the Pacific Islands. For more information visit: gjs.co. GJS and the GJS logo are trademarks or registered trademarks of GJS. Other names are trademarks of their respective owners.