Steve's Seven Suggestions for Successful Sublimation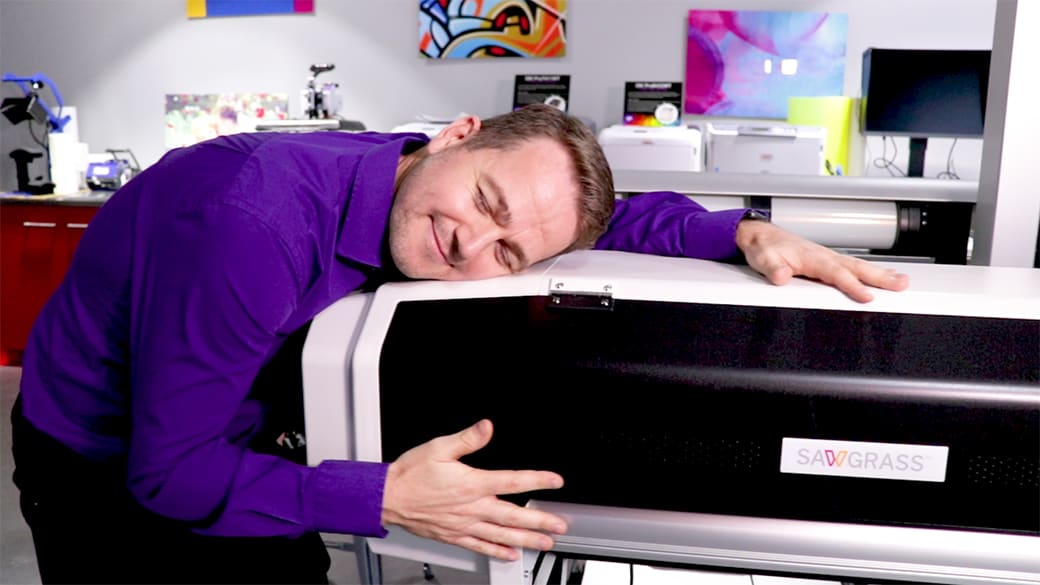 SYDNEY, Australia - April 19, 2018
No matter if you're printing t-shirts, mugs, ChromaLuxe prints or stubby coolers and thongs, make sure you follow Steve's seven steps for successful sublimation so you get the best results every time.
1. Look after your printer
If your printer is not in perfect working order your print quality will be affected. Ensure you store and operate your printer, inks and paper within the recommended environment. Leave the printer powered on when not in use and perform any recommended maintenance as required.
2. Get to grips with your graphics application
Knowing how to manipulate an image within your graphics application, whether to resize or to enhance overall quality is the key producing premium products. There are many courses and training resources out there including GJS' very own Introduction to Graphics Software for Printing course which will teach you the basics of the most popular graphics applications and much more.
3. Use impressive images
We've all heard of the expression, "garbage in; garbage out," well this rule applies for printing too. The printer can only reproduce your artwork, if it is poor quality it will still be poor quality when printed. Using high-resolution images that have great clarity and vibrant colours will deliver you the best possible results.
4. Know your TTP's! Time, temperature and pressure settings
Make sure you know the correct time, temperature and pressure settings for your heat press and substrates. Every brand of substrate will require specific settings and it may vary from press to press. It would be a good idea check the temperature of your heat press from time-to-time to ensure it is still correctly calibrated.
5. Select suitable printer settings
Using the correct colour management software will help streamline the printing process. However, there are still a couple of settings that need be selected to ensure things run smoothly, and these vary depending on the graphics application—so make sure you are familiar with yours. Utilise the GJS version of the Virtuoso Print Manager to its full potential by optimising the print for the appropriate substrate and image type.
6. Monitor your ink cartridges
All sublimation ink and cartridges have a shelf-life for a very good reason. Over time the chemical makeup of the ink can change, if this occurs, the colour output will be affected and it has the potential to damage the printer. The expiry date is written on the outer packaging and also on the cartridges, make a note of this and monitor your stock accordingly.
7. Plan our your work area
Sublimation systems vary in size from A4 to over 3m wide but planning your workspace carefully is critical especially if space is at a premium. Your printer should be a minimum of 1m away from a heat source (e.g. a heat press) and you should be operating in a room between 15°C and 25°C. You will need a preparation area to apply your printed transfers to the substrate and also a cooling area to allow your products to cool down after pressing. If you get this right it will allow you to optimise your production process.
Video
About the Author
Hailing from 'sunny' Sheffield in the UK, Steve joined the GJS team in August 2014 after emigrating to Australia. He's a natural problem solver and is always ready with a fix to whatever problem any of our customers might have. Steve has over thirteen years' expertise in inkjet printer troubleshooting, maintenance and repair for desktop, large format inkjet and direct to garment printers. He also has valuable skills in the area of colour management and the creation of ICC profiles and is a qualified Epson large format printer engineer. In his spare time Steve likes running, cycling and regularly participates in marathons and triathlons. His favourite colour is Royal Blue, of course!
About GJS
GJS is Australia's premier provider of solutions and services for the textile, promotional products, custom photo gift, sign and display industries. With over 41 years' experience, GJS supplies everything needed to start and operate a successful printing business including equipment, consumables, training and support. Headquartered in Revesby, NSW, and with additional teams located in Victoria and Queensland, GJS serves customers throughout Australia, New Zealand, and the Pacific Islands. For more information visit: gjs.co. GJS and the GJS logo are trademarks or registered trademarks of GJS. Other names are trademarks of their respective owners.