Seven steps for Summer printing success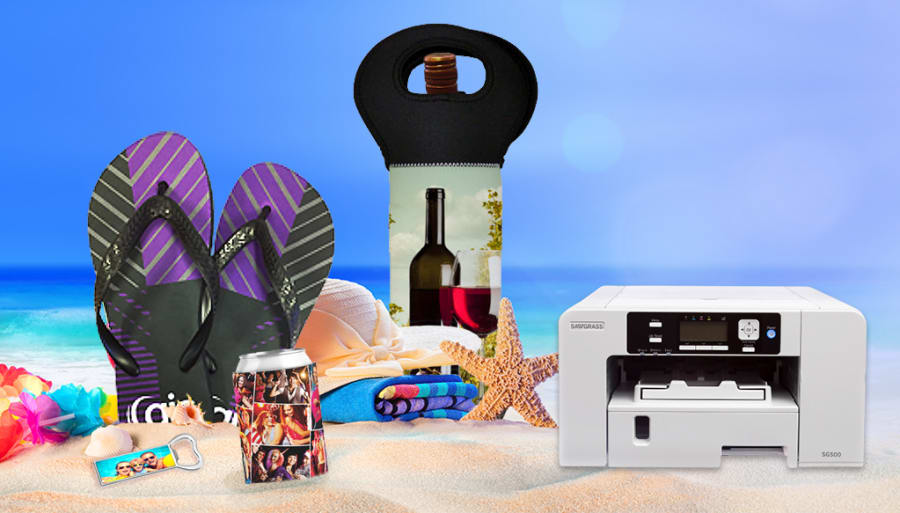 SYDNEY, Australia - October 29, 2021
With the warmer weather upon us, now is a good time to be aware of some of the environmental factors that come along with the heat that can impact the performance of your printer, inks, media and the quality of your prints.
Temperature
When printing, keep the print room temperature around 22C plus or minus 7C. Close to and beyond these limits, print quality can suffer.
Don't operate the printer when the room temperature is over 35C. Print quality will suffer considerably and many modern printers have environmental sensors to shut themselves down when the room reaches about 40C. Consider enclosing your print room if needed and buy an air conditioner. At the least, print during the cooler parts of the day (or night).
Humidity
Keep the print room at 40-60% Relative Humidity (RH). Inks and media do not perform as well in very dry or very humid environments. Dry days below 20% RH are common all year round in sub tropical Australia, and air conditioners will only further dry your room. Buy a humidifier if needed.
Media and ink storage
Store your print media in a similar environment – or the same room - as your printer. Sudden changes in temperature and RH can impact on the media when taking it from a non- climate controlled environment to a cool print room.
Store your inks and media in a cool, dark place, away from sunlight and sources of heat. Don't leave media on your printer; keep rolls tightly wound and in the original packaging. About 18 to 22C is best. Don't store ink in a fridge.
Rotate your ink and media stocks – use the oldest first, and remember that any use-by dates are only applicable when stored at or around 20C. Never use out of date ink.
Power and storms
Summer storm activity often causes power spikes. Unplug your printer from the power and network until the storm has passed or consider spike protection (call your electrician). Don't rely on the power strip boards claiming to protect your equipment. They don't.
About GJS
GJS is Australia's premier provider of solutions and services for the textile, promotional products, custom photo gift, sign and display industries. With over 42 years' experience, GJS supplies everything needed to start and operate a successful printing business including equipment, consumables, training and support. Headquartered in Revesby, NSW, and with additional teams located in Victoria and Queensland, GJS serves customers throughout Australia, New Zealand, and the Pacific Islands. For more information visit: gjs.co. GJS and the GJS logo are trademarks or registered trademarks of GJS. Other names are trademarks of their respective owners.