Welcome to the new home of GJS online
SYDNEY, Australia - June 23, 2014
Welcome, welcome, welcome – to the new home of GJS online. We hope you like the new look and feel of our website. There's plenty of new features for you to explore, including more product information, bigger, higher resolution images, improved navigation and search and a new responsive design that means no matter what device you're using – PC, tablet, smartphone, the website will adapt to fit your screen size.
Plus everything you loved about the previous GJS website is still here, live stock availability, real time order statuses and the one-page express checkout for faster shopping.
So have a look around, and if you find any gremlins or bugs, send an email to greg@gjs.co and we'll stamp them out.
GJS today revealed a complete redesign of its website to increase speed, improve customer experience and take advantage of the proliferation of mobile and tablet devices being used to both peruse and purchase printing products in today's market.
The new website was developed entirely in-house and utilises 'responsive design,' the latest in web development technology, which means that no matter the size of the monitor, mobile or tablet screen you view it from, it will automatically adjust to fit the display perfectly.
"GJS was first in the industry to have a website, which we debuted in October 1999 and the first to introduce ecommerce facilities in June 2002. We also strive to be at the forefront of technology and innovation and this sixth iteration of our website provides our customers with the three things most important to them; information; speed and convenience. Since implementation, we've already recorded a significant increase in customers shopping using mobile and tablet devices, a trend that will no doubt continue to increase," said Greg Stone, Managing Director, GJS.
"And because we're more than just machinery, we've now removed the word 'machinery' from the new website, including the URL, and replaced it with the simple and easy to remember GJS.co," Greg added.
Key features of the new GJS.co website include:
Intuitive, instant, multi-category search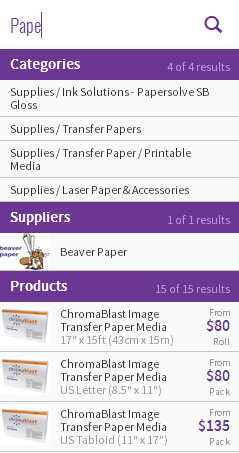 The GJS search engine has been completely redesigned so that it is easier for customers to find information. When conducting a search for a new product, customers now simply enter a portion of the required search term and the website will automatically begin narrowing down options – categories, suppliers, products and even help topics and tutorials (see example opposite).
Built for speed
All the GJS website code has been completely rewritten so that all pages load faster than ever. Many common functions now happen in the background which means less page loading and page refreshes.
Ahoy there! Find what you need faster with improved navigation!
Find exactly what you need to find, faster and easier with a familiar, but more user-friendly navigation experience, and if you are accessing the website from a mobile or tablet device, the navigation and all data entry fields and forms are touch-friendly (see below).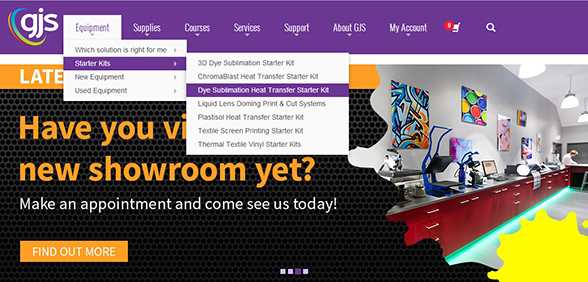 Bigger is better
Each and every product image is now bigger, so you can see exactly what you're perusing and purchasing.
Less isn't more – more is more
There was already lots of information on the previous GJS website, but now there's more. Simply click on a product panel to reveal more information on every product including volume discounts, weight and shipping/freight estimates (see below).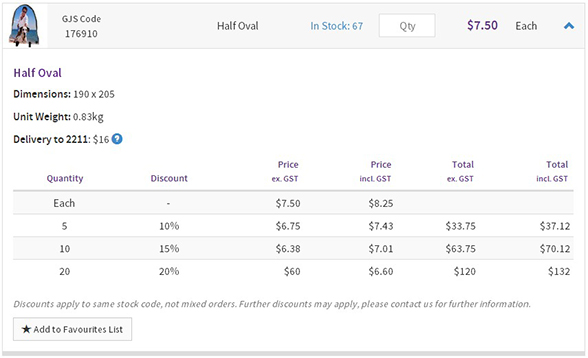 Feel safe and secure
The new website features advanced SSL encryption meaning that customers can continue to feel safe shopping and transacting at GJS.co. As a reminder of this security and GJS' trusted credentials, the address bar now turns green, with a secure padlock (see below).

And more
"Whilst there are so many new things to love about our new website, we haven't forgotten about the things our customers have always valued – up to the minute order status and stock availability, visibility of account and invoice balances, the ability to easily update account details and a one-page express checkout so they can get back to running their own businesses and profiting from print," Greg concluded.
Customers with existing bookmarks to the previous website will be automatically redirected to GJS.co.
About GJS
GJS is Australia's premier provider of solutions and services for the textile, promotional products, custom photo gift, sign and display industries. With over 41 years' experience, GJS supplies everything needed to start and operate a successful printing business including equipment, consumables, training and support. Headquartered in Revesby, NSW, and with additional teams located in Victoria and Queensland, GJS serves customers throughout Australia, New Zealand, and the Pacific Islands. For more information visit: gjs.co. GJS and the GJS logo are trademarks or registered trademarks of GJS. Other names are trademarks of their respective owners.