Website Improvements
SYDNEY, Australia - July 2, 2007
In June we launched a number of enhancements to our website; live stock availability, live statements and made improvements to product ordering.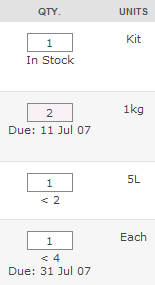 Previously, stock availability was determined on our website using variables such as ´minimum stock` and `lead time in days`. Now, however, when you view a product detail page, real-time data is taken straight out of stock management system and availability is displayed in a simple, familiar, form at - highlighting whether a product is `In Stock`, an estimated due date for backordered product or if limited quantities are available before the product is discontinued. For your convenience, we now also show this information on the shopping cart page (see right) so you can see availability of all items in your cart.
Since we can now interfaced our online database with our in-house database, our approved account customers can now view live account statements whenever required. Simply login to your online profile and click through to the `Account Statement´ section that will list all outstanding transactions and also enable to you pay your account securely using your credit card. We have formatted the data so it remains consistent with your monthly statement.
Finally, we have improved the way you order products. When viewing a product line you now have the option to order a number of the different `variants` (sizes/colours/styles) with a single click of the new `add to cart` button. View this Permaset Aqua product for a demonstration.
About GJS
GJS is Australia's premier provider of solutions and services for the textile, promotional products, custom photo gift, sign and display industries. With over 41 years' experience, GJS supplies everything needed to start and operate a successful printing business including equipment, consumables, training and support. Headquartered in Revesby, NSW, and with additional teams located in Victoria and Queensland, GJS serves customers throughout Australia, New Zealand, and the Pacific Islands. For more information visit: gjs.co. GJS and the GJS logo are trademarks or registered trademarks of GJS. Other names are trademarks of their respective owners.