[VIDEO] Masita: kicking goals with the Roland BN-20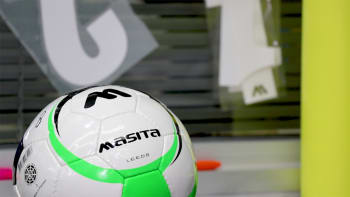 With two Roland VersaSTUDIO BN-20's powering production, Melbourne-based sporting apparel business Masita is kicking goals in the local sporting community by providing speedy service, bespoke customisation and good old-fashioned customer service.
And its approach is resonating with customers with the business already contemplating national expansion and diversification into other sporting codes.
Susan Palmer and Parker McKenzie from Masita chat with GJS about how they got started printing garments for their local soccer club and how important its two Roland BN-20s are for the speedy production of its sporting apparel.
Transcript:
Masita is a Dutch brand that was launched in Australia three years ago. We offer full-service apparel, mostly specialising in soccer gear but we also offer sporting apparel for other sports. We offer a full catalogue of apparel for both on-field and off-field and we offer a personalised service, so we can offer logos and numbers to whatever specifications that you want.
Masita got started when we were working in a soccer club as volunteers. Somebody ordered sizes that were way too large, we had an excess of soccer gear but wecouldn't give it back because it had the logo on it so we decided to get apparel and printing equipment and do our own and that's basically, we just started with just one soccer club and we've grown from there. Mostly our customers are sporting clubs ranging from only a few members, 50 members or less, right up to over a thousand members.
We purchased two Roland BN-20s from GJS and we've had fantastic service from these guys. We also purchase all the consumables for the BN-20s from GJS and the heat transfer vinyl and the inks and everything else that we need for the machines.
The Roland BN-20s are incredibly important to our operations here, we do all the printing of our logos and sponsors for our football jerseys, we also do the cutting for the vinyl for numbers for the shirts when we're fitting our soccer teams. I think people prefer to deal with people locally instead of overseas because of the improved flexibility that it provides. We can, for example, we can add a player in at the start of the season if they've come into the team late. It also means we have small lead times when getting the goods to the clubs or the people who have ordered it and increased speed.
What's next for Masita is hopefully a period of increased expansion growth, which we have been experiencing at the moment. We hope to expand into other states and have a greater presence there, as well as expanding to other sporting codes. We also want to continue to expand our community programs that we offer such as helping fundraise and gain sponsorships for clubs and hopefully be known as a strong community partner to local soccer clubs and local sporting teams.
Highlights
Design and print hundreds of customised products for customers: all in-house and on-demand
Roland VersaSTUDIO BN-20 Metallic Desktop Eco-Solvent Printer/Cutter
Heat transfer vinyl and Roland BN-20 consumables all purchased from GJS
Are you considering a cut vinyl or heat transfer printing solution? GJS can help!
Questions? Call Us
We're here to help. Call us and speak with a Printing Solution Specialist who will answer any questions you might have.
Request A Demo
If you would like to see any of the equipment mentioned in action we can set up a demonstration for you.
About GJS
GJS is Australia's premier provider of solutions and services for the textile, promotional products, custom photo gift, sign and display industries. With over 41 years' experience, GJS supplies everything needed to start and operate a successful printing business including equipment, consumables, training and support. Headquartered in Revesby, NSW, and with additional teams located in Victoria and Queensland, GJS serves customers throughout Australia, New Zealand, and the Pacific Islands. For more information visit: gjs.co. GJS and the GJS logo are trademarks or registered trademarks of GJS. Other names are trademarks of their respective owners.