Discovering Direct-to-Film (DTF) Printing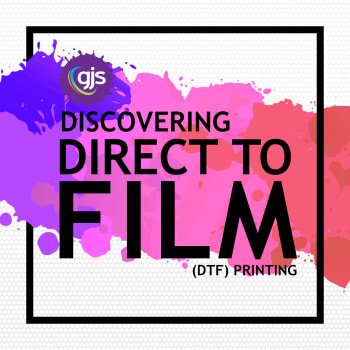 Direct-to-Film (DTF) printing continues to be the hottest topic in the print industry in 2023. If you're doing it already and want to see the latest products and processes, or if you just want to see what all the hype is about, these events in Sydney, Melbourne and Brisbane are for you!
A lot has changed in the world of direct-to-film (DTF) printing since GJS launched its DTF solution 12-months ago.
GJS now supplies not one, but TWO different types of DTF thermo adhesive powder and a premium DTF matt coating film that can now be peeled hot to create amazing transfers that can be applied to a multitude of fabrics, including polyester!
Since our last event, GJS also launched its direct-to-film D300 speed oven that significantly reduces the amount of time needed to melt the DTF powder and cure the ink before transfer to a substrate.
The addition of a separate specific curing device to the DTF production process means that other heat transfer presses and/or tunnel dryers can be freed up for other production use.
GJS' direct-to-film (DTF) printing solution produces amazingly vibrant results and has the ability to maximise the profit-earning potential of your garment printer, and with lots of new and exciting developments in this space, don't miss this event and opportunity to stay up-to-date on the most talked about new printing process in the industry today.
Attend one of our events in Sydney, Melbourne or Brisbane and learn:
What is DTF printing?
What can be achieved using GJS' DTF printing solution?
How does GJS' DTF print solution work with Brother and Epson garment printers
Overview of all the updates to Graphics Lab and Garment Creator that have been made over the last 12-months specifically to improve results with DTF
Tips and tricks for creating amazing DTF transfers
Live demonstrations
Q&A session with GJS team
All course/event attendees also receive a $20 voucher to spend on the GJS website.
See what you missed at our last event 👇
Event Reviews
"

Thank you to You and Ian for running the workshop in Perth it gave us so much inspiration of where to take our business in the future and having the face to face experience gave us the courage & confidence in making our purchase. You guys did great & your product knowledge truly gave us the confidence to proceed with our purchase.

Mara Harman
"

Can't wait to get started. The whole day was informative and hands on.

Name Withheld
How much?
$19 per person (including GST)
Join our Event Watch
We don't have any of these events currently scheduled. Simply add yourself to our Event Watch and we will make sure you are informed when new sessions are scheduled.
Join Event Watch