Virtual Photoshop for Printing
Our Virtual Photoshop for Printing course is a series of one-on-one remote training sessions, delivered over phone and TeamViewer. Each course is customised to your specific needs to ensure you get the best learning experience.
You can choose to purchase either a single hour of virtual training or purchase a three-session 'pack' for maximum value.
Prior to all sessions one of the instructors will invest in an exploratory session with you so that they can then customise the training to your specific needs and so you receive the most valuable and relevant training for your needs.
What you'll learn:
Learn the best way to set-up your artwork in Adobe Photoshop to get the best results on your printed products
Learn how to create the highest quality print ready graphics ready for all printing technologies
Got a problem with tricky piece of customer artwork? No problems! We'll work with you to find a solution and teach you the necessary skills to tackle the problem in the future
Explore some of the more advanced aspects of Adobe Photohop such as colour manipulation, the creation of bleed areas and learn how you can modify your designs for different substrates
Three-Session Starter Pack
The three-week introductory course is made up of three one-hour one-on-one sessions. If you are fairly new to Adobe Photoshop and want to feel more comfortable using the program, this course is for you!
This course is recommended for most users before proceeding to our intermediate and advanced courses. The sessions are structured to introduce you to the workflow of Adobe Photoshop and will teach you the basic skills to begin utilising this powerful program.
Topics covered:
Workspace setup
How to use the basic tools
Useful keyboard shortcuts
How to create and open files
Create and manipulate shapes and text
Crop and clip techniques
Understanding layers
Selection tools and techniques
Removing backgrounds from artwork
Understanding resolution
Resizing artwork
How to adjust colours in your designs
How to use product templates
Non destructive artwork manipulation
Understanding different file types (png, jpg, pdf, psd) and which is the most suitable for you
Manipulating logos and graphics for the best results for different printing technologies
By spacing the sessions one week apart, you will get the chance to practice the skills learnt in each session and return with any questions the following week.
PRICE: $249
Single-Hour Session
For intermediate to advanced users, we've put together this on-demand virtual training option that is entirely customised to your needs. If you have some experience using Adobe Photoshop but want to dive deeper and enhance your skills, this package is for you!
This bespoke approach allows the instructor to focus on the skills you wish to develop. This training is specifically for people in the textile printing industry with previous experience using Adobe Photoshop.
Some examples of what you could learn:
Advanced artwork manipulation
Colour management best practices
Merging multiple images to create a new graphic
Artwork restoration
How to prepare artwork for murals
Learn how to approach complex or troublesome artwork
These sessions are a perfect opportunity to work on any actual customer designs or artwork you may be dealing with. This might include artwork you have had trouble with, or maybe a print job for an important client that you really want to get right. By working with the GJS instructor, you can get a great outcome for one or several of your customers, as well as learning how you can approach similar designs in future.
It is recommended a minimum of two sessions so you have the opportunity to return to the instructor with any questions the following week. If you really want to develop your Adobe Photoshop ability, ongoing weekly tutor sessions can also be arranged.
PRICE: $89/hour
Registrations
Our Virtual Photoshop for Printing course runs on-demand, throughout the entire year. To register some time with one of our experienced instructors, simply click the button below and they'll get in touch and book in a time for the exploratory session so that they can customise the training to your specific needs.
Your instructors
Steve Poole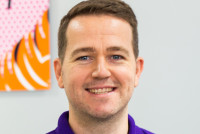 Hailing from 'sunny' Sheffield in the UK, Steve joined the GJS team in August 2014 after emigrating to Australia. Steve started his career in print at Sawgrass Europe and is an expert in digital printing with over seven years' expertise in inkjet printer troubleshooting, maintenance and repair for desktop, large format inkjet and direct to garment printers.
He also has valuable skills in the area of colour management and the creation of ICC profiles and is a qualified Epson large format printer engineer.
Steve has extensive experience delivering computer training sessions in his most recent role as Education & Technical Content Specialist at Sawgrass.
Tim Parry
Tim joined the GJS team in 2018 and brings with him his passion for customer service and friendly personality. Tim is forever excited by new technologies and enjoys helping others make the most out of their new toys by solving problems and puzzles.
With a long history as a tutor, Tim appreciates that every person requires unique communication. When Tim isn't saving the lives of printers, he enjoys playing music and enjoying the outdoors.