Introduction to Screen Printing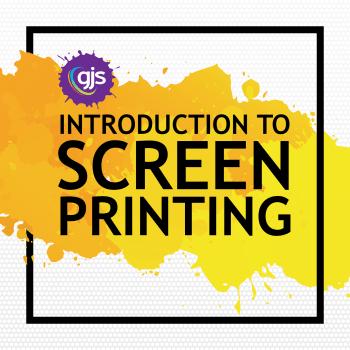 With its origins in China between 960-1279AD, screen printing is one of the world's most ancient crafts and continues to be a popular form of garment decoration, hobby and art. Even with the advent of digital printing, screen printing continues to be widely used to create t-shirts, graphics, posters, ceramics and more.
Today screen printing is enjoying a renaissance thanks to the availability of environmentally friendly inks, customer demand for more traditionally produced products and its cost-effectiveness compared to digital printing.
GJS has been running screen printing courses since the early 1990s and has been an industry leader since 1978 so if you attend this course you'll truly be learning from the experts.
On the day you'll learn and practice:
Overview of the screen printing process
The importance of mesh selection—the pros and cons of different mesh counts and colours
Understanding screen tension
Wooden frames vs. aluminium frames
Screen Preparation prior to stencil making—conditioning and degreasing
Emulsion coating technique and the different types of emulsion
How to create stencils as well as exposure and washout times
Blotting, drying and post exposure techniques'
How to set up your print jobs
Positioning your print on your t-shirt
Hands-on creation of your own t-shirts including pressure, flood coating and squeegee angle
Curing your creations—ensuring your prints are wash proof
After the course you'll leave with:
A thorough understanding of screen printing and the various equipment used in the process
Knowledge on the different types of products you can create using screen printing
Your own screen printed garments that you'll create throughout the day
The Introduction to Screen Printing course is held in the GJS' modern 200 square metre training facility in Sydney.
During the course you'll create a single-colour print job, or you can also send in your own artwork ahead of time and print your own design on the day!
View the calendar for upcoming dates or email us for private course bookings. Classes are typically held for individuals or groups of up to 5 people max.
Event Reviews
"

I really enjoyed the opportunity to ask any kind of questions and the depth of the knowledge of Stephen in the industry.

Adam
How much?
$299 per person (including GST)
Join our Event Watch
We don't have any of these events currently scheduled. Simply add yourself to our Event Watch and we will make sure you are informed when new sessions are scheduled.
Join Event Watch