What is UV Printing?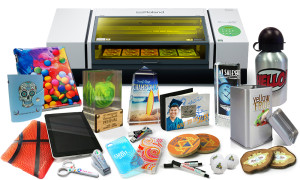 UV printing is a form of digital printing that uses ultra-violet lights to dry or cure ink as it is printed. As the printer distributes ink on the surface of a material, specially designed UV lights follow close behind, "curing" or "drying" the ink instantly.
The use of digital UV printing is certainly a hot topic in the printing world right now. It is the fastest growing sector of digital inkjet printing and more sustainable than conventional printing.
UV printing technology offers users direct-printing capabilities onto a virtually limitless range of three-dimensional media allowing quick and easy product customisation. The UV ink is printed directly onto the substrate and when the inks are exposed to UV light they turn from a liquid, to a solid instantly.
UV printing technology is a growing trend in the printing industry replacing traditional screen and pad printing applications. The main difference between the two is that the UV ink is cured using a photomechanical process rather than solvent evaporation therefore eliminating VOC's (Volatile Organic Compounds). Printing with UV allows printers to work in a cleaner and safer environment due to the zero emission of solvents into the air. The environment also benefits through the lack of need to use solvents in the clean-up process.
See our range of UV printers
UV printing applications
Print customised artwork direct to awards and trophies

Create bright, textured device covers with clear ink added

Personalize a variety of stationery items and office supplies

Produce custom branded balls and other sporting accessories

Customise notebooks, folders and photo albums
A simple two-step process
1

Design

Design anything, up to photographic quality, in your graphics program

2

Print

Print directly to virtually any substrate with zero drying time
How easy is it to use a UV printer?
How do I make money from UV printing?
The inclusion of UV printing in your business gives you countless product customisation opportunities including the ability to print directly to objects that are up to 100mm thick.
The versatility of UV printing means that you can start printing onto objects with curves and contours such as golf balls, pens, computer mice, portable power banks and so much more.
You can also use your UV printer to create awards, trophies and plaques for local schools, sports team and community organisations. With these organisations needing regular presentation items, with the right relationships, this revenue stream can be endless!
With margins on many UV-printed products range from 100% to more than 1000% depending on the quality and novelty of the printed product, the possibilities to profit from UV printing are limitless.
What is the return on investment with a UV printing solution??
Using the below points as an example you can potentially break even after just 4 months!
Printing Solution: Roland VersaUV LEF-12 Benchtop UV Flatbed Printer
Printing: 4 trophies a day, 5 days a week
Average sell price: $70.00 each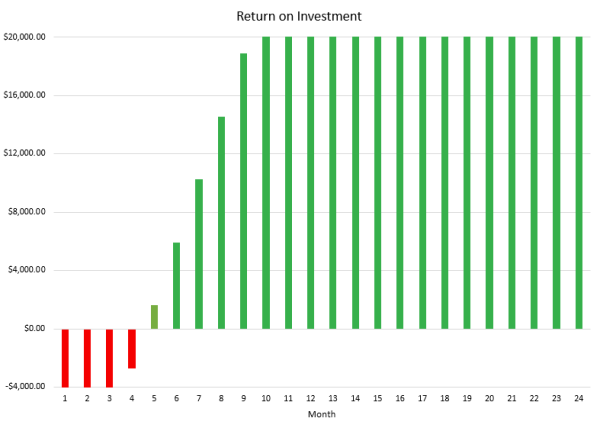 * Estimates only and does not take into account your personal situation, overhead expenses and other variable costs. Please conduct your own calculations. All prices exclude GST.
Further information
If you require any further information on this solution please click the button below and complete the form.