Printing solutions for the fitness industry and gyms
Print customised products in your gym and on-demand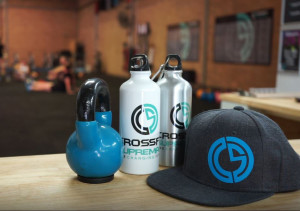 Imagine introducing new members to your gym with a unique welcome pack including customised water bottles, t-shirt and key ring.
Or picture your members representing your gym wearing customised t-shirts at an event or competition, or using customised products to mark member milestones such as weight loss achievements, weightlifting personal records and other fitness goals.
Literally hundreds of branding and promotional items can now be created on-site and in-house with desktop printing solution from GJS.
Bring your gym branding in-house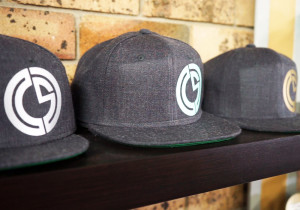 Much like the corporate world, a gym's brand has inherent value. From reputation within the local area, to a sense of community, excellence and in some cases - exclusivity. A great brand experience serves to attract additional members, instil pride with existing members as well as energise staff.
Most gym owners and managers believe that it's necessary to order large quantities of branded promotional products offshore to keep within budget. This is no longer the case and savvy gyms, Crossfit boxes and fitness studios are embracing new digital printing technologies and bringing branding and the creation of promotional materials in-house.
What printing technology could I use in my gym?
Heat transfer vinyl
Heat transfer vinyl for textiles are a way to produce professional, personalised garments quickly, easily and very cost-effectively. Using a computer, heat press and either a vinyl cutter or digital printer you can decorate just about any fabric.
CAD-Cut Vinyl
Available in two product lines; GJS Flex and GJS Flock range are cut-only or CAD-Cut vinyl suitable for single colour jobs comprising of text, logos and sporting numbers. Since GJS Flex and GJS Flock also adheres to itself you can also create complex designs simply by applying multiple layers to your garment.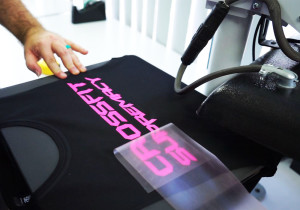 Print & Cut Vinyl
The GJS TexiPrint and EasyPrint range of digitally printable film allows you to produce high impact, multi-coloured, transfer from a solvent/eco-solvent printer. Using a Roland Printer & Cutter you can produce high quality transfers in the single workflow.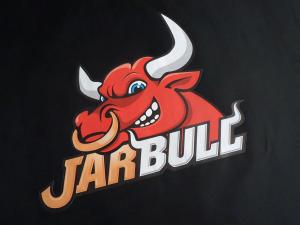 Dye sublimation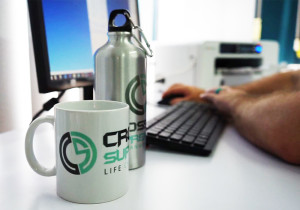 Dye sublimation is a method of applying an image to specially coated ceramics, metals and polyester fabric, and it can create many exciting opportunities for gyms, including the production of welcome packs, team t-shirts, achievement plaques, water bottles, mugs, key rings and much, much more.
Sublimation ink is unique in its ability to convert from a solid to a gas without going through a liquid form. The conversion is initiated by heat and controlled with pressure and time. The high temperature - from a heat transfer press - opens the pores of the polymer and allows the gas to enter. When the temperature drops, the pores close and the gas reverts to a solid state. The print then becomes part of the polymer.
Hard items including ceramics and metals require a special coating to accept the sublimation inks. However, you do not need any coating on 100% polyester items such as mouse mats and 100% polyester fabric. We stock a
wide range of pre-coated sublimation imprintables
and t-shirts! Our high-quality dye sublimation ink has excellent colour brightness and produces brilliantly crisp transfers.
Easy as 1-2-3
1

Prepare

Design your artwork on a computer

2

Print

Use a vinyl cutter to cut the outlines of your artwork onto GJS Media

-or-

Print out the artwork onto dye sublimation paper using dye sublimation ink

3

Press

Use a heat press to transfer the image onto your substrate
Crossfit Surpremacy case study

Crossfit Supremacy is a Crossfit gym located in Padstow, NSW. Working with GJS, it recently brought its branding and promotional product printing in-house and can now create hundreds of customised products for its members.
Can my gym make money with this solution?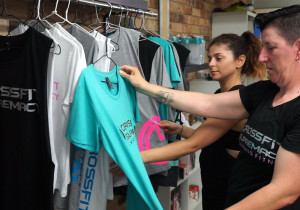 Absolutely! A digital printing solution can provide your gym with an exciting new revenue stream―from fundraising, to special events, member gifts, clothing and more.
And the margins on personalised products can range from 100% to more than 1000% depending on the quality and novelty of the printed product. The only limit is your creativity and imagination!
How much money could my gym be making?
Your gym or Crossfit box can enjoy healthy margins on personalised products that are sold to members, friends, or the local community. Below is a selection of products showing the approximate production costs and the possible sell price.
Selling Price
Gross Profit
Product
Production Cost
Lowest
Highest
Lowest
Highest
T-Shirts
 $8.69
 $25.00
 $40.00
 $16.31
 $31.31
Coffee Mugs
 $3.02
 $15.00
 $30.00
 $11.98
 $26.98
Tote Bags
 $2.95
 $13.00
 $29.00
 $10.05
 $26.05
Mouse Mat
 $2.61
 $15.00
 $25.00
 $12.39
 $22.39
Coasters - Set of 4
 $3.86
 $20.00
 $25.00
 $16.14
 $21.14
Photo Panel - 20x25cm
 $8.18
 $30.00
 $80.00
 $21.82
 $71.82
Plaque - 18x22cm
 $6.92
 $20.00
 $45.00
 $13.08
 $38.08
Key Ring
 $1.50
 $7.00
 $15.00
 $5.50
 $13.50
Pricing and calculations are correct at time of publishing based on research conducted by GJS and are subject to change without notice. Production costs will vary based on your printer, coverage and volume of stock you purchase in. Please conduct your own research. All prices exclude GST.
What is the return on investment of the textile printing solution?
Using the below points as an example you can potentially break even after just 9 months!
Printing solution value: $2,490
Printing: 15 shirts a month
Average sell price: $28.00 each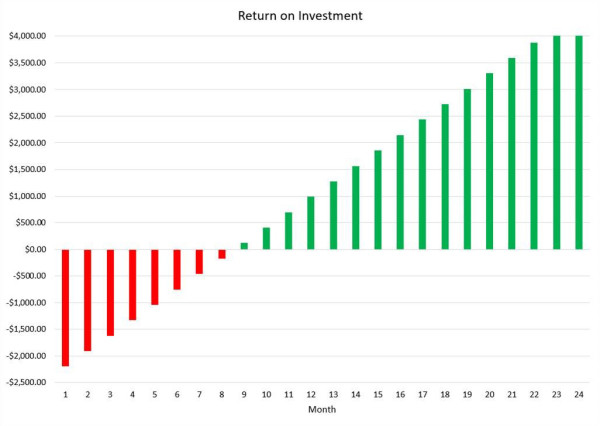 * Estimates only and does not take into account your personal situation, overhead expenses and other variable costs. Please conduct your own calculations. All prices exclude GST.
Gym testimonial
"

I would definitely recommend the Sawgrass Virtuoso desktop dye sublimation solution and Roland STIKA to any Crossfit box or gym that is looking to take control of its branding and print customised products for its members.

Luke Heiser – Owner & Head Coach, Crossfit Supremacy, Padstow, NSW
Printing solution starter packages
Textile and Promo Product Printing Kit
Sample printable product starter kit
In the Textile and Promo Product Printing Kit we've included a selection of our most popular printable products in this solution to allow you to print samples, become familiar with the process and display the finished product at your gym.
Further information
If you'd like any further information on the GJS' desktop digital printer packages for gyms and Crossfit boxes, and fitness studios, please click the button below and complete the following form.