Bag a Basket of Goodies, Each Day of Easter with GJS!
The contents of this news article has expired and is no longer relevant.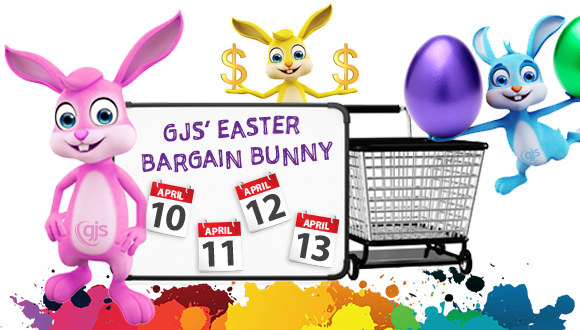 SYDNEY, Australia - April 3, 2017
Between Monday 10 and Thursday 13 April, be in the running to win the contents of your GJS online shopping basket for FREE!
Simply shop as usual on the GJS website and proceed through the checkout. Each day the GJS Easter Bargain Bunny will choose a shopping basket at random and the owner will win the value of their order back in the form of an online gift voucher! 
It could be inks, printable blanks, or an entire new printing solution, the GJS Easter Bargain Bunny has no boundaries! There's also no limit on how many times you can win, so shop each day for your chance to bag a basket of goodies, courtesy of GJS.
Happy Easter!
About GJS
GJS is Australia's premier provider of solutions and services for the textile, promotional products, custom photo gift, sign and display industries. With over 41 years' experience, GJS supplies everything needed to start and operate a successful printing business including equipment, consumables, training and support. Headquartered in Revesby, NSW, and with additional teams located in Victoria and Queensland, GJS serves customers throughout Australia, New Zealand, and the Pacific Islands. For more information visit: gjs.co. GJS and the GJS logo are trademarks or registered trademarks of GJS. Other names are trademarks of their respective owners.