Products From Advanced Innovative Technologies - AIT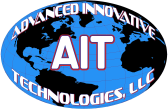 AIT has for three decades been a world-leading supplier of technologically advanced fabric fusing, heat presses, fabric inspection and materials handling equipment to the apparel manufacturing industry worldwide.
Heat Transfer Presses / Large Format & Automatic Platen Heat Presses
Typically used for producing individual pieces, platen heat presses use a heated platen to press flat or rigid pieces such as cut apparel, ceramics, wood, metals and more. For increased production, shuttle platen presses utilise two workspaces with a single heated platen, allowing you to prep your product on one surface, while you are pressing another product on the second surface, reducing production time!
Heat Transfer Presses / Rotary Calendar Drum Heat Transfer Presses
Rotary heat presses use a heated drum which spins fabric through the press to decorate rolls of fabric continuously. These presses are designed to print fabric pieces that are too large for a platen press. Used mainly for banners, flags, and cut/sew apparel (like jerseys), rotary presses tend to be more productive than platen presses. They cannot be used, however, to press rigid substrates.
6 Products Found
Customer

Testimonials
"

Thank you very much for your excellent service. I was thinking that I would have to purchase the clear film from an overseas source, then I found your web site with the product I wanted and in stock and no over priced rip off shipping charges. I received the goods in 2 days, tried the product and it performs as I wanted. Thank you very much great to do business with an Australian company. I will certainly recommend to others who are interested.

Brenton Vowles
"

Great experience so far. Very impressive delivery speed! Happy to recommend and keep using your services!

Alistair Bain
Why Choose GJS

We will never compete with you
There are some distributors who both sell to their customers and simultaneously compete with them by offering printing services. GJS understands this is a clear conflict of interest and that is why it is company policy to never compete with you, our valued customer.