Products From Advanced Innovative Technologies - AIT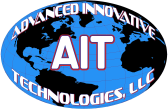 AIT has for three decades been a world-leading supplier of technologically advanced fabric fusing, heat presses, fabric inspection and materials handling equipment to the apparel manufacturing industry worldwide.
Heat Transfer Presses / Large Format & Automatic Platen Heat Presses
Typically used for producing individual pieces, platen heat presses use a heated platen to press flat or rigid pieces such as cut apparel, ceramics, wood, metals and more. For increased production, shuttle platen presses utilise two workspaces with a single heated platen, allowing you to prep your product on one surface, while you are pressing another product on the second surface, reducing production time!
Heat Transfer Presses / Rotary Calendar Drum Heat Transfer Presses
Rotary heat presses use a heated drum which spins fabric through the press to decorate rolls of fabric continuously. These presses are designed to print fabric pieces that are too large for a platen press. Used mainly for banners, flags, and cut/sew apparel (like jerseys), rotary presses tend to be more productive than platen presses. They cannot be used, however, to press rigid substrates.
8 Products Found
Customer

Testimonials
"

Fantastic customer support and very fast service. The GJS team will impress you with their great communication skills and their ability to acknowledge and act on user feedback. I look forward to buying from them again the future.

Jezahna Poy
"

Just writing to say a BIG thanks especially to Kerry and the gang. Was really great of you to express post out the ladies wallet. And the extra item was just a lovely thought. I was in no hurry for the item and understand that mix-ups happen, was just expecting it to be tacked onto my next order. But instead I was delighted at you customer service in handling this issue. Thanks again guys :)

Tamara
Why Choose GJS

Maximum convenience
At
gjs.co
, you can order our products 24/7 and we´ll deliver it to your door! Or simply call us. Our phones are open from 8am to 4:30pm Monday to Friday. We´ll make sure you get all the information you need to make informed decisions. It just doesn´t get any easier.