Products From Advanced Innovative Technologies - AIT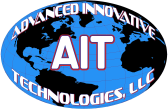 AIT has for three decades been a world-leading supplier of technologically advanced fabric fusing, heat presses, fabric inspection and materials handling equipment to the apparel manufacturing industry worldwide.
Heat Transfer Presses / Large Format & Automatic Platen Heat Presses
Typically used for producing individual pieces, platen heat presses use a heated platen to press flat or rigid pieces such as cut apparel, ceramics, wood, metals and more. For increased production, shuttle platen presses utilise two workspaces with a single heated platen, allowing you to prep your product on one surface, while you are pressing another product on the second surface, reducing production time!
Heat Transfer Presses / Rotary Calendar Drum Heat Transfer Presses
Rotary heat presses use a heated drum which spins fabric through the press to decorate rolls of fabric continuously. These presses are designed to print fabric pieces that are too large for a platen press. Used mainly for banners, flags, and cut/sew apparel (like jerseys), rotary presses tend to be more productive than platen presses. They cannot be used, however, to press rigid substrates.
6 Products Found
Customer

Testimonials
"

Having speak to Graham,Greg and Joe personally, regarding many different topics,and always receiving a positive outcome, I would just like to say how greatly satisfied I am with your service, advice and product knowledge. If GJS don′t know or can′t fix the problem, then nobody can!

Ben Middenway
"

Excellent prompt service. Cheap and quality products. Thanks! You will hear from me again!

Monique
Why Choose GJS

24hr Self-service support portal
All the documentation to support your printing solutions can be found online in our
Technical Support Portal
. Find instruction manuals, frequently asked questions, price lists, brochures, templates, colour profiles for printers and general hints and tips.