Viper XPT-1000 Pre-Treatment Machine
The next generation in garment pre-treatment is here!
The Viper XPT-1000 is the ultimate accessory for any Direct-To-Garment production house. With simple to use controls, laser alignment support and fast fluid management, this machine removes the need for manual pre-treatment and allows controlled, consistent and targeted preparation of your apparel.
Develop a smooth, consistent laydown of pre-treatment fluid to achieve a washable and vibrant print on your garments.
Set your customised spray length up to 24 inches and a fluid coverage of between 10%-100% to suit your specific job.
Manipulate the spray width and location with easy left, right, up and down adjustments.
Master visual alignment with the built in line laser to quickly, easily and accurately target standard garment zones, pockets and other specific pre-treating locations.
Proper maintenance and cleaning of your pretreatment machine is vital to ensuring a long and productive life from your device. Building on the tried and tested cleaning routine from the ViperONE series, the three simple fluid inputs mean fluid management and cleaning for the Viper XPT-1000 is just as fast and easy!
Order
Warranty
All new equipment is covered under a 12 month warranty and we also provide you with complete peace of mind by offering a 7 day money back guarantee!
Related Documents
& Links
Used Equipment
Customer

Case Studies
With two stores in tourist hotspots on Queensland's popular Gold Coast, Xpress Tees is cashing in on the booming customisation revolution by taking a retail-kiosk approach to delivering personalised and on-demand tees to the masses.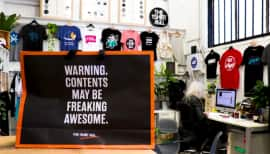 From humble beginnings selling designs at the local markets to a t-shirt printing powerhouse, The Tshirt Mill continues to go from strength to strength as it capitalises on the custom print revolution. And with a finger on the pulse of the music and festival scene, The Tshirt Mill is taking custom tees to the masses.
Customer

Testimonials
"

I would like to commend Greg for his prompt and helpful efficiency. I′m sure he gets bombarded with support issues but manages to handle all my calls with great professionalism and most importantly manages to sort my issue to my satisfaction not just fob me off as some support staff might.

Michael Roach
"

It is wonderful to do business with you, your customer support is greatly appreciated

Jennifer Clarke
Why Choose GJS

Loyalty rewards
When ordering online and when purchasing equipment offline, we reward our pre-paid customers with GJS Points. The higher the tier, the more points, rewards and other benefits you can earn. Think of it as our 'frequent printing' program. GJS Points can be redeemed for discount vouchers that can then be used on subsequent orders. The GJS Points Program has four tiers: Cyan, Magenta, Yellow and Black. GJS points also 'pool' into your company/business account. This means if you have colleagues who also shop with GJS, you all earn points that accumulate together, helping you reach higher tiers of the program faster, and increasing your redemption value. We also reward our Black-tier customers with free freight on all their orders, regardless of the order amount and no matter where they are located. It's our way of saying thanks to our most loyal customers who continue to support us as we support them.
Further Information
If you require any further information on this product please click the button below and complete the form.