Epson SureColor SC-F7200 64″ Dye Sublimation Printer
The SureColor F7200 is a high-performance 64" wide format dye sublimation printer that provides a reliable and cost-effective solution for on-demand roll-to-roll productivity.
The Epson SC-F7200 is the cost-effective alternative of the faster, high production Epson SC-F9200 digital dye sublimation printer. Retaining many of the same features and benefits, the SC-F7200 provides extreme reliability for true industrial-level production thanks to Epson's PrecisionCore technology and new TFP printhead, configured with 720 nozzles per colour with variable droplet size from a minimum drop size of 5.3 picoliters.
The newly developed technology works in tandem with an optional new high-density HDK Black ink, the latest addition to the UltraChrome DS ink range, which has been developed for use in textile printing to produce deep, neutral blacks and dense shadows. The SC-F7200 has a standard print mode for normal high speed output and a new HQ MODE for premium fabric and solid surface work with super-fine detail and exceptional colour gradation.
A high-capacity ink supply system means printers will benefit from longer, uninterrupted print runs and less down time spent replacing inks, while the use of Epson UltraChrome DS inks mean maintenance and cleaning needs are low. The SureColor F7200 is a perfect production machine for creating brilliant soft signage, custom clothing and fabrics or larger personalised dye sublimation items such as tote bags, cushion covers, bar runners and mats.
Inks and ErgoSoft RIP software (Pro Epson Sublimation Edition) for the printer are sold separately.
Feature Summary
Epson engineered for performance, quality and reliability bringing low Total Cost of Ownership (TCO)
Epson's proven PrecisionCore TFP printhead for high throughput and long production life
Prints on a wide range of dye sublimation transfer papers up to 64-inch (1625mm) wide
Resolution up to 720 x 1440dpi image quality
High-quality output enhanced with Variable Sized Droplet Technology
Single-operator media loading with lift levers, automatic media tensioning control
Refillable 1.5 litre bulk ink system with one litre (1.08kg) ink pouches for low maintenance and longer print runs
Epson UltraChrome DS ink produces vibrant colours, sharp contours and smooth gradations, with excellent light/wash fastness, and abrasion/perspiration resistance
1 year manufacturer warranty as standard upgradable to 3 or 5 years
Order
Product Specifications
Model
Epson SureColor sc-F7200
Printing method
Piezoelectric Inkjet
Print Technology
Print Head
10 channel PrecisionCore™ TFP with VSDT
Print Modes
Uni & Bi-Directional
Nozzle Configuration
360 x 2 per colour
Acceptable media
Width
300 - 1625.6 mm (64 in.)
Thickness
0.08 - 1mm (75gsm or greater)
Format
2" or 3" Core, 250mm max diameter & 40kg max weight
Printing area
Maximum Width
1615 mm
Ink cartridges
Type
Epson Ultrachrome® DS, Dye Sublimation Inks
Capacity
4 x 1.5L Continuous Ink Supply System (CISS) - Refills in 1L packs
Colours
5 colors; Cyan, Magenta, Yellow, Black or HD Black
Configuration
4 Colour C,M,Y,K OR 4 Colour C,M,Y,HDk
Printing resolutions
Maximum 720x1440 dpi
Performance*
Normal Mode Draft
58.9m2/hr 1 Pass 360 x 720dpi
Normal Mode Fast Production
30.3m2/hr 2 Pass 720 x 720dpi
Normal Mode Production 1
22.2m2/hr 3 Pass 720 x 720dpi
Normal Mode Production 2
16.2m2/hr 4 Pass 720 x 720dpi
Normal Mode Production 3
11.1m2/hr 6 Pass 720 x 1440dpi
Normal Mode Production 4
8.2m2/hr 8 Pass 720 x 1440dpi
HQ Mode Production 1
13.8m2/hr 4 Pass 720 x 720dpi
HQ Mode Production 2
9.4m2/hr 6 Pass 720 x 1440dpi
HQ Mode Production 3
6.9m2/hr 8 Pass 720 x 1440dpi
Power supply
Voltage and frequency
240V, 50 Hz - 60 Hz AC, 10A
Consumption
460W Operating (heater on), 10W Sleep (heater off, 1000Base-T Interface)
Outer Dimensions
Width x Depth x Height
2620 x 1013 x 1314 mm (w x d x h.)
Shipping
Printer Weight (with CISS, no ink)
274kg
Printer Box
3.2 x 1.1 x 1.0m, 271kg
SSS & CISS Box
3.2 x 1.1 x 0.8m, 101Kg
Included items
Printer, Substrate Support System (SSS), Power Cords, Continuous Ink Supply System (CISS), 1 x 64" Roll of Epson Transfer Media, 1 x Waste Ink Bottle, 1 x Maintenance kit, 1 x Grease Kit, Installation/Safety manual, Utility & User manual (CD). Some configurations include additional Ergosoft TexPrint software (Epson Sublimation Professional Edition).
*Speeds shown are bi-directional engine only for 64 in. wide output. They are provided for reference only, different RIPs may not offer all modes/speeds and some may offer alternatives not listed in the above. Total job throughput times will depend on a number of factors including workflow, paper type, RIP, file format & size, print resolution, ink coverage, networking, heat press equipment.
Warranty
All new equipment is covered under a 12 month warranty and we also provide you with complete peace of mind by offering a 7 day money back guarantee!
Related Documents
& Links
Customer

Case Studies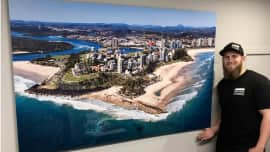 Taking a consultative approach to customer engagement and quality at the core of the products it delivers, Gold Coast Printing & Framing has placed an Epson wide-format dye-sublimation solution at the heart of its business and added Chromaluxe high-definition panels to its media range to add to the portfolio of options it can offer its customers.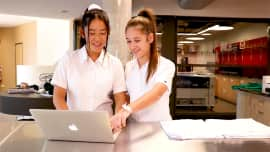 With a focus on developing engaged global citizens of the future, Somerset College is empowering students with digital print solutions that are helping them push the boundaries of design and engineering and unlocking their creative potential with personal projects.
Why Choose GJS

Experience
We have over 40 years experiencing supporting customers in the printing industry.
Further Information
If you require any further information on this product please click the button below and complete the form.