ViperONE Garment Pre-Treatment Machine
Treat your shirt shirts with respect even in small areas. Now you don't have to sacrifice consistent, efficient garment pre-treatment because of space constraints.
The compact ViperONE Pre-Treatment Machine, designed for small to mid-sized shops, showrooms and kiosks keeps all spray and mist inside the unit and requires no electricity!
It is small, portable and extremely fast. Focus on your business and let the ViperONE Pre-Treater work for you!
Product Features
Smooth, Accurate Spray Patterns
Smaller Tabletop Unit
Lightweight and Portable
100% Spray and Mist Containment
Great for Retail, Kiosks, or Any Shop
Ready to Use Right Out of the Box
Simple to Clean and Control
Fully Pneumatic - No Electric Required
Affordable Pre-Treatment Solution
Saves Time, Money, and Fewer Misprints
Order
Warranty
All new equipment is covered under a 12 month warranty and we also provide you with complete peace of mind by offering a 7 day money back guarantee!
Related Documents
& Links
Customer

case studies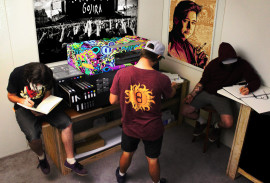 A Brother GT-3 garment printer from GJS is forming the cornerstone of a new business venture by three enterprising young men with their finger on the pulse of both the printing and music industry.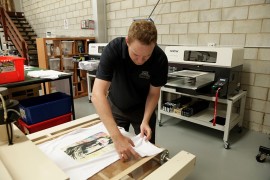 Reinvention isn't just a business strategy for Push Productions, it's part of its DNA. The Sunshine Coast print shop has had a colourful and diverse history spanning more than twenty years. Read how GJS has helped Push Productions expand into new markets and bring employment opportunities to the local community.
Customer

Testimonials
"

Michael, After spending the evening telling my family how wonderful your company is I am just now settling down enough to write back and thank you for being such awesome people. I had been thinking of buying a machine for many months but had no idea how to track down who sold them or even which machine to start looking for (I knew nothing of brand names or quality). One day not so long ago I simply sat down in front of google and must have typed in the right thing because your company was the first one to slap me in the face. From the moment I started to speak with you about the machine I felt I was in very good hands. Your honesty and integrity won me over immediately (these qualities are far different to ′good salesmanship′). I knew I need not bother to shop around or compare prices, I was happy right from the start! I am a true believer in ′things happen for a reason′ and I was definitely directed to sit down at the computer AT THAT MOMENT to find GJS Machinery. You will not be able to comprehend how very grateful we are to you for your outstanding offer to help us. Thank you, thank you, thank you, thank you! We hope your stay here is productive as well as pleasant. We look forward to meeting you on Monday. Yours very sincerely, Lisa

Lisa
"

A pity that I didnt buy my equipment from you, as the training course looks very useful, most other companies seem to be sadly lacking in technical help in use of their products, so it is basically a matter of trial and error, which is somewhat costly, a misprinted mug isnt worth much.

Vince Wathen
Why Choose GJS
Maximum convenience
At
gjs.co
, you can order our products 24/7 and we´ll deliver it to your door! Or simply call us. Our phones are open from 8am to 4:30pm Monday to Friday. We´ll make sure you get all the information you need to make informed decisions. It just doesn´t get any easier.
Last Updated
Tuesday, 31 January 2017
Further Information
If you require any further information on this product please click the button below and complete the form.