Viper XPT Pre-Treatment Machine
The Viper XPT Pretreater will change the way that you pre-treat garments. With its easy-to-use touch screen interface you can easily control the amount of pre-treatment laydown and length of the spray, and even select the zone on the garment that will get treated.
The XPT will consistently treat each and every garment, at speeds that are currently unmatched in the industry. It boasts many features to take out the inconsistencies of pre-treating by hand or manual spray gun. This process of achieving the smoothest and most consistent laydown of pre-treatment fluid is vital in achieving a washable and vibrant white ink print on your garments.

The Viper XPT Pretreater will also help you save time and money in your white ink direct-to-garment printing business through the use of its spray zone system that ensures pre-treatment fluid does not get wasted on areas that won't be printed and an intuitive recylcing process that retrieves fluid loaded in the machine before cleaning.
Order
Warranty
All new equipment is covered under a 12 month warranty and we also provide you with complete peace of mind by offering a 7 day money back guarantee!
Related Documents
& Links
Customer

Case Studies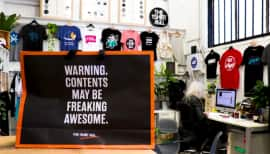 From humble beginnings selling designs at the local markets to a t-shirt printing powerhouse, The Tshirt Mill continues to go from strength to strength as it capitalises on the custom print revolution. And with a finger on the pulse of the music and festival scene, The Tshirt Mill is taking custom tees to the masses.
Forza Italia is Australia's largest Italian retailer, importing a huge selection of well-known Italian brands including Ferrari and Juventus. With the help of GJS, it now also creates and personalises a variety of products on-demand in its Lygon Street store, as well as online via forzacustoms.com.au
Customer

Testimonials
"

I have dealt with Kelly mostly with placing orders & she acts promptly on processing orders, which is helpful when some of my customers want things done ′yesterday′!!! by the time I place the order, some days I have an invoice within minutes.... I pay this & then have a ′thankyou for payment′ email also within minutes of paying the account! Helps keep my business running smoothly & allows me to then fast track my customer orders. I have also spoken with Michael, Stephen and Greg in regards to product knowledge etc. They have all been helpful and don′t mind explaining things in a way that we as smaller businesses understand & relate to. they have a good understanding of their products & services.

Stacey Moroney
"

Once again GJS staff and management shine. I ordered a less popular product that I knew was out of stock. For reasons beyone GJS control, the coming shipment was delayed. No problem though because GJS staff kept me informed right up until shipping yesterday. None of this waiting and wondering stuff with the helpful people at this business. I am probably one of their smallest customers, but do they care? Yes. They Care! They care for me as if I was a large client. Thanks GJS.

Ross Devitt
Why Choose GJS

Maximum convenience
At
gjs.co
, you can order our products 24/7 and we´ll deliver it to your door! Or simply call us. Our phones are open from 8am to 4:30pm Monday to Friday. We´ll make sure you get all the information you need to make informed decisions. It just doesn´t get any easier.
Further Information
If you require any further information on this product please click the button below and complete the form.