AIT 120/240CR Pneumatic Shuttle Heat Transfer Press
The 120/240CR platen heat transfer presses feature three zone heat control and two large pneumatic pressure cylinders making these models a cost effective solution for high quality dye sublimation of sports apparel, flags and banners.
With overhang available on all four sides, the new 120 & 240CR heat presses are ideal for the printing of table throws and runners. Both models are equipped with a single loading station which glides easily in and out of the pressing station. The closing cycle is activated with an OH&S approved two button close system. In addition to dye sublimation, these models support all types of heat transfer applications including hot and cold plastisol peel transfers and heat activated laminating processes.
Features
Time is adjustable from 0 to 999 seconds
Temperature is adjustable from 0 to 232C (450F)
Pneumatic pressure is adjustable with 100 psi (7 bars) to the machine
Air Consumption is 1/1.25 cfm per cycle (283 cmm) on the 120 or 1/1.33 cfm on the 240 at 100 psi
Compressor required: 5 hp/20 - 30gl tank
Order
Warranty
All new equipment is covered under a 12 month warranty and we also provide you with complete peace of mind by offering a 7 day money back guarantee!
Related Documents
& Links
Customer

Case Studies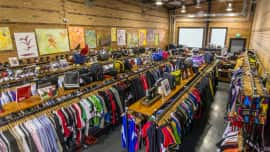 House of Uniforms, an energetic and independent Australian uniform business is discovering the benefits of bringing previously outsourced printing processes in-house with the help of GJS. With these workflows in-house, House of Uniforms has even been able to launch its own range of promotional products!
Customer

Testimonials
"

I have to say, the service and support from GJS is faultless, and frankly, it beats any other supplier that I have come across. When I compare what the GJS crew delivers, compared to say, a large manufacturer and supplier of design oriented equipment, it begs the question..."why can't all companies be this dedicated and passionate about servicing their clients? Every call, without fail, gets a person on the other end of the line. Every support call, has a 100% rate of satisfaction, Every enquiry, if requiring a call-back, is processed within minutes...and the support crew actually know exactly how the products work." As well, every time I stuff up an order for a client....a very nice lady there forgives me :-)

Russell Cooper @ Techsoft
"

I would just like to thank you and the GJS team for providing such great products and service. The setup of the printer and bulk ink system took no time at all thanks to your quality products and easy to follow instructions. I almost lost faith in the whole system when I bought dodgy equipment from a guy in XXXX, but your company has restored that faith. Please thank the team for me and I will definitely be purchasing further products from your company when my business takes off.

Ben H.
Why Choose GJS

Loyalty rewards
When ordering online and when purchasing equipment offline, we reward our pre-paid customers with GJS Points. The higher the tier, the more points, rewards and other benefits you can earn. Think of it as our 'frequent printing' program. GJS Points can be redeemed for discount vouchers that can then be used on subsequent orders. The GJS Points Program has four tiers: Cyan, Magenta, Yellow and Black. GJS points also 'pool' into your company/business account. This means if you have colleagues who also shop with GJS, you all earn points that accumulate together, helping you reach higher tiers of the program faster, and increasing your redemption value. We also reward our Black-tier customers with free freight on all their orders, regardless of the order amount and no matter where they are located. It's our way of saying thanks to our most loyal customers who continue to support us as we support them.
Further Information
If you require any further information on this product please click the button below and complete the form.