Keywell Clam Shell 3/4 Automatic Glass Printer
Whole machine treated with powder coating
Printing arm is made of 6061# aluminium alloy; printer head driven by Mitsubishi servo motor and Japanese made fishbone belts on THK linear bearings. Even at the slowest printing speed, no waves appear.
Without moving the screen frame it can print 1-3 times on the glass. Coating/No coating is selectable.
Stand alone pneumatic printing cylinders, pressure adjustable via high precision regulator; squeegee angle adjustable with 0-55 degrees.
Printing arm up/down transmission driven by SAW brake motor; slows down before stop, never vibrates the screen; high precision positioning, keeps the squeegee pressure consistent.
Printing table is built of aluminium alloy frame; surface anodized with hard chromium and supported by honey combed structure. Wear proof and offers a smooth flat surface. When printing, the table can blow air to move the glass easily while it can revert to vacuum for holding the glass in place.
Automatic take off belt is driven by geared motor and pneumatic cylinder. Belt speed adjustable.
When safety bar triggered the machine will stop and lift instantly.
Order
Related Documents
& Links
Customer

Case Studies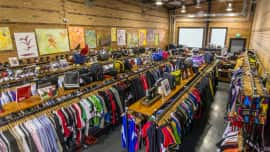 House of Uniforms, an energetic and independent Australian uniform business is discovering the benefits of bringing previously outsourced printing processes in-house with the help of GJS. With these workflows in-house, House of Uniforms has even been able to launch its own range of promotional products!
Customer

Testimonials
"

I have purchased 2 x Brand new screen printing machines from GJS. Graham showed us the machines at the padstow factory and gave us a great run down on what they can do, we ordered them and GJS were prompt with delivery, they set up the machine in our factory and again showed us how they work in great detail. Graham was friendly and ensured we were satisfied with everything before he left. Any later queries i had were addressed immediately. I couldnt recommend them enough and have already.

Daniel Sparrow
"

Everyone I have had a dealing with has always been helpful and very friendly. Pickup orders always ready. Delivery always when GJS says it would be delivered. Could not ask for more friendly people. Its always been a pleasure to do business with every one at GJS.

Sue Anderson
Why Choose GJS

Loyalty rewards
When ordering online and when purchasing equipment offline, we reward our pre-paid customers with GJS Points. The higher the tier, the more points, rewards and other benefits you can earn. Think of it as our 'frequent printing' program. GJS Points can be redeemed for discount vouchers that can then be used on subsequent orders. The GJS Points Program has four tiers: Cyan, Magenta, Yellow and Black. GJS points also 'pool' into your company/business account. This means if you have colleagues who also shop with GJS, you all earn points that accumulate together, helping you reach higher tiers of the program faster, and increasing your redemption value. We also reward our Black-tier customers with free freight on all their orders, regardless of the order amount and no matter where they are located. It's our way of saying thanks to our most loyal customers who continue to support us as we support them.
Further Information
If you require any further information on this product please click the button below and complete the form.