AIT 6572 Oil Heated Sheet-Fed Rotary Heat Transfer Press
The AIT 6572-30 is specifically designed for digital dye sub printing of apparel and other industries that require cut part, engineered prints.
A new self contained, oil heated drum system assures uniform heat across the width of the cylinder and the lowest possible power consumption. AIT oil heated drum systems use 50% less electric power than all electric machines. AIT rotary heat presses with the new oil heated drum system will increase production, reduce seconds, and save on energy costs. High productivity, quality engineering design and conscientious after-the sale service are all good reasons for investing with AIT for all needs in dye-sub printing or textile dye fixation.
Features
Belt speeds of 98cm/min - 3.2 ft/min @ 40 second dwell time.
13" (33 cm DIA) oil heated drum system that is fully contained and requires no pumps or rotary union joints while delivering perfectly controlled heat. (Less expensive machines have electric heat which requires more power and less control of the heat).
2-mode loading conveyor which runs continuously or intermittently with a flip of a switch. (Less expensive machines have a loading table and the operator must push the paper into the nip allowing the possibility of part shifting.
77" (196 cm) wide belt allows the possibility of two operators loading cut parts doubling the production of more narrow machines. The transfer paper unwind allows the continuous feed of 72" (180cm) wide transfer paper to increase loading efficiency. (Less expensive machines do not have this feature).
Electro pneumatic belt steering system
3 unwinds & 3 rewinds allow roll-to-roll fabric printing (Less expensive machines have fewer unwind and rewinds and/or allow only cut sheet paper to be used).
Light weight aluminium body air shafts (Less expensive machines use heavy steel shafts with tapered cones which can significantly reduce the amount of tension applied.
Rewinds are independently controlled and have both speed and air clutch adjustability for maximum control (Less expensive machines usually run at the same speed).
Safety reversing lanyard across the entire entrance provides safety and assistance in loading the machine. (Less expensive machines do not have this feature).
Air stripper bar is used for perfect separation of sheeted transfer paper and the cut fabric part and eliminates seconds caused from paper movement and fabric shrinkage at the point of exit. (Less expensive machines do not separate in a positive manner and slide onto a tray greatly increasing the chance of a double image reject unless more expensive "sticky" paper is used.
Exit conveyor system- after paper separation, the used paper falls into a box under the loading conveyor and the printed fabric part is conveyed to the back side of the machine where it is easily picked up and stacked or falls into a box. (Less expensive machines have the paper and fabric exit together and in addition to the added risk of double imaging ghosting, the operator must reach up under the loading table to retrieve the printed part).
Automatic cool down system (Less expensive machine typically do not include this feature).
Order
Warranty
All new equipment is covered under a 12 month warranty and we also provide you with complete peace of mind by offering a 7 day money back guarantee!
Related Documents
& Links
Customer

Case Studies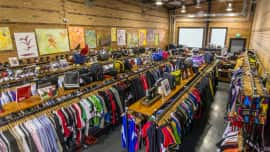 House of Uniforms, an energetic and independent Australian uniform business is discovering the benefits of bringing previously outsourced printing processes in-house with the help of GJS. With these workflows in-house, House of Uniforms has even been able to launch its own range of promotional products!
Customer

Testimonials
"

Your customer service at GJS is very good, i think you have a very good team, Joe and Kerry are the ones we normally deal with and they are a Great asset, sorry to hear Joe has retired, he was very helpful.

Tony Chidiac
"

From very first day at GJS I knew only Michael and even now he is the only person who understands my needs and product requirements. Even though I didn´t buy my printer from him, whenever it needed repairs, he would fix it free of charge. I have not attended any printing course with him never the less he has given me many tips and lots of advice. I don´t have a large business with even less transactions with Michael but even so he has taken very good care of my small business and has kept it alive and running. I also like his style of saying, "one,two,three bingo! " I am very honest in my feeling GJS should proud of such a wonderful representative who is Michael. Deeds- not words are what count the most. Thank you Michael.

Irfana Shakil
Why Choose GJS

24hr Self-service support portal
All the documentation to support your printing solutions can be found online in our
Technical Support Portal
. Find instruction manuals, frequently asked questions, price lists, brochures, templates, colour profiles for printers and general hints and tips.
Further Information
If you require any further information on this product please click the button below and complete the form.