Keywell Automatic Full or Half-Turn Cylinder Printing Machine
The Cylinder Screen Printing Machine is used for high productivity industries. It is suitable for printing on paper, stickers, transfer paper, electronic material and much more. It offers high productivity and precision.
Operation Panel
All buttons are integrated into this panel. The printing speed, counter, error message and shown on the touch screen. There is an emergency stop button on each corner of the machine.
Stop Rotary Cylinder
The design of 360° vacuum cylinder is more accurate than the 180° type. It's stable at high printing speeds.
Feeder
Applications from offset presses ensure stable and smooth feeding of various substrates. The overlap (stream) or single sheet (universal feeding can easily be customised for different substrates.
Screen Frame Guide Rails
High quality linear ball guide bearings are used for the frame guide rails. This allows for high printing speeds without vibrations.
Printing Head & Cylinder
The squeegee and coater are controlled by cams. Due to positive down cam action, the printing pressure is evenly distributed to the top of the cylinder at all times resulting in a sharp dot reproduction and perfect solid printing. The high accuracy vacuum cylinder surface is comprised of a large shaft and specially made high precision bearings to ensure the highest quality print at high production speeds. The built-in front sensors help to maintain finite registration control.
Feed Board
The press accommodates for a variety of printing substrates and can be automatically handled by the machine. The feed board surface is manufactured with stainless steel which reduces scratching and static electricity when the substrate passes through. It is suitable for printing onto packaging, labels, ceramic transfers, membranes and much more.
Delivery Board
Squeegee/flood coater mounting/discounting is easy as the delivery board can be pushed down by 90°. Delivery belts assure the smooth and stable delivery of various substrates.
Rack Disengagement
The screen frame is locked with the pneumatic clamps on the main frame. As the screen is unlocked and pulled out to the delivery end, the feeding conditions of substrates can be checked, readjusted and corrected. Electronic sensors allow the master frame to be reengaged in perfect register. Due to this, the cylinder and screen mesh are easily cleaned without removing the screen frame and altering the registration.
Side Lay
Side lays are installed onto both sides of the feed board as standard. Side lays can be quickly changed from pull to push, for heavy or thick substrates, with a simple press of a switch. The side lay sensor is standard and improves quality control for accurately registered jobs.
Full-Turn models highlighted by ´A´ model number suffix.
Order
Related Documents
& Links
Customer

Case Studies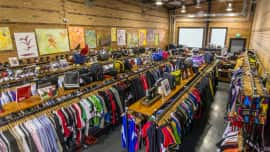 House of Uniforms, an energetic and independent Australian uniform business is discovering the benefits of bringing previously outsourced printing processes in-house with the help of GJS. With these workflows in-house, House of Uniforms has even been able to launch its own range of promotional products!
Customer

Testimonials
"

With regard to the service call Steve was very professional and made sure we targeted the problems I was having. Steve also helped to teach me how to choose multiple copies faster thus reducing the set up print time. Like every one my time is valuable and any assistance to help save manufacturing time is fantastic. Thank you Steve.

Coralie Meek
"

Excellent service. The staff were excellent in providing me advise about the product and also added other help with the product to ensure it´s proper use. Thank You.

Janie O´Brien
Why Choose GJS

Experience
We have over 40 years experiencing supporting customers in the printing industry.
Further Information
If you require any further information on this product please click the button below and complete the form.