Keywell Automatic Continuous Multi Colour Screen Printing Machine
Suitable for colour printing on:
Large billboards, corflute, 3D POP, pressure sensitive vinyl, plastic board, corrugated board, acrylic, glass, building materials, metal boards, wood and more ...
Electronic Display
For monitoring the status of the production line
90° Registration System
The adjustable registration columns can be quickly adjusted to suit different substrate sizes
Automatic Registration System
of printing table
Printing Motor and Touch Panel
The printing head is driven by an AC servo motor. The flooding, printing speed and printing head stopping position (rear or front) can be set using the touch panel.
Safety
Each printing unit includes an emergency stop button, overload protector and fuses for the electric control system.
UV Curing
2 UV lamps (long & short) for different substrate widths to save power.
Each lamp has 2 sections (50%, 100%) UV output switch, current meter, accumulator and over temperature lamp.
Aluminium extruded special radiator lampshade and German reflective plate for highest output.
High efficient exhaust motor and special radiating structure reduce the UV oven temperature.
UV Operation Panel
For easy operation
UV Control Cabinet
With clearly marked labels
Order
Related Documents
& Links
Customer

Case Studies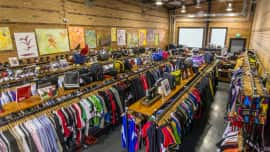 House of Uniforms, an energetic and independent Australian uniform business is discovering the benefits of bringing previously outsourced printing processes in-house with the help of GJS. With these workflows in-house, House of Uniforms has even been able to launch its own range of promotional products!
Customer

Testimonials
"

A pleasure to work with and so helpful answering all questions.

Glen Delaney
"

I would like to commend Greg for his prompt and helpful efficiency. I′m sure he gets bombarded with support issues but manages to handle all my calls with great professionalism and most importantly manages to sort my issue to my satisfaction not just fob me off as some support staff might.

Michael Roach
Why Choose GJS

Loyalty rewards
When ordering online and when purchasing equipment offline, we reward our pre-paid customers with GJS Points. The higher the tier, the more points, rewards and other benefits you can earn. Think of it as our 'frequent printing' program. GJS Points can be redeemed for discount vouchers that can then be used on subsequent orders. The GJS Points Program has four tiers: Cyan, Magenta, Yellow and Black. GJS points also 'pool' into your company/business account. This means if you have colleagues who also shop with GJS, you all earn points that accumulate together, helping you reach higher tiers of the program faster, and increasing your redemption value. We also reward our Black-tier customers with free freight on all their orders, regardless of the order amount and no matter where they are located. It's our way of saying thanks to our most loyal customers who continue to support us as we support them.
Further Information
If you require any further information on this product please click the button below and complete the form.