Automatic Computerized Label Printer
The fully automatic computerized silk screen label printing machines have all the latest technology built in them. The roll to roll material reading control system is specially built for multi colour label printing.
This style of machine can be connected to a multi purpose in line system to print, UV dry, laminate and die cut and peel out waste by a single process.
The high tech scanner system insures perfect and accurate registration for multi colour printing, insures perfect and accurate registration for multi colour printing, with special frequency speed control variator from 0-60 impressions per minute.
Suitable for printing on: paper, aluminum foil, polyester, vinyl, satin, acetate, nylon, P.V.C., rayon, etc.
MAX printing size: 300 x 300mm.
Also available in line: slitters, sheeter, rewinders, UV dryers, laminators and die cutting machines.
Order
Warranty
All new equipment is covered under a 12 month warranty and we also provide you with complete peace of mind by offering a 7 day money back guarantee!
Related Documents
& Links
Customer

Case Studies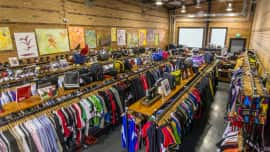 House of Uniforms, an energetic and independent Australian uniform business is discovering the benefits of bringing previously outsourced printing processes in-house with the help of GJS. With these workflows in-house, House of Uniforms has even been able to launch its own range of promotional products!
Customer

Testimonials
"

Any phone dealings I have had have been very professionally handled and it has never been too much trouble to either double check what stock is actually on hand, or any new purchases with equipment that I may be contemplating I have been very satisfied with the level of help we have received. Even after numerous calls on a particular product it has never been too much trouble to pass on information. Running a print shop business in country South Australia it is always difficult to get the rignt information regarding products as we don′t get to look at the product in the flesh. Great service guys!

Kelvin Ruge
"

It has always been a pleasure to deal with GJS, the staff are wonderfully knowledgeable and always super helpful. There has been several occasions in which we have known what we wanted, but been unsure about how to get it. And GJS has stepped up, pointed us in the right direction and promptly supplied what was required. Good on ya GJS !

Shaun Aston @ Coiltek
Why Choose GJS

We will never compete with you
There are some distributors who both sell to their customers and simultaneously compete with them by offering printing services. GJS understands this is a clear conflict of interest and that is why it is company policy to never compete with you, our valued customer.
Further Information
If you require any further information on this product please click the button below and complete the form.