One Ink to Rule Them All! - GJS Machinery Launches M-TT Textile Inks - New water-based modified pigment inks to drive the direct-to-textile revolution!
SYDNEY, Australia - May 13, 2011
GJS Machinery is proud to announce an exclusive agreement to distribute Sawgrass M-TT water-based modified pigment inks to the Australian market. M-TT represents a substantial leap forward in textile ink technology and is set to revolutionise the soft-sign, upholstery, interior design and textile industry due to its incredible versatility and durability. Part of what places M-TT inks in a completely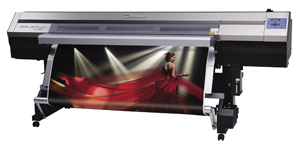 new category of ink is its unique ability to print on a wide variety of natural and synthetic fabrics, opening up new markets for digital textile printers. This amazing versatility eliminates the need to change out inks or invest in multiple printers and expensive post-processing equipment. How it Works
M-TT inks are a family of water-based modified pigment inks that make up a completely new and totally revolutionary new category of digital textile inks. The binder-free ink is specially formulated with reactive elements that enable it to bind to almost any fabric. Made with very high quality modified pigments, M-TT inks have a much higher pigment load than conventional pigment inks. This formulation provides a matt-finish colour that approaches that of reactive dyes, and up to 20% greater yield than other inks. Unlike other inks that may need up to 12 colours, M-TT inks deliver this amazing colour with a limited ink pallet. Fabrics
Like all other digital textile inks, M-TT inks print on a matched component pre-coated fabric. M-TT coating acts as a catalyst that facilitates binding to the fabric and gives the finished product a soft hand. Popular pre-coated fabrics will be available directly through GJS Machinery.

For a complete direct to fabric printing solution, give GJS a call on +61 (2) 9790 1649.
About GJS
GJS is Australia's premier provider of solutions and services for the textile, promotional products, custom photo gift, sign and display industries. With over 41 years' experience, GJS supplies everything needed to start and operate a successful printing business including equipment, consumables, training and support. Headquartered in Revesby, NSW, and with additional teams located in Victoria and Queensland, GJS serves customers throughout Australia, New Zealand, and the Pacific Islands. For more information visit: gjs.co. GJS and the GJS logo are trademarks or registered trademarks of GJS. Other names are trademarks of their respective owners.