Get White to the Point with the New Brother GT-782 White Ink Garment Printer
SYDNEY, Australia - January 18, 2011
GJS Machinery is very proud to announce the immediate availability of the Brother GT-782, the industry´s most cost effective, industrial dual platen, white ink garment printer. The Brother GT-782 white ink garment printer is perfect for medium to high volume shops. Thanks to its unique ability to print multiple prints simultaneously, production can increase as a result of reduced cycle times and fast flexible downloading of new images.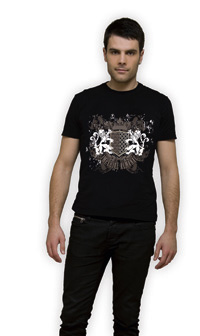 Inkjet garment printing is more economical, faster, and cleaner than traditional screen printing methods, plus it requires significantly less operating space and business start-up costs. With the Brother GT-782, decorators and t-shirt designers can create one of a kind creations or mass production runs - regardless of the number of colours - without having to create film positives, stretching screens, and using chemicals to reclaim these screens. There is virtually no limit to the number of colours you can print, and the colours remain crisp and vibrant even after repeated washes.
The Brother GT-782 white ink garment printer from GJS Machinery boasts the following powerful features:
Independently controlled dual platen and dual print-head modules – two garments can be printed virtually simultaneously and independently – for maximum productivity and the potential for greater profitability for high volume decorators
Brother´s genuine white ink and ink cartridge system provides superb output quality, and easy maintenance
A total of eight Brother genuine industrial-grade print-heads provide top class printing speed
Newly developed large sized ink cartridges enable to make more economical operations
With newly developed print driver software, no separate RIP (raster image processor) is required. Extremely capable and flexible for operators to customise white ink print specific features
Print driver software can directly interface most of the popular graphic application, such as Adobe Photoshop/Illustrator and CorelDraw for seamless white ink prints
Succeeds the consistent and reliable Brother GT-541 platform with additional white ink capabilities without sacrificing machine reliability and durability
Extra-large print area - 400 x 450mm
To see how the Brother GT-782 can benefit your business, give Greg or Michael from GJS a call today on 02 9790 1649.
About GJS
GJS is Australia's premier provider of solutions and services for the textile, promotional products, custom photo gift, sign and display industries. With over 40 years' experience, GJS supplies everything needed to start and operate a successful printing business including equipment, consumables, training and support. Headquartered in Revesby, NSW, and with additional teams located in Victoria and Queensland, GJS serves customers throughout Australia, New Zealand, and the Pacific Islands. For more information visit: gjs.co. GJS and the GJS logo are trademarks or registered trademarks of GJS. Other names are trademarks of their respective owners.