Dye Sublimation 101
This event has already past
Join our expert instructor and learn how a dye sublimation solution can be your gateway to the digital decoration revolution and allow you to create and sell hundreds of products!
This live event explains the chemistry behind the dye sublimation process and how you can harness this to decorate and embellish a huge plethora of products from ceramic mugs, to stubby coolers, t-shirts, Christmas decorations, high-definition photographic products and much, much more!
It is also designed to provide a high-level overview of the current generation Sawgrass and Epson desktop and wide format dye sublimation printers available with video demonstrations of the printing process to create some of our most popular products.
You'll also learn about the psychology behind customisation, why your customers will pay a premium for personalised products and how to price your products for maximum profits.
Live event agenda:
Dye sublimation explained – what can be achieved and what can be produced
How to sublimate - tips and techniques to produce the perfect products
Sawgrass overview - hardware and software
Epson overview - hardware and software
Optimise your prints to produce fantastic products time-after-time
Steve's famous seven tips for successful sublimation
Who should attend?
If you are ready to kiss the corporate world goodbye and say hello to being your own boss, kick-start your own promo-product printing business or learn how dye sublimation can be a profitable side-hustle, then this live event is for you! Or perhaps you're already in the digital decoration industry and would like to add dye sublimation to your existing print workflow? Either way, you'll definitely take away valuable content from this live event.
Special Offer!
Register and attend our Dye Sublimation 101 live event on Wednesday 22 September and listen out for the secret code word to receive 10 additional entries to our Dye Sub September $10,000 dye sublimation starter kit giveaway!
Your instructor
Steve Poole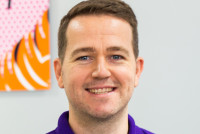 Hailing from 'sunny' Sheffield in the UK, Steve joined the GJS team in August 2014 after emigrating to Australia. Steve started his career in print at Sawgrass Europe and is an expert in digital printing with over seven years' expertise in inkjet printer troubleshooting, maintenance and repair for desktop, large format inkjet and direct to garment printers.
He also has valuable skills in the area of colour management and the creation of ICC profiles and is a qualified Epson large format printer engineer.
Steve has extensive experience delivering computer training sessions in his most recent role as Education & Technical Content Specialist at Sawgrass.