2021 Epson Experience Event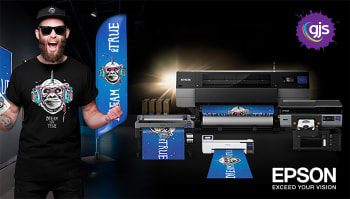 After a year of top-tier product announcements, GJS and Epson are teaming up to bring you a FREE open house event in Sydney dedicated to showcasing the latest direct-to-garment (DTG) and dye sublimation printing solutions.
Drop-in to either the morning or afternoon sessions on Wednesday 3 March and experience live product demonstrations, speak to GJS and Epson product experts, and chat with existing customers using Epson's innovating digital decoration solutions to seriously profit from print.
Come alone to the new Epson Experience Centre and check out:
SureColor SC-F3000
Be one of the first in Australia to see live demonstrations of the blistering-fast F3000 garment printer, Epson's first industrial direct-to-garment printer and has been designed specifically for high-production print shop environments.
With dual print heads, come and see for yourself how this new benchmark in DTG production can print a full-size, full-colour t-shirt in less than 60 seconds!
A key new feature of the F3000 is its automatic print height adjustment. This means that you can seamlessly switch between printing t-shirts and thicker sweatshirts or jumpers with minimal downtime and operator intervention between garments.
GJS recently installed the very first F3000 in Australia, and we just know that when you see this DTG beast in action you'll be blown away! Want a preview? Check out our first look video, here.
SureColor SC-F2160
With speeds up to twice as fast as its predecessor, the F2160 garment printer continues to set the bar with increased reliability, greater productivity and enhanced print quality and its 'Highlight White Ink Mode' means you can simultaneously print white and colour inks on the colour pass for greatly improved image quality, speed, and efficiency.
So if you're serious about garment decoration and looking to expand your solution set, or if you're just getting started with direct-to-garment printing, make sure you secure your FREE ticket below to see the F2160 in action.
SureColor SC-F560
Epson's very first 24-inch dye sublimation printer and has fast become the new benchmark solution for textile producers, promotional product businesses, photographic studios and pro-photo labs, especially those creating with ChromaLuxe.
Come and see how the F560 can become your end-to-end dye sublimation solution including hardware, software and ink—all designed to work in perfect harmony, no matter if you're creating customised phone covers, mugs, mouse mats, t-shirts or cushion covers.
SureColor SC-F6360
Whether you're producing sports jerseys, fashion items, promotional gifts, mugs, mouse mats, or phone covers, The F6360 has been designed to play a crucial part in the seamless delivery of a total, end-to-end colour printing solution.
Easy user access and printhead maintenance, minimises the need for on-site service calls and the out-of-the-box, easy start-up from delivery means you can get up and running as quickly as possible.
SureColor SC-F10060
The F10060 is Epson's first 76-inch dye-sublimation printer and is a heavy-duty production machine with a high-capacity ink system that can output media at a blistering 255m2 per hour!
The F10060 achieves an outstanding gamut using only four inks. It combines advanced Epson Precision Dot Technology with UltraChrome DS HDk ink to achieve high image quality with intense and accurate colour.
A double-sided heating system enables output at the highest speed with the heaviest ink loads, while giving the machine a surprisingly small footprint.
Yennora NSW
Building 11, Yennora Distribution Centre Byron Road/Dennistoun Avenue YENNORA NSW
Wednesday, 3 March 2021
10:00 - 12:00
RSVP by Tuesday, 2 March 2021
FREE Event
Yennora NSW
Building 11, Yennora Distribution Centre Byron Road/Dennistoun Avenue YENNORA NSW
Wednesday, 3 March 2021
13:00 - 15:00
RSVP by Tuesday, 2 March 2021
FREE Event