Direct-to-Garment (DTG) 101
Join our expert instructor and learn how a direct-to-garment (DTG) printer can be the cornerstone of your new t-shirt printing business or fashion label.
This live event explains how you can use a direct-to-garment printer to print directly onto cotton-based shirts, caps, bags, pillowcases, home furnishings, promotional items and more.
It is also designed to provide a high-level overview of the current generation of DTG printers available with video demonstrations of the printing process.
You'll also learn about the importance of choosing the correct garments, understanding ink consumption and how to price your products for maximum profit.
Live event agenda:
What is DTG printing?
What can be achieved using DTG print technology?
An overview of the current generation Brother, Epson and Roland DTG printers
Understanding the importance of pre-treatment in the DTG process
Choosing the best t-shirts for DTG printing
How to make money with your printed products
Video demonstrations of the print process
Who should attend?
If you are ready to kiss the corporate world goodbye and say hello to being your own boss, kick-start your own t-shirt printing business or even launch your own fashion label, then this live event is for you. Or perhaps you're already in the digital decoration industry and would like to add DTG to your existing print workflow? Either way, you'll definitely take away valuable content from this live event.
Your instructor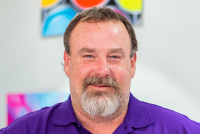 Ian Stone
Ian started working at GJS straight out of high school in 1992 and soon after completed a mechanical engineering apprenticeship. He now works as part of Digital Sales team and loves dealing with GJS' awesome customers.
A big baseball fan, he coaches in his spare time and when the sun goes down likes to chase the paranormal on ghost tours all around Australia - and the world! Ian really enjoys the diversity of the printing industry and has watched it evolve from screen and pad solutions, right through to today's brilliant digital machines.
He also has valuable skills in the area of colour management and the creation of ICC profiles and is a qualified Epson large format printer engineer.
Virtual
Wednesday, 2 December 2020
15:00 - 16:00
RSVP by Tuesday, 1 December 2020
FREE Event