Dye Sublimation Symposium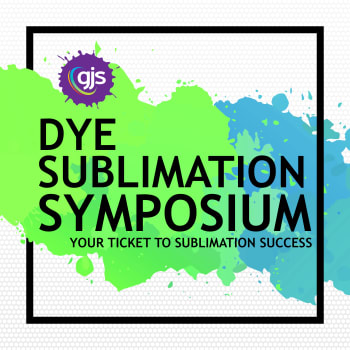 Everything dye sublimation at one single event. Don't miss out on your ticket to learn everything you need to know to get started and succeed with dye sublimation.
Dye sublimation is one of the most popular printing solutions that we support at GJS. At this event we'll teach you all about the dye sublimation process and you'll explore the plethora of printable products that you can create with a single dye sublimation printing solution from GJS.
Attend and you'll also get hands-on with the latest range of dye sublimation printers from our friends at Sawgrass including the ever-popular A4 SG 500 and A3 SG 1000 desktop dye sublimation printers.
You'll also experience what's possible when you step up in size to bigger dye sublimation printers such as the 24-inch Epson F560/F561, the 44-inch Epson SC-F6360 or the massive 64-inch Epson SC-F9460.
So whether you are just starting out and have ambitions of selling your designs at the local markets or online from your home, or if you're looking to scale up your operations and place a high-production system at the heart of your workflow, this event is for you!
On the day you'll learn and practice:
What is dye sublimation? The chemical magic behind the process
What can be achieved and what products can you create with a dye sublimation solution from GJS
Overview of the very latest dye sublimation printers on the market
Tips and tricks for getting the best results from your dye sublimation transfers
How to make money with your printed products
Live demonstrations
Live product testing
Q&A session with the GJS team
All course attendees also receive a $20 voucher to spend on the GJS website.
Event Reviews
"

Thank you to You and Ian for running the workshop in Perth it gave us so much inspiration of where to take our business in the future and having the face to face experience gave us the courage & confidence in making our purchase. You guys did great & your product knowledge truly gave us the confidence to proceed with our purchase.

Mara Harman
"

Can't wait to get started. The whole day was informative and hands on.

Name Withheld
How much?
$19 per person (including GST)
Join our Event Watch
We don't have any of these events currently scheduled. Simply add yourself to our Event Watch and we will make sure you are informed when new sessions are scheduled.
Join Event Watch