Hands-On With Heat Transfer Vinyl (HTV)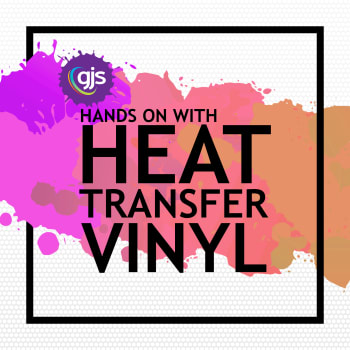 Join our expert instructor and learn the benefits of adopting GJS heat transfer vinyl as your business' mainstay in the production of quality customised products.
Heat transfer vinyl is your ticket to create an array of unique and personalised products. With equipment that's cost-effective and easy to set up and use, you can bring just about any design to life.
You'll learn just how easy it is to create custom items with HTV in this event.
With a huge array of different finishes, colours and styles of vinyl available, it's so easy to make your designs stand out and exceed your customers' expectations of quality, durability, and performance.
Starting a business using heat transfer vinyl can be an incredibly lucrative venture. With low startup and ongoing costs, and near-endless possibilities of customisation, it's easy to service your target market, no matter how niche or broad, or how local or global it may be.
Join this event and learn about the plethora of products that you can create with GJS heat transfer vinyls and see the success previous customers have enjoyed.
On the day you'll learn and practice:
What is heat transfer vinyl?
Cut-only vinyl and its applications
Print and cut vinyl and its applications
GJS Revolution Flex - the one vinyl to rule them all!
The HTV production process, tips and techniques
How to make money with HTV
Live demonstrations
Live product testing
Q&A session with the GJS team
Join the GJS HTV revolution!
Event Reviews
"

Thank you to You and Ian for running the workshop in Perth it gave us so much inspiration of where to take our business in the future and having the face to face experience gave us the courage & confidence in making our purchase. You guys did great & your product knowledge truly gave us the confidence to proceed with our purchase.

Mara Harman
"

Can't wait to get started. The whole day was informative and hands on.

Name Withheld
How much?
$19 per person (including GST)
Join our Event Watch
We don't have any of these events currently scheduled. Simply add yourself to our Event Watch and we will make sure you are informed when new sessions are scheduled.
Join Event Watch