Virtual Marketing for Print
Our Virtual Marketing for Print course is a series of one-on-one remote training sessions, delivered via video. Learn how to develop a cohesive marketing strategy for your business that will help you truly profit from print.
You can choose to purchase either a single hour of virtual training or purchase a three-session 'pack' for maximum value.
Prior to all sessions, our instructor will invest in an exploratory session with you so that the course can be customised to your specific needs so that you receive the most valuable and relevant training.
Three-Session Starter Pack
The three-week introductory course is made up of three one-hour one-on-one sessions. If the thought of sitting down and selecting the best social media platform for your business scares the hell out of you, or if you simply don't know the difference between a Facebook pixel and Pinterest then this course is for you!
Topics covered:
The importance of business planning
The role or brand storytelling and how to find your brand voice and tone
How to set SMART objectives for both your business and marketing plans
How to profile and segment your audiences for more accurate targeting
How to unlock your hidden creativity with various brainstorming techniques
Choosing the right marketing tactics to reach your audiences
The importance of social proof in your marketing campaigns
Choosing the right social platform(s) to reach your audience and how to correlate your social strategy to your customer profiles
After the course you'll be armed with:
A scalable and repeatable system that you can use to develop marketing plans for your business
A deeper understanding of your audiences and the necessary tools to target them more effectively
A clear and actionable 6-12 month plan for your business marketing
The tools needed to measure your success and a renewed enthusiasm for chasing marketing success
By spacing the sessions one week apart, you will get the chance to practice the skills learnt in each session and return with any questions the following week.
PRICE: $249
Single-Hour Session
For those with an existing marketing plan or social media strategy in place, we've put together this advanced, on-demand virtual training option. This is an interactive and practical learning experience where we use the time to tackle your real-life marketing challenges.
Some examples of what you could learn:
Advanced customer acquisition strategies: how to fill your sales funnel to drive revenue growth for your business
The psychology behind selling: how to create compelling copy for your digitally decorated products
How to incorporate video into your marketing strategy without a blockbuster budget or Hollywood film crew
Your brand in crisis: how to manage your marketing and communications when the sh*t hits the fan
Facebook Ads Manager deep-dive: how to choose the right objectives, upload and track customer data and A/B ad testing How to effectively measure your marketing campaigns and track ROI
It is recommended booking a minimum of two sessions so you have the opportunity to return to the instructor with any questions the following week.
PRICE: $89/hour
Registrations
Our Virtual Marketing for Printing course runs on-demand, throughout the entire year. To arrange a time with our instructor, simply click the button below and they'll get in touch and book in a time for the exploratory session so that they can customise the training to your specific needs.
Your instructor
Lukas Picton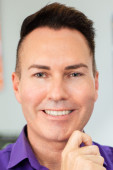 Lukas is a strategic public relations professional with over 15 years' experience driving campaigns, business, and communications strategy for clients both big and small. With a passion for examining the intersection between human psychology, communication and behaviour, Lukas loves nothing more than bringing a compelling narrative to life through his work.

With several campaigns that have received industry recognition and international awards, Lukas blends creativity with a process-driven approach to communications that delivers a fusion that pushes boundaries, challenges the status quo and, most importantly, moves the needle.
Event Reviews
"

Love GJS. The support is amazing and so happy to be a customer. Thank you for the conference. I have gained new knowledge and ideas for my growing business

Vanessa Clackson