Learn to Profit from LED Printing with OKI
Learn how you can use laser/LED print solutions to create amazing point-of-sale, packaging, stationery, promotional items and discover how you can use the latest self-weeding/no-cut transfer media to decorate t-shirts and other highly-profitable products.
You're invited to join the GJS and OKI teams and learn how laser/LED can help you grow your business, capitalise on new market opportunities and truly profit from print.
What you'll learn by attending:
What are laser/LED printers and how can they help you grow your business?
See the very latest releases in transfer and digital decoration media from FOREVER, including live demonstrations of the popular new laser tattoo paper (check out our video below!) and FOREVER Waterslide media
Discover how you can use a single desktop laser printer to create posters, packaging, POS, hard substrates and MORE
How you can use laser heat transfers to decorate soft substrates such as t-shirts
All event attendees can take advantage of exclusive discounts on OKI and FOREVER products on the day and one lucky person will even win an OKI A4 colour multifunction printer.
So what are you waiting for? Register for this event below now!
FOREVER laser/LED temporary tattoo media
Your instructor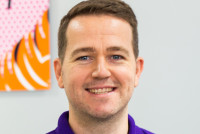 Hailing from 'sunny' Sheffield in the UK, Steve joined the GJS team in August 2014 after emigrating to Australia. Steve started his career in print at Sawgrass Europe and is an expert in digital printing with over seven years' expertise in inkjet printer troubleshooting, maintenance and repair for desktop, large format inkjet and direct to garment printers.
He also has valuable skills in the area of colour management and the creation of ICC profiles and is a qualified Epson large format printer engineer.
Steve has extensive experience delivering computer training sessions in his most recent role as Education & Technical Content Specialist at Sawgrass.
Event Reviews
"

Love GJS. The support is amazing and so happy to be a customer. Thank you for the conference. I have gained new knowledge and ideas for my growing business

Vanessa Clackson
How much?
$19 per person (including GST)
Join our Event Watch
We don't have any of these events currently scheduled. Simply add yourself to our Event Watch and we will make sure you are informed when new sessions are scheduled.
Join Event Watch