Learn to Profit from LED Printing with OKI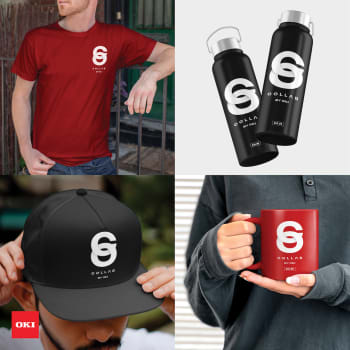 Are you ready to learn how an OKI printer can be a versatile business tool, printing your invoices one moment and then personalised products that produce you profit the next?
Then join the GJS and OKI teams and learn how LED technology can help you grow your business, capitalise on new market opportunities and truly profit from print.
Unleash your full creative potential by allowing short-run, on demand printing of t-shirt and promotional merchandising heat transfers, display material, packaging and concepts, window graphics and clear film and bespoke stationery in-house.
Combine all of these superior features with outstanding graphics quality provided by OKI's pioneering digital LED technology and you have a revolution in printing for the graphic design, education, gifting and merchandising sectors.
Your brilliant ideas + an OKI printer = merch made in heaven
Discover the difference between laser and LED printers and how the technology can help you grow your business
Learn how you can harness the power of CMYW toner technology to decorate whole range of different substrates
See how simple it is to create single and full-colour customised garments including promotion t-shirts
View the very latest releases in transfer and digital decoration media from FOREVER, including live demonstrations of the popular laser tattoo paper (check out our video below!) and waterslide media
Take your paper printing to the next level and discover how you can use an OKI to create posters, packaging, point-of-sale material and other promotional merchandise for either your business, or to sell


All event attendees can take advantage of exclusive discounts on OKI printers and FOREVER media products on the day.
So what are you waiting for? Register for the nearest event to you below!
Why an OKI 8432 is the right printer for you...
Event Reviews
"

Love GJS. The support is amazing and so happy to be a customer. Thank you for the conference. I have gained new knowledge and ideas for my growing business

Vanessa Clackson
How much?
$19 per person (including GST)
Join our Event Watch
We don't have any of these events currently scheduled. Simply add yourself to our Event Watch and we will make sure you are informed when new sessions are scheduled.
Join Event Watch